Germany offers as much in the way of great outdoor adventures as it does in big city thrills. Go skiing in the Bavarian Alps in the southeastern part of the country or settle in for water sports and a wellness routine on the rugged islands of the Baltic and North Sea. Here's where to go for unforgettable nature experiences in Germany's great outdoors.
Oberstdorf
Want to stay in the southernmost inhabited settlement in Germany? Oberstdorf is the place for you! Nestled within the Bavarian Alps, Oberstdorf is home to some gorgeous scenery and there are plenty of things to see and do here. It does not matter if you are on a strict budget or if you have plenty of money to splash out with, great times are guaranteed in Oberstdorf.
What to see and do in Oberstdorf
As mentioned above, Oberstdorf is located in the Alps, which makes it great for hiking, camping and skiing. You can try your luck on the Heini-Klopfer-Skiflugschanze, which is the second largest ski jumping hill in the entire world. Other fantastic ski resorts and skiing areas nearby include Kanzelwand/Fellhorn, Kleinwalsertal and Nebelhorn. For a stunning view, ride the cable car to the Nebelhorn, or the diagonal diagonal elevator to the peak of the Heini-Klopfer-Skiflugschanze. Hikers will also love the valleys of the Breitach, Stillach, Oybach and more.
The best time to visit
Oberstdorf is a family friendly location and it is popular all year round with both winter sports enthusiasts and with general tourists seeking a gorgeous place for a rural getaway. If you are going skiing, snow coverage is usually at its best between November and March, but it is advisable to check out local weather reports to get more accurate dates as weather patterns can be slightly different from year to year. If you are planning on going hiking, the summer months of June to August are a great time to visit. During this time of year, when the most substantial snow has melted, around 200 km of hiking trails open up for you to explore.
Where to stay
It is possible to stay in Oberstdorf itself or in one of the surrounding villages such as Tiefenbach (which boasts a spa and sulphur springs), Kornau (with its historic Renaissance churches, located around 915m up in the mountains) and Reichenbach which has its own famous swimming pool, the Moorwasser. Spend a little more and you can stay in a luxury ski resort. Or, just camp out, provided the weather is fine.
ATTRACTION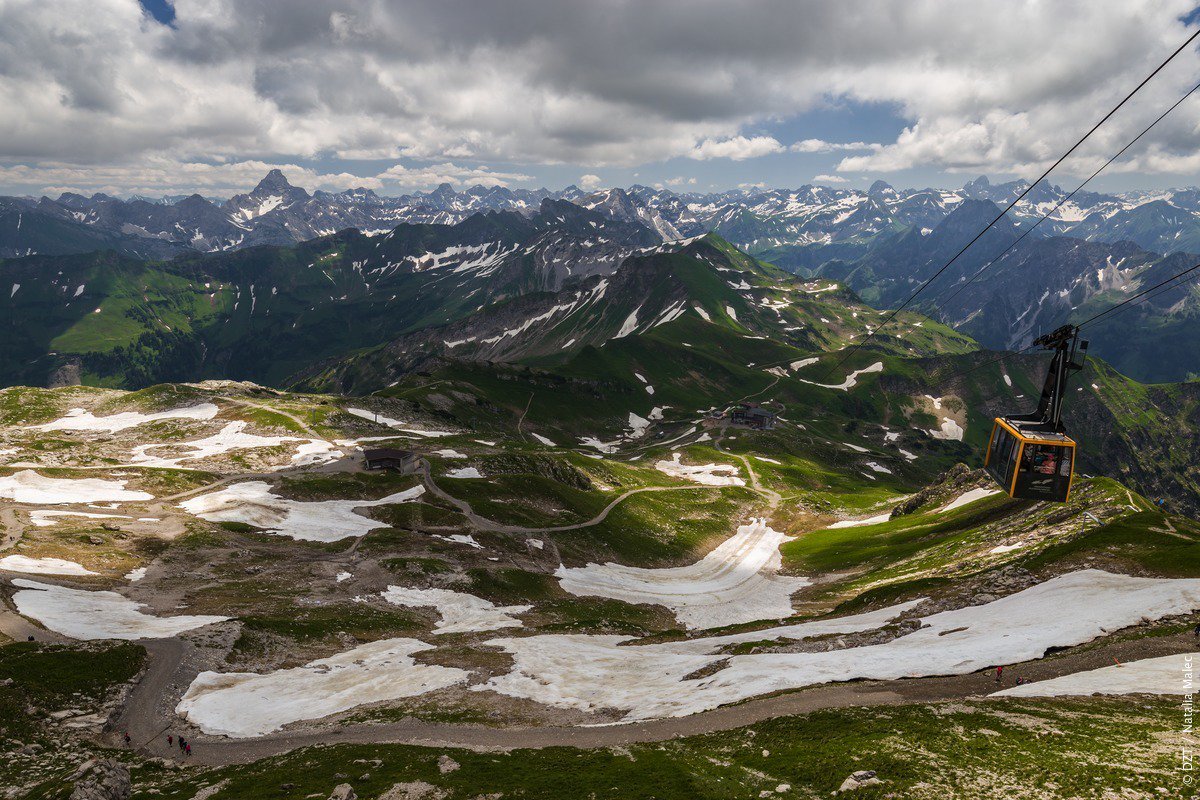 Nebelhorn
Fellhorn
Söllereck
Fellhorn-Kanzelwand
Warmatsgundkopf
Heini-Klopfer-Ski jump
Söllereckbahn Oberstdorf
Refuge Kemptner
Garmisch-Partenkirchen National Park
The villages of Garmisch and Partenkirchen were joined together for the 1936 winter Olympics to form a small town, which over the years has become Germany's top winter sports resort and a popular year-round holiday destination. Garmisch-Partenkirchen is a traditional Bavarian town with quaint cobblestone streets and half-timbered buildings. It lies in a convenient location just over an hour's easy motorway drive from Munich to the north and just under an hour's drive from the Austrian city of Innsbruck to the south.
Garmisch-Partenkirchen is perfect for both the super fit and for those who prefer to take life at a gentler pace. In winter, downhill skiing, snowboarding, cross-country skiing and sledding are all on offer, and the fun continues into the summer with dry tobogganing, horse riding, cycling and swimming in indoor and outdoor pools and crystal clear mountain lakes.
A popular trip option combining sightseeing and fitness is a horse-drawn carriage or sleigh ride from the Olympic Stadium – worth a visit in itself – to the spectacular and slightly scary Partnach Gorge. The gorge is the starting point for numerous hiking trails, including a strenuous climb up to Schachen where 'Mad' King Ludwig II built a Swiss-style hunting lodge with an interior as outrageously ornate as those inside his famous fairytale castles.
ATTRACTION
Partnach Gorge
Alpspix
Olympic Ski Jump
Graseckseilbahn
Garmisch Olympia Stadium
Spielbank Garmisch-Partenkirchen
Werdenfels Museum
Werdenfels Castle
Bavarian Forest National Park
The tree top walk (Baumwipfelbad) at Bavarian Forest National Park promises a close encounter with nature and adventure for the entire family. A 1,300-meter-long wooden barrier-free walkway leads visitors to the base of the dome-shaped observation tower, offering fantastic views of the forest on the way. You can also choose to participate in exciting activities en route. However, the best is saved for the last. From the 44-meter-high observation deck, you get to feast your eyes on uninterrupted views of the forest and even the snow-clad Alps.
The unbelievably picturesque Lake, Rachelsee, lies deep in the lap of the forest at an altitude of 1,071 meters (3,514 feet). This crystal-clear mirror lake is steeped in local myths and dark legends. It is believed that the lake was named after the devil's grandmother, Rachel. The natives also recount the story of an evil woman who was the last to sail on this lake, and on whose death, a flock of jet-black ravens accompanied the coffin.
The Bavarian Forest National Park has approximately 300 km (186 miles) of clearly-marked hiking Trails, including hiking paths and circular trails. A hike through this dense forest, past gurgling streams and under a thick green canopy, proves to travelers that the forest really lives by its motto: Let Nature Be Nature. Over half of this forest is completely untouched by humans, which considerably ups its romance factor.
ATTRACTION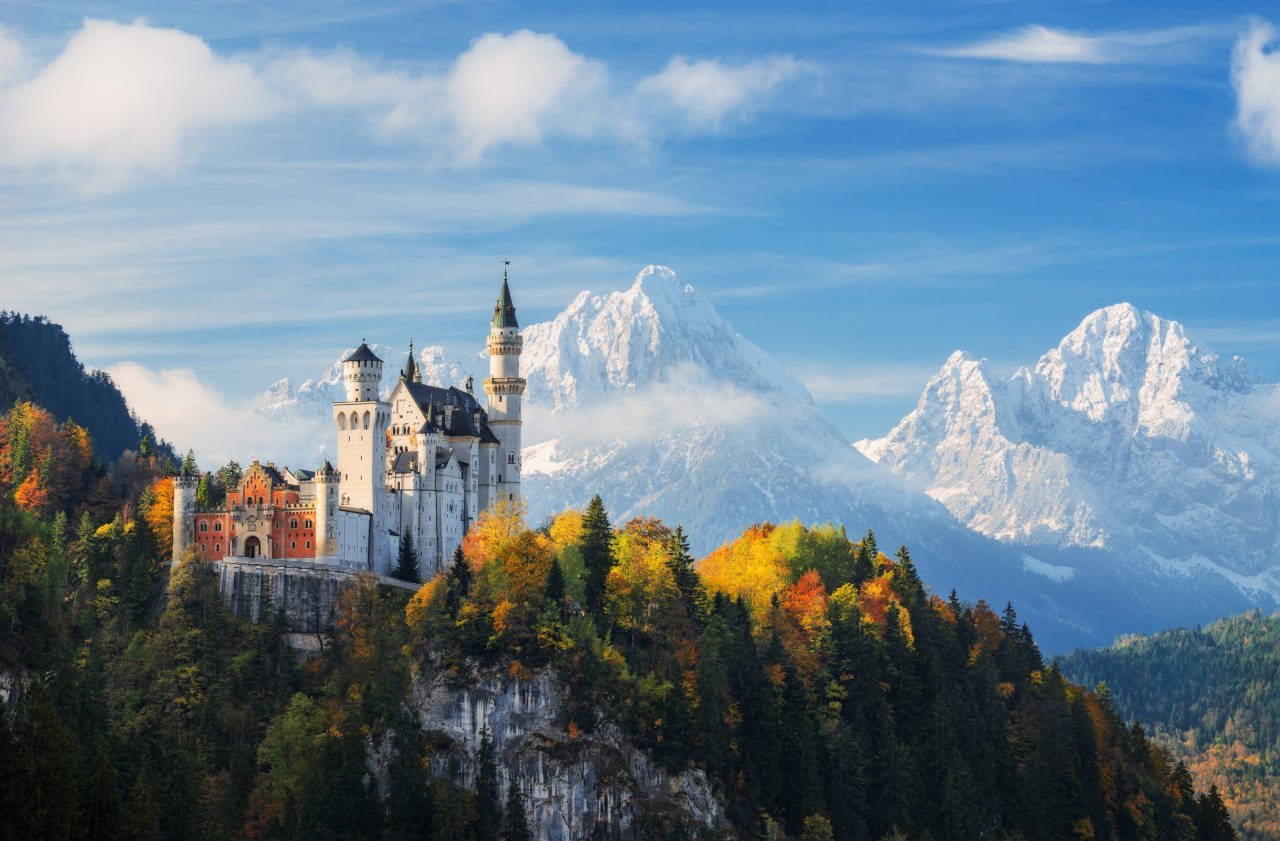 Großer Arber
Baumwipfelpfad Bavarian Forest
Tier-Freigelände im Nationalparkzentrum Lusen
Großer Rachel
Großer Arbersee
Großer Falkenstein
Bayerischer Wald e. V. Nature Park
Kleiner Arbersee
Mitterdorf Skizentrum
Ochsenkopf
The Fichtelgebirge mountain range offers pure relaxation in every season. A healthy climate, unspoilt nature, varied leisure options and first-rate hosts encourage you to leave the stresses and strains of everyday life behind you. The Ochsenkopf discovery region with its communities of Bischofsgrün, Fichtelberg, Mehlmeisel and Warmensteinach provides the best possible evidence that mountains and accessibility are in no way mutually exclusive: Holiday-makers will find everything they need here for an unforgettable active holiday.
The "Siebenstern Hotel and Inn" in Bischofsgrün ensures a very well-organised stay for travellers with impaired vision. Two experienced people who are themselves blind and who are members of the host family accompany the guests on guided hikes as do voluntary and non-visually impaired escorts. The tactile, palpable site map as well as visitor information in Braille help with orientation.
Experience automotive history at first hand! This is what a visit to one of the five largest private car museums in Germany promises: The Fichtelberg Automotive Museum presents rare items which are more than a century old. Curiosities from the 1950s to the 1980s are primarily the focal point in the museum. An extremely diverse exhibition programme, consisting of vehicles and motorcycles, awaits you. The continuously changing exhibits ensure that visitors are never bored. In addition individual pieces of automotive history reveal important reference points to our mobile world of today. Impressions can be processed most effectively in nature. For example by paying a visit to the Mehlmeisel Game Park where the wheelchair-friendly game park arena with a lynx and black and red deer enclosure awaits the visitor. Visitors can obtain all relevant information about the Mehlmeisel health resort in the local Tourist Information office in Mehlmeisel. 14 boards with themes from fairy tales (to listen to them, just click on a QR code) entertain young and old alike on the two-kilometre long, wheelchair-friendly fairytale hiking trail in Bischofsgrün. The associated colouring book is available from the Bischofsgrün Tourist Information Office. If you are an adrenaline junkie, a trip on the new Alpine Coaster will not fail to disappoint. This combination of summer toboggan run and roller coaster ride delivers visitors to the valley on a stretch which is one kilometre long.