Coronavirus has changed our lives in many ways. But today we want to talk about one of the silly repercussions of coronavirus. Since we're encouraged to wear masks, we can't really do our makeup the way we're used to. The foundation gets on the mask, contouring is rendered useless and we can't even remember the last time we wore lipstick. Well if you want to have some fun with your makeup looks, show off your skills and try a funny trend – check out the #TinyFaceMakeupChallenge on Instagram. It's a fun and creative way to test your skills and surprise people on the street and make them do a double-take. Provided, of course, that you can go outside, if not it can turn into a very fun photoshoot at home and a series of zoom calls.
1. At a glance it actually looks very cute, real and believable, don't you think?
2. This girl with awesome green hair did an amazing job completing the challenge.
Loading…
3. The rainbow makeup, the facial expressions – it's amazing. Especially if you consider that's actually her nose and not her real mouth.
4. Here are some more chill, everyday makeup options. You know, if you want to just quickly draw a new nose and mouth on your face every day.
5. The facial expression on the second one made us giggle. It's brilliant, and you know that straw placement is impeccable.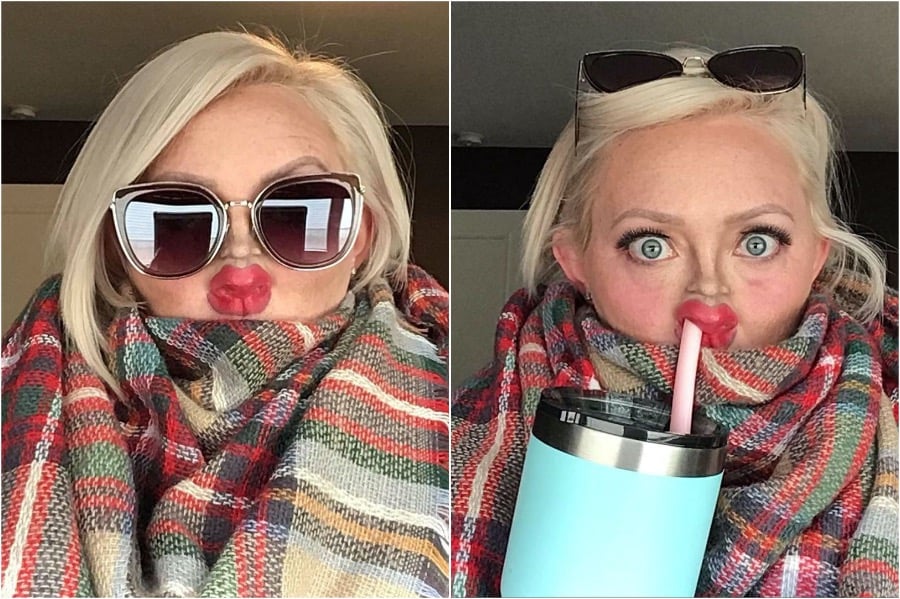 6. Matching your makeup look to your hair is a good idea, makes it look more cohesive.
7. Some people went the extra mile and not only did they succeed at the tiny face makeup challenge, but they also managed to do it in character. Give them a round of applause.
8. A very happy lady over here. You would be that happy too if you succeeded at drawing a new face on your face.
9. Diversity is key, be it cultural or just stylistic. We love both of those equally. The small details make all the difference.
10. People are getting creative, doing unique makeup looks, adding filters and editing them to add a personal twist to it. We're here for it.
11. Just a girl, chilling at home in a hoodie. She is all of us right now. And she's looking cute as heck.
12. This person decided to go all Bratz dolls on this makeup look. Not only did she have to draw a new nose and mouth, she decided to do it all and draw a pair of massive eyes on her eyelids too. Now she can look impeccable even when napping.