The historically rich land of Bihar is equally famous for the plethora of delicacies that feature in its cuisine. The scrumptious and exotic Bihari dishes are highly capable of tingling the taste bud of every food connoisseur.
Here is a list of must-try Bihari food dishes, dishes which are beyond the staple Sattu or Parval ki Mithai, which will surely leave you craving for more!
Kebab
When you speak of kebab in our day, kebab restaurants in cities and certain kebab names come to minds. However, when it's analyzed deeply, kebab is a cuisine culture containing certain values within itself. Even, kebab is a type of cooking form beyond the meat. Roasted chestnuts, cheese kebabs can be shown as example.
When kebab is examined based on the regions and cities, it's understood that kebab form made with materials used contains the regional culture within it. In Syria, especially in Aleppo, fruit usage in kebab forms is very common however it's seen that fruit usage in kebabs is very rare in cuisine cultures of Anatolia except for Gaziantep. It can be said that some of the similarities between Gaziantep and Aleppo cuisines is because of the proximity. It's seen that spices are more common in Adana and Urfa cuisines and in some regions, kebab differs from others by meat selection.
Ingredients
1 tsp Rapeseed Oil
400g/14oz lean Lamb Mice (5% fat)
2 Garlic cloves, crushed
1 tsp ground cumin
1 tsp ground Coriander
½ tsp onion Powder powder
½ tsp Smoked paprika
½ tsp Sea salt
½ tsp freshly ground Black Pepper
Naivedyam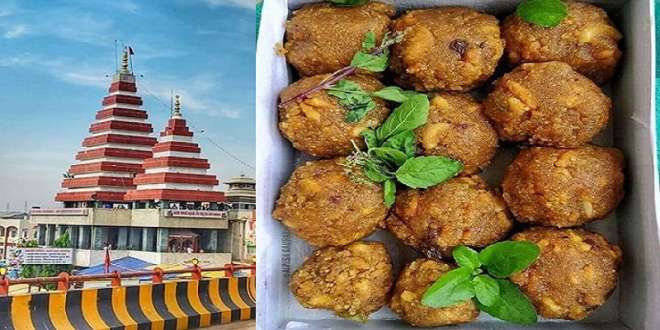 The famous Hanuman Mandir near Patna Railway Station is equally famous for its Prasad, "Naivedyam". Original roots of Naivedyam can be traced back to Tirupati Balaji Temple of Andhra Pradesh. It contains besan or gram flour, sugar, cashew, raisin, Green cardamoms, Kashmiri-saffron and other flavorings, cooked in ghee and molded into a ball shape. It is a unique Prasad, exclusive to Hanuman Mandir. The divine delicacy melts in your mouth leaving you ecstatically content.
Chandrakala/ Pedakiya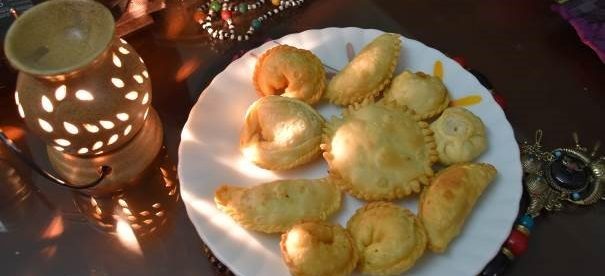 This recipe is special as it's very famous sweet dish of Bihar, specially prepared during Holi, Teej and Diwali festivals. They are known as Pedakiya or Pedukiya. They are basically traditional Gujiyas with filling having semolina or Sooji as a base. It is made with a base filling of semolina(Sooji) alone or a mix of semolina(Sooji) and Khoya or Mawa (dried evaporated Milk). Pedakiya made in Chhapra region of Bihar is very famous.
I have made semolina (Sooji) only version of Pedakiya because I really love the filling texture and taste, also they have a very long shelve life as they don't contain Mawa or Khoya Presenting below my take on these beautiful, rich and flaky fried sweet dumplings aka Bihari Pedakiya or Pedukiya, do try!
Ingredient
Maida – 2 cups
Ghee – 1/4 cup
Curd – 1/4 cup
Water – 1/2 cup or less
For filling: Fine Semolina (Sooji) 1 cup
Sugar (powdered)- 1 cup
Dessicated Coconut – 1/4 cup
Raisins – 10-12
cashewnut chopped – 10-12
Cardamom powder – to taste
Ghee for roasting Semolina – 1/3 cup
milk – 1/2 cup (optional)
Oil/Ghee – as required for frying
Litti Chokha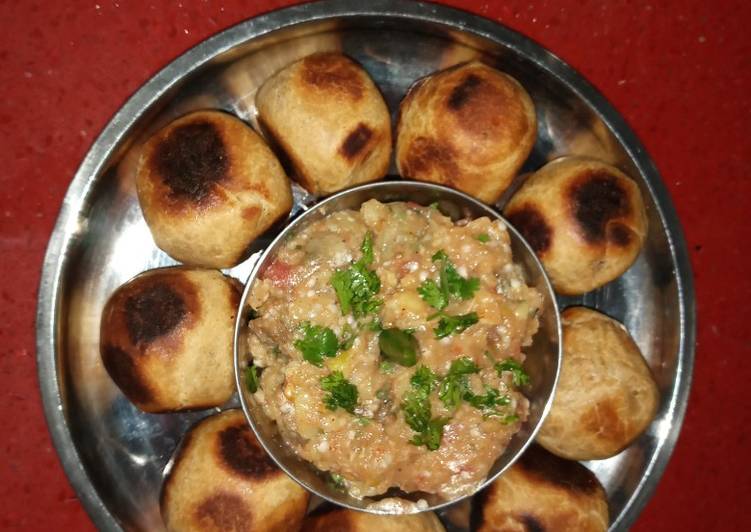 Litti Chokha is a traditional Bihari and Jharkhand dish that is quite similar to Rajasthani Baati but still very different. The litti is the bread made out of flour and is stuffed with sattu and chokha is the side dish made using eggplant, potato or tomatoes. Here is how to make Litti Chokha Recipe.
Litti Chokha is a very traditional dish that's popular in Bihar and Jharkhand, it's a special dish that's made in most Bihari households and the whole family comes together to enjoy this ghee dunked stuffed wheat balls. Don't you love it too?
These authentic stuffed whole wheat balls resemble the Rajasthani Batti, but the flavours are quite different in the Litti. The stuffed whole wheat balls are referred to as Litti and the subzi served with is the Chokha. In some regions of Bihar, the Litti is also served with a spicy chicken curry.
For dough :
Wheat flour – 400 grams (2 cup)
Ajwain(carom seeds) – 1/2 tsp
Ghee – 2 tbsp
Curd – 3/4 cup
Baking soda – 1/2 tsp
Salt – 3/4 tsp
For stuffing(Pitthi)
Sattu – 200 grams (1 cup)
Ginger – 1 inch long piece
Green chilly – 2 to 4
Green coriander(dhaniya) – 1/2 cup(finely chopped)
Jeera(cumin seeds) – 1 tsp
Ajwain(carom seeds) – 1 tsp
Mustard oil – 1tsp
Pickle spices – 1 tbsp
Lemon – juice of 1 lemon (if you prefer)
Salt – add to taste ( 1/2 tsp)
For Chokha:
Brinjal(big) – 400 grams (1 or 2)
Tomatoes – 250 grams ( 4 medium sized)
Green chillies – 2 to 4 (finely chopped)
Ginger – 1 1/2 inch long piece ( finely chopped)
Green coriander – 2 tbsp ( finely chopped)
Salt – add to taste (1 tsp)
Mustard oil – 1 to 2 tsp