In India there are lots of beautiful places and many different type of beautiful destinations so today we are going to talk about Floating places.
Dal Lake, Srinagar
Dal – A Lake Made Of Lakes
Dal Lake is, initially, one of the most confusing parts of Srinagar for it's not really one lake at all, but three. Further more much of it is hardly what one would expect a lake to be like – it's a maze of intricate waterways and channels, floating islands of vegetation, houseboats that look so firmly moored they could almost be islands and hotels on islands which look like they could simply float away.

Houseboats
The largest group of houseboats lies along the western edge of the lake near the lakeside boulevard, towards Dal gate. They are lined in looping rows and around small islands. Several hotels can also be found on flat islands in the lake. Beyond the houseboats to the northwest are the floating gardens.

Attractions Around Dal Lake
There are three islands in the lake; three real islands anyway, there are other sorts of islands joined by causeways. Around the lake are many of Srinagar's most interesting sights, in particular the pleasant Mughal gardens. It's also flanked by hills, particularly along its east bank. The Shankaracharya hill provides a very fine view over the lake.
Poovar Island Resort, Kerala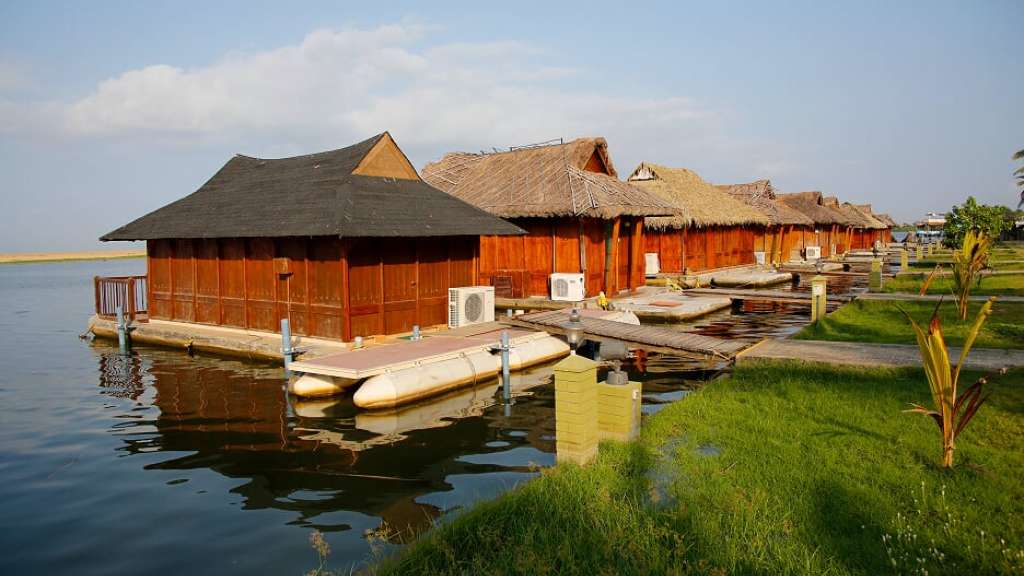 Unspoiled and unexplored, enveloped by the most serene backwaters, and opening out to the Arabian Sea and a dream golden sand beach, Poovar Island Resort is truly a window into paradise. Built on 25 acres of lush green coconut gardens alongside the beach, the resort currently comprises of elegant land based superior rooms, built around the swimming pool on a natural lily pond and is unique in India for the floating cottages and villas which are afloat on the backwaters and face the sea. Located 30 kms from Trivandrum International Airport, the resort is accessible only by a 10-minute boat ride on the river.
Floating Rocks Of Ram Setu, Rameshwaram
According to the scientists, the Ram Setu floating stone bridge is a natural bridge formed by limestones. But, according to Hindu mythology, it is a bridge that was made by Lord Rama and his "Vanara Sena.
He constructed the bridge to reach Sri Lanka to rescue his wife Sita from Ravana who kept her as a hostage. Amazingly, the carbon examination of the bridge and Ramayana's time both syncs properly. Ram Setu was walkable until 1480 AD. As mentioned in the Ramayana the Ram Setu Bridge was built with Ram Setu Floating Stone. But scientific reason says the contrary
The pumice stones made up of a hardened foam of lava that comes out when there's a volcanic eruption.
The volcano from inside has high pressure due to which when the lava coming out of the volcano meets the cold water it doesn't immediately sink into the water.
Emarald Pristine Island, Alleppey
Belonging to the Emarald Group, the resort takes pride in the array of classy facilities and personalised services that await you. Situated in Kodamthuruth, the resort is about 39.2 kilometers from Alappuzha Railway Station. It offers land cottages, premium floating cottages, royal suites, and superior floating cottages. The rooms are embellished with standard amenities and services including free internet connectivity, complimentary breakfast, television, and so on. The resort provides spa facility for both domestic and foreign travellers. The spa services are carried out by professionals, offering you the best setting to experience a refreshing and revitalising holiday. The Floating Banquet Hall at Emarald Pristine Island Resort, Alappuzha, provides a pleasing ambience to host events, get-togethers, business meetings, and so on. The banquet hall has a seating capacity of about 150 individuals. The resort also has a Floating Restaurant that serves you authentic Kerala cuisine.
World's Largest Floating Lake – Loktak Lake, Manipur
The term phumdis refers to a collection of heterogeneous mass of vegetation, soil, and organic matter at various stages of decomposition. Resembling miniature islands, these phumdis are found in various forms, floating on the lake. Covering an area of 300 square metres, the lake is a lifeline for many people. It serves as a source of water for hydropower generation, irrigation and drinking water supply in the region, other than being the source of income for many fishermen who largely depend on it. Children of the fishermen can even be seen playing and running around on these phumdis.
Loktak is a birder's paradise. The most commonly sighted birds in the region include black kite, northern hill myna, East Himalayan pied kingfisher, lesser skylark, lesser eastern jungle crow, Burmese pied myna, and more.