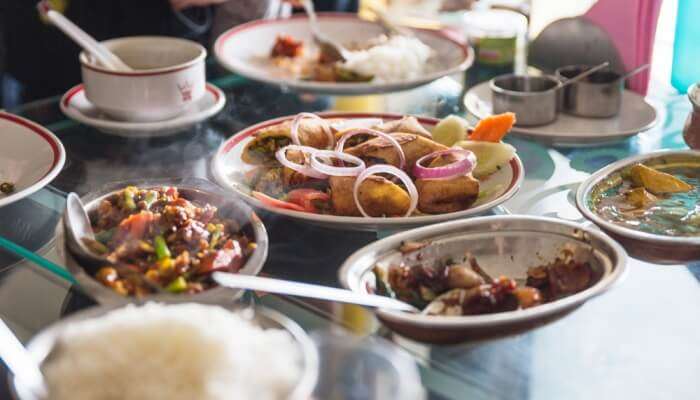 Sikkim is the pure amalgam of the colourful culture, rich heritage and lip-smacking food. One can never get too much of anything in Sikkim. The food of Sikkim is something that will amaze you with its simple yet relishing flavours. The food of Sikkim is a rich mixture of Nepalese, Tibetan and native Sikkimese food. This blend of the three cultures is very soothing on the taste buds and leaves you craving as soon as you drop your plate. Maize is the staple food of Sikkim. The food of Sikkim is majorly non-vegetarian. A lot of vegetables are fermented to preserve them for a longer time.
Momo (Dumplings)
I have had one of the best momos or call them dim sum in the mainland china restaurant. Back then I did not know that momos would become a popular street food in north of India. A few years back when we lived in gurgaon, I was amazed to see momos as a street food snack in many places.
Ingredients
for outer cover of veg momos
1 cup all purpose flour (maida)
½ teaspoon oil
¼ teaspoon salt or as required
2 to 3 tablespoon water for kneading or as required
for making veg momos stuffing
1.5 to 1.75 cups finely chopped vegetables (i added ½ cup chopped cabbage, ½ cup chopped carrots, ⅓ cup chopped french beans and ¼ cup chopped capsicum)
2 small sized spring onions – finely chopped – reserve the greens to be added later
3 to 4 small garlic – finely chopped (lahsun)
1.5 teaspoon light soy sauce or 1 teaspoon soy sauce or add as required
½ teaspoon black pepper powder (kali mirch powder) or as required
1 tablespoon oil
salt as required
Thukpa
Thukpa is a hot noodle soup made with mixing vegetables and/or chicken and goes well with the cold weather of northeastern Indo-Tibetan border region. It is very famous in the States of Sikkim and Arunachal Pradesh. The vegetables used in the preparation are fairly common such as mushrooms, cabbage, onion etc so I thought why not enjoy this great taste at home. Soups can generally be served through the year any time and this one of noodles is also good enough for a meal. Since it contains vegetables and chicken, it also gives ample amounts of nutrition. Make it less or more spicy based on your personal taste and enjoy it with your family and friends. Here is Thukpa Recipe just for you.
Ingredients
Oil – 2 tbsp
Onion – 1/2 cup (chopped)
Ginger – 1 inch piece (grated)
Garlic – 6 to 8 cloves
Cabbage – 1 cup (chopped)
Carrot – 1/4 cup (chopped)
Mushroom – 1/4 cup (chopped)
Green chilli – 1 to 2 (chopped)
Chicken – 150 gms (cut in cubes)
Egg noodles – 150 gms
Red chilli powder – 1 tsp
Salt to taste
Lemon juice – 2 tsp
Dhania leaves for garnishing
Phagshapa
Phanghapa is a Nepali Pork dish from Sikkim. Compared to other curries, it is not so spicy as the only spice used is Chillies. I learnt this dish, through trial and error 🙂 but I found that this dish was perfect for those days, when we don't want to have spicy hot curries especially during hot summers. It is lightly flavored, the radish and the pork made a wonderful combination and goes really well with just plain rice.
Ingredients
600 gms Pork, cut into thin slices
1 Onion, sliced
9-10 Dry Whole Red Chillies
1 tsp Ginger Paste
1 White Radish, cut into thick slices
1 tsp Red Chilli Powder
1 tsp Oil
Salt to taste
Sha Phaley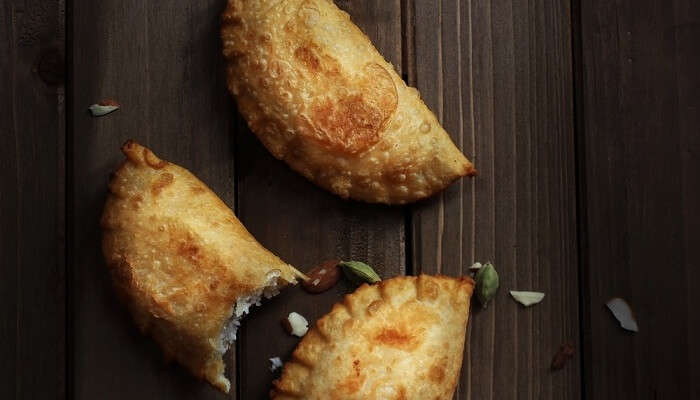 This wonderful dish of Tibetan origin is literally heaven on your taste buds. Everyone loves bread, everyone loves meat, everyone loves the deep-fried stuff, and Sha Phaley has all three. Bread stuffed with ground beef and cabbage made into semi-circles and then deep-fried is everything that you need to know about this dish. Crispy on the outside and heavenly on the inside, this is what you get when you take the first bite into the golden semi-circle. With different people having different demands a lot of variations have been done to the traditional dish, and people have readily accepted the addition of cheese and tofu to the stuffing. If you are a vegan even then, you can enjoy this delicacy with the tofu fillings.
Shabaleys are pretty simple to make if you know how. Some make them deep fried but I like the pan fried version that we called "Sokpoe" Shabaley .. "Mongolian Shabaley" – this is how it was always made in my home. The key is that the dough needs to be slightly supple – less firm than your usual momo dough – if you let the dough rest for an hour or longer, then it will have more of a yield.
Ingredients
1 lbMinced or Ground Beef
1/2 cup finely chopped Celery
1/2 Onion finely chopped
1 small bunch cilantro (chopped)
1 small bunch spring onion (chopped)
2 Table Spoon Vegetable Oil
Dash of Soya Sauce
¼ cup water