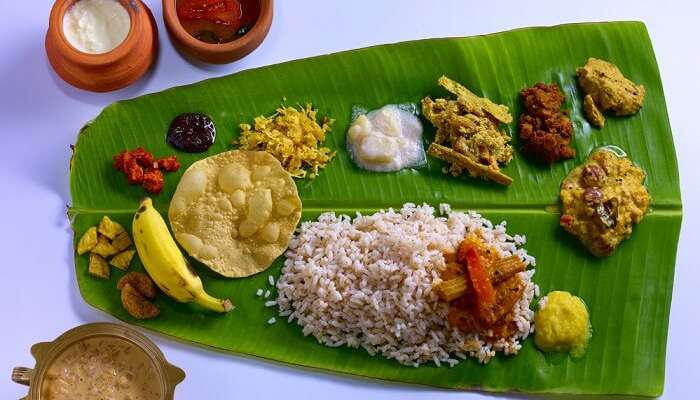 Surrounded by the sea, Kerala is home to numerous lip-smacking dishes prepared out of seafood, some of which include mussels, crab, tiger prawns, king prawns, tiny prawns, oysters, sardines, mackerel, tuna and gorgeous red lobsters. One just cannot stop salivating when walking the streets of Kerala. Unlike its neighbours, Kerala takes a lot of pride in its long list of non-vegetarian food that the state has to offer to its perpetually hungry tourists!
Sadhya
Making Onam Sadya Recipes was my long time dream and I am happy that I could make it atleast this year.Each year I would stare at all the onam sadya pictures posted in FB,blogs but each year I could post only individual onam sadya recipes.This year I was so determined to make the full sadya lunch menu…..I slowly gained confidence after my friend Keerthi motivated me.When I said that I am planning to make the onam sadya this year, she called me and gave me tips which was very useful.
Puttu
A popular steamed rice cake recipe from the rich kerala cuisine or south indian cuisine. it is typically served for morning breakfast and is generally served with kadala curry or choice of Coconut Chutney.
Ingredients
2 cup puttu flour
¼ tsp salt
¾-1 cup water, as required
1 cup coconut, grated
Appam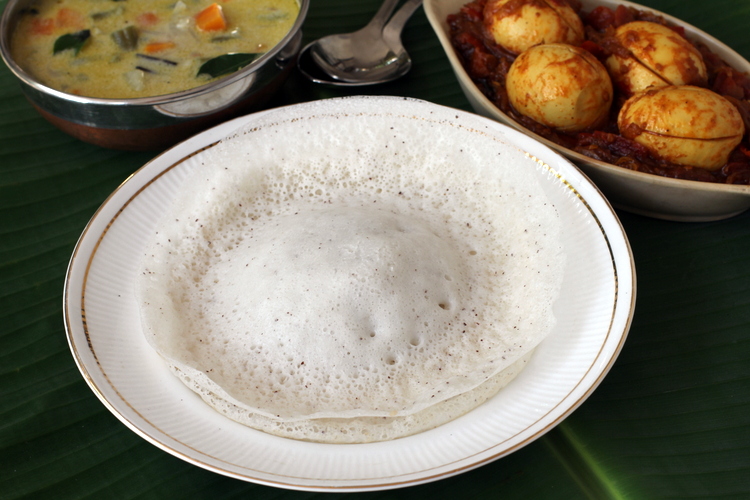 Appam is an easy-to-make South Indian recipe that you can easily prepare for your loved ones anytime. This traditional recipe is often enjoyed with potato curry and chutneys. Here's how you can prepare this popular recipe at home with easily available ingredients. To make this south Indian dish, you will need: Rice flour, sugar, dry yeast and coconut. However, if you are bored with the usual sweet version of Appam recipe, you can spice it up a bit by adding some red chilli powder and salt as per your taste. In fact, if you want to make it even more interesting, you can garnish the Appams with some grated cheese and top it up with some oregano flakes. We bet your guests will love the fusion twist to this traditional South Indian recipe. For health conscious people, Appam makes for a perfect wholesome meal, which is not only easy-to-make but at the same time is a healthy option to go for as compared to the usual Aloo Parathas and Chapatis. If you have sudden guests coming over for an unplanned party, then Appam can also make for a delectable dessert, you just have to add some sugar to the batter and top it with some crushed walnuts and grated chocolate. This chocolaty version of Appam will certainly make you famous for your excellent culinary skills. Well, both the sweet as well as the savoury versions of this traditional dish have their own unique taste and are best relished with filter coffee and other savouries. Appam can also make for a nice dish, which you can pack for your kid's lunch box, picnics and road trips. There's no particular time to delve in this indulgent dish. Appam is a perfect go-to recipe as it takes very less time to cook. Also, you can serve it with some coconut chutney or you can make your own dip. We suggest you to add your innovation to this side dish recipe and enjoy this dish with your family and friends!
Ingredients
1 kilograms boiled rice
4 cup water
salt as required
1 teaspoon dry yeast
2 cup grated coconut
1 teaspoon sugar
Idiyappam
My 314th recipe, "Idiyappam | String Hoppers", an easy to make and super delicious South Indian steamed rice noodle. Made simply from rice flour, it becomes the perfect vehicle to mop up delicious curries like Veg Kurma or enjoy it sweet along with sweetened coconut milk for breakfast / tiffin.
Idiyappam is one of those dishes which has been my favorite right from childhood. My mom used to serve it with sugar and grated coconut for breakfast. As a kid, I used to absolutely love it. It was so soft and literally melted in my mouth. Also, the noodles shape made it even more fun eating it. Making idiyappam for breakfast was one of the easiest way my mom employed to get me eat breakfast without any qualms. The scenario has not changed any bit now. Idiyappam still remains close to my heart. However, I now enjoy it along with spicy curries as well, as much as I love eating it sweet.
Ingredients
3 teaspoon refined oil
1 cup grated coconut
salt as required
2 cup rice flour
3 cup water
Malabar Biriyani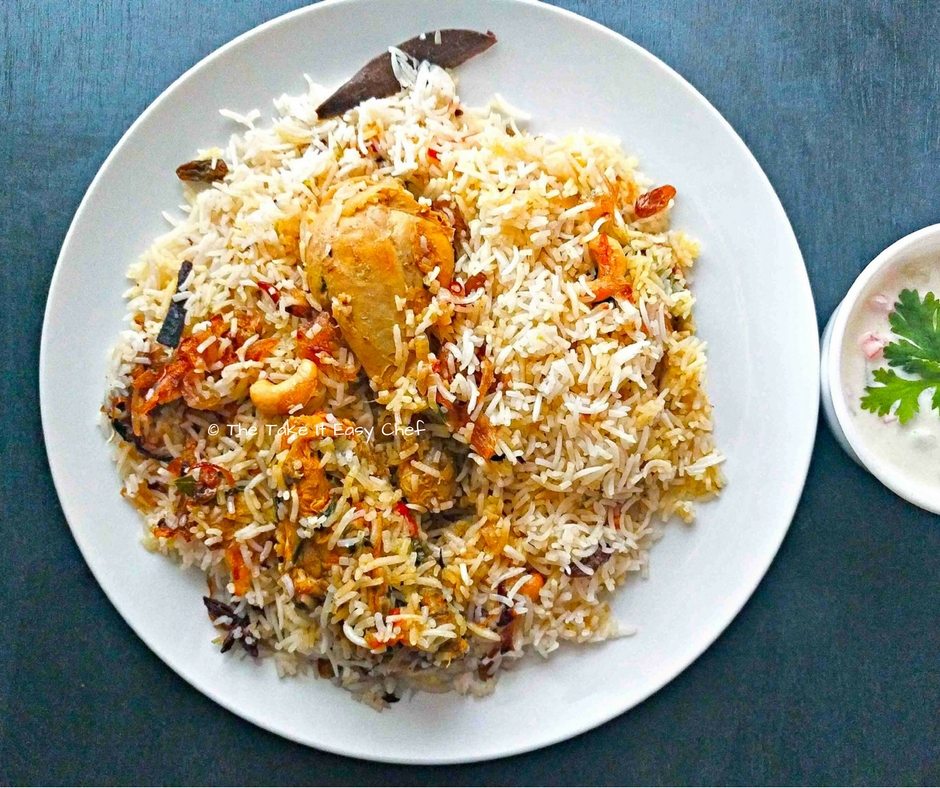 The famed Malabar Chicken Biryani is made by layering an aromatic and herby chicken masala with fluffy rice, crunchy fried onions (birista), nuts, dried fruits and ghee in a large pot. This is then sealed and cooked slowly in steam (dum method) to get this incredibly aromatic and toothsome chicken biryani that is quite literally the stuff of legends.
Biryani, a mixed rice and meat dish is probably the most popular dish in Indian cuisine. There are innumerable variations and methods of cooking something as simple as a pot of biryani, but the Malabar Chicken Biryani holds a special place in my heart.
Ingredients
For biryani masala,
Cinnamon – Two 2" sticks
Cloves – 6-8
Cardamom pods – 5-6
Mace – a small piece (dried skin of nutmeg)
Nutmeg – a small piece, around ½ tsp (whole, not powdered)
Star anise – 1, small
Black peppercorns – 2 tsp
Cumin seeds – 2 tsp
Fennel seeds – 1 tsp
Khus khus (white poppy seeds) – 1 tbsp
For marinating chicken,
Whole chicken – 3½ – 4 lbs, skin removed
Yogurt – ½ cup
Turmeric powder – ½ tsp
Biryani masala – 4 tsp
Salt – 2 tsp
Lemon juice – 1 tbsp
Oil – 2 tbsp
For chicken masala,
Oil – ⅓ cup
Red onions – 3 large, very thinly sliced
Ginger-garlic paste – 2 tbsp, heaped
Cilantro leaves – 1 bunch, around 1 packed cupful
Mint leaves – ⅓ cup
Green chilies – 6 (add more if you like it spicy)
Biryani masala – 1 tbsp
Water – 1 cup
Salt – to taste
For the rice,
Biryani rice – 3 cups (basmati, khaima or jeeraka samba varieties)
Ghee – 3 tbsp, divided
Cinnamon – 1" stick
Cloves – 3
Cardamom pods – 3
Dried bay leaves – 3
Water – 6 cups
Salt – to taste
Lemon juice – 1 tbsp