The Pearl City, Hyderabad with its unmatched blend of history and modernity, hypnotizes everyone, whoever sets his/her foot in this beautiful city of Nizams. With a history as old as 400 years and the status of metropolitan city, Hyderabad promises a unique refreshing experience to all.
Golconda Fort
Golconda Fort Hyderabad is an outstanding example of brilliant engineering and magical architecture. Located at a distance of 11km from the city, it is the most famous of all Hyderabad. The name of the fort has been derived from the Telugu words "Golla" and "Konda" which together means 'Shepherd's Hill'.
However, do keep in mind the Golconda Fort timings and entry fee before planning a visit to this regal symbol of history. For instance, Golconda fort timings are from 9 am to 5.30 pm. After that, visitors are not allowed to enter the fort, unless they are going for the light and show at night. Hence, to explore the beauty of this place at leisure, plan you visit early in the day.
Ramoji Film city
Ramoji Film City is India's only thematic holiday destination with cine-magic. Certified as the World's Largest Film Studio complex by Guinness World Records, it spreads across 2000 acres. Millions of tourists visit the amusement park to live their dream vacation. It is a perfect getaway and theme park that stimulates the mind and heart alike.

A comprehensive, fun entertainment and leisure hub, Ramoji Film City is a special engagement with the magic of cinema whose heavenly charm is unravelled in every element, including breath-taking avenues, landscapes, make-believe locales and unlimited fun and entertainment options. Plan for a wonderful vacation, Film city tour to experience the excitement of enthralling film studio complex – Ramoji Film City. Stay with us to get a deeper insight into the world of filmmaking. Avail customized stay packages offering great value discounts exclusively for Winter Carnival and New Year Celebrations. Ramoji Film City offers diverse stay options ranging from luxury to shared accommodation. Sitara – the 4-star Luxury Hotel, Tara – the 3 Star Comfort Hotel, Shantiniketan – the best service apartment and Vasundhara Villa – farm house accommodation – ideal for family stay, Hotel Greens Inn offering stay amidst the serene nature and Hotel Sahara providing shared accommodation with separate blocks for boys and girls, make excellent group stay.
Hussain Sagar Lake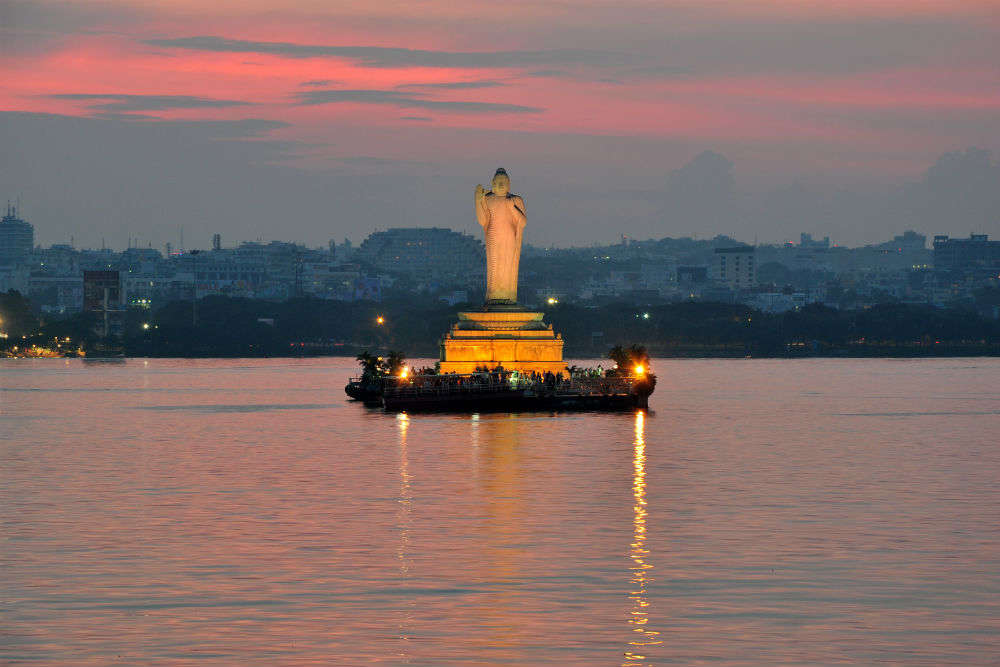 Hussain Sagar Lake is one of the most popular tourist attractions located in Hyderabad. The lake itself was commissioned by Ibrahim Quli Qutub Shah in 1563 and is renowned for its monolith of Lord Buddha that stands right in its centre. Incidentally, this monolith structure is the tallest of its kind in the world! Hussain Sagar lake is also Called Tank Bund and lies on a tributary of River Musi. The attraction also has 3 km long dam wall and connects the twin cities of Hyderabad and Secunderabad. It is bordered by Indira Park, Sanjeevaiah Park, and Lumbini Park on 3 sides and is truly a relaxing and calming getaway from the city.
Although the Hussain Sagar Lake is popular for activities such as fish culture, water sports and boat rides, the major attraction of the lake is a monolithic Buddha statue situated right at the heart of the lake. The statue of Buddha was installed in the year 1992 and was inaugurated by His Holiness Dalai Lama himself. Standing at the Tank Bund, you can see the whole lake shimmering around you as the lights sparkle on the shore. Thus, the road is also known as the 'Necklace Road'. Owing to its unique heart-shaped outline, the Hussain Sagar Lake has been declared as the 'Heart of the World' by the United Nations World Tourism Organization.
Birla Mandir
Lord Venkateshwara, is a replica of Balaji of Tirupati. The statue of Lord Venkateshwara is about 11 feet in height with a carved lotus canopy above, adding on to the entrancing beauty of the deity. The statue has been carved out of granite stone. The statue of Lord Venkateshwara is carved out in the Oriya Style. This temple is said to be sanctified in 1976 by Swami Ranganathananda from Ramakrishna Ashram. Swami Ranganathananda has envisioned this temple as a place which can be suitable for meditation as well. Owing to his wishes, Birla Mandir in Hyderabad has no bells. There are also shrines of other Hindu deities such as of Padmavati and Andal. A temple of Buddha is also located inside the temple complex, which has been adorned with paintings depicting his life and works. It also has shrines for other Hindu Gods and Goddesses, namely, Shiva, Hanuman, Brahma, Ganesh, Saraswati, Shakti, Lakshmi and Sai Baba. There are engraving on the walls showcasing Gurbani and various teaching of revered saints.
Chowmahalla Palace
Once the seat of the Asaf Jahi dynasty, the Chowmahalla Palace was built in Hyderabad between the years 1857 and 1869. In essence, Chowmahalla can be literally translated to mean 'Four Palaces'. The magnificent monument consists of two massive courtyards as well as a grand dining hall known as 'Khilawat'. This splendid monument that once served as the official residence of the Nizams of Hyderabad during their reign still retains some of its past splendour. It is still the property of Barkat Ali Khan Mukarram Jah, heir of the Nizams and has been decorated with UNESCO's Asia Pacific Merit award in 2010 as well.
The architecture of the Chowmahalla Palace is an imposing sight to behold. The facade itself is a delicate artwork of domes, arches, windows and meticulously carved out designs. The complex is elegantly embellished with gentle fountains, expansive lush gardens, numerous palaces, Clock Tower, Roshan Bangla and the Council Hall. The Courtyard here is a fairytale venue to hold the most exquisite dinner parties, with the palace standing firmly in the background.
Lumbini Park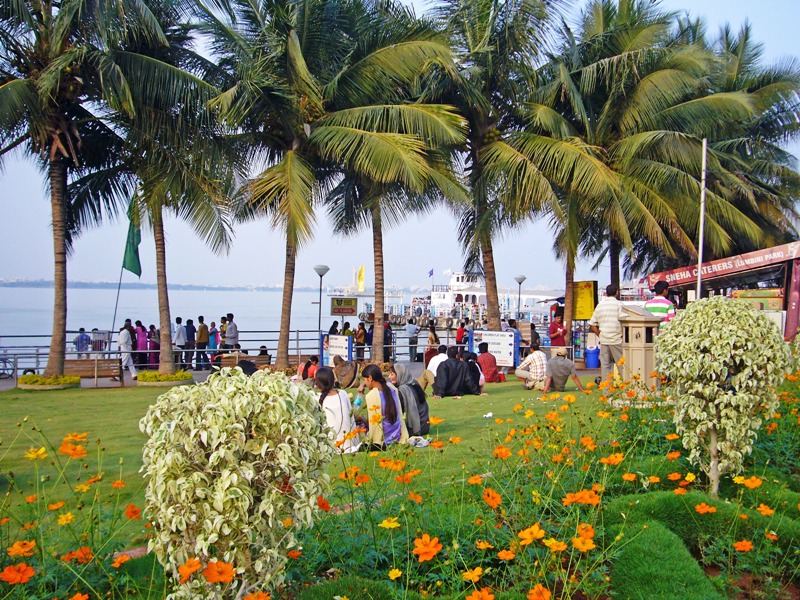 Lumbini Park is a gorgeous urban park named after Lumbini of Nepal. Located alongside Hussain Sagar, the park has an artificial water tank. A huge statue of Lord Buddha is installed in the tank which can be reached through paddle boats. The park also holds musical fountain shows and is an important tourist spot in the city.