Advances in camera performance and soaring creative ideals demand a new approach to lens technology. Lenses must evolve to remain ahead of the curve.
With a clear vision of cameras of the future, Sony now redefines the lens.
High resolution and appealing bokeh together at last, from the leader in imaging innovation.
Shared among all of the G Master series lenses are goals of outstanding resolution, set at a baseline of 50 line pairs per millimeter when shot wide open, and soft, exceptionally pleasing bokeh, much like the original G series. Helping to ensure this incredible resolution is the development of the XA, or extreme aspherical, lens element. Each of these is designed with better than 0.01-micron precision, and coatings, such as Sony's Nano AR Coating, can be accounted for in simulations to guarantee performance. This also means that the lenses will be perfectly compatible with any future high-resolution sensor advancements. These XA glass elements contribute to bokeh performance, as well, thanks to their precise design, and minimize spherical aberrations to balance sharpness and bokeh.
FE 24-70mm f/2.8 GM
Sony's insight into sensor technology is said to have heavily influenced the optical design, with an emphasis on resolution and manufacturing precision, particularly during preparation and positioning of lens elements.In terms of optical construction, the 24-70mm F2.8 uses 18 elements in 13 groups, complete with a mix of aspherical, Super ED, and ED glass types, and Nano AR coating. The lens features what's called a Direct Drive SSM (supersonic wave motor) for fast and near-silent AF operation. Minimum focus is 14.96" (0.38m), with a maximum magnification of 0.24x. Externally, the lens has a focus hold button, but
| | |
| --- | --- |
| Announced | 03/02/2016 |
| Indicative price (USD) | 2200 |
| Aperture | f/ 2.8 |
| Focal range (mm) | 24-70 |
| Filter diameter (mm) | 82 |
| Max diameter (mm) | 87.6 |
| Mount type | Sony FE |
| Stabilization | No |
| AF Motor | SSM |
| Zoom type | Ring |
| Rotating front element | No |
| Tripod mount | No |
| Color | Black |
| Full-Time manual focus | |
| Number of lenses | 18 |
| Number of groups | 13 |
| Diaphragm blades | 9 |
| Circular aperture | Yes |
| Length (mm) | 136 |
| Weight (gr) | 886 |
FE 85mm f/1.4 GM
The 85mm lens will obviously be a popular choice for portrait photographers. The focal length is ideal for this subject on both full-frame and APS-C cameras, with a 135mm equivalent field of view on the latter. Moreover, the large F1.4 aperture creates a shallow depth of field that will throw a background nicely out of focus.
The lens is constructed from 11 elements in eight groups, and contains one extreme aspherical (XA) lens element. The XA element is designed to create very smooth out-of-focus areas, as well as helping to reduce chromatic aberrations. At the press event for the new lens launch, Sony proudly told the assembled journalists that the surface tolerance of this element is just 0.01microns; in other words, it has an incredibly smooth surface. Sony also claims that the machinery required for such a high standard of production is currently used exclusively by them. Quite how much of this is fact, compared to marketing spin, is unknown; however the proof, as they say, is in the pudding, or in this case the performance of the lens.
In the lens arrangement there are also three extra-low dispersion (ED) elements that minimise axial chromatic aberrations. Key lens elements are treated with Sony's Advanced Nano AR Coating technology, which helps to suppress flare, reflections and ghosting, thereby improving clarity and contrast. In addition to this, the lens has 11 rounded aperture blades, which are designed to produce a circular aperture, and consequently create smooth out-of-focus areas that will be particularly noticeable in the highlights.

Year Introduced
2016
Mounts On
Full Frame, APS-C
Lenses / Groups
11/8
Angle of View: Diagonal
29°
Aperture
Aperture Range – Wide / Long
f/1.4-16
Number of Aperture Blades
11
Rounded Aperture?
Y
Weight
Manufacturer Specification Weight
28.9 oz (820g)
Actual Weight
28.8 oz (815g)
Lens Hood Weight
1.9 oz (55g)
In-Use Weight
30.7 oz (870g)
Size
Manufacturer Spec Size (DxL)
3.52 x 4.23" (89.5 x 107.5mm)
Measured Size (DxL)
3.5 x 4.41" (89 x 112mm)
Max Length at Full Extension
4.41" (112mm)
Internal Focusing? / Extends with Focusing?
Y / N
Lens Hood Size (DxL)
3.94 x 1.89" (100 x 48mm)
Lens Length with Hood (Min-Max)
6.13 – 6.13" (155.8 – 155.8mm)
Size of Rings: Focus / Zoom
1" (25.5mm)
Filter Size
77mm
Front Element (Filter Mount) Rotates
N
Focus
AF Motor Type
SSM
Full Time Manual Focus
Y
Focus Ring Rotation
127°
Focus Limiter? / Focus Limiter Ranges
N
Distance Scale? / Type
N
Close Focus
Specified Min Focus Distance
31.5" (800mm)
Tested Min Focus Distance (Wide / Long)
31.42" (798mm)
Maximum Magnification (MM)
0.12x
Features
Tripod Ring Included? / Removable?
N
Lens Hood Included / Model?
Y / ALC-SH142
Weather Sealed? / Filter Required?
Y /
Image Stabilization? / Stops? / Tripod Sensing?
N
Extender Compatible?
N
Case Included? / Type?
Y /
47.25″ x 31.5″ Subject Framing Distance
85mm = 9.66′
1200mm x 800mm Subject Framing Distance
85mm = 2943mm
FE 35mm f/1.4 GM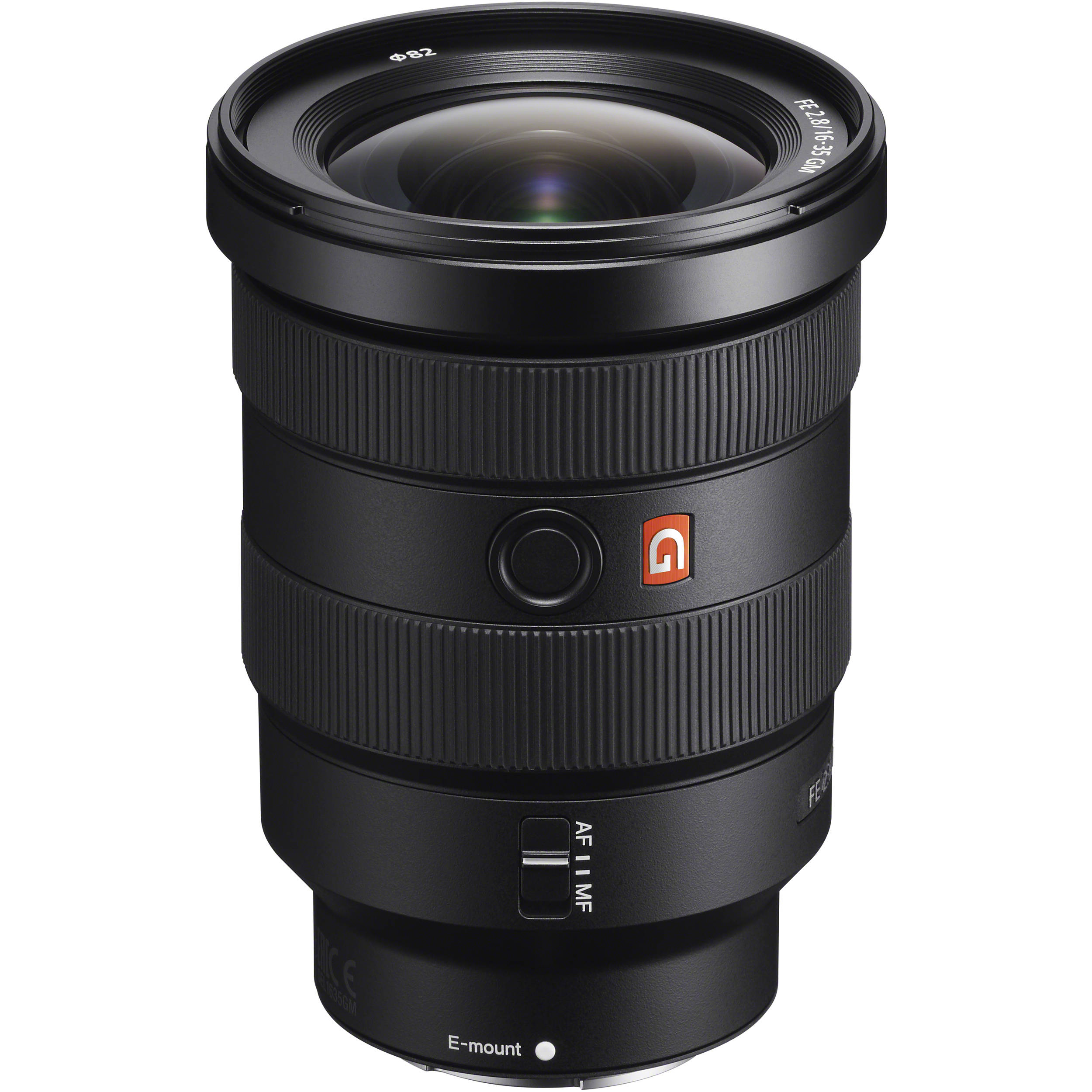 It should come as no surprise that every serious camera system offers at least one of these lenses. They're usually big, heavy, and expensive, sometimes even ridiculously so. On the other hand, they tend to deliver some of the finest image quality available. I know, life's full of hard choices.
The FE 35mm f/1.4 GM lens is all of those things, and then some. It's one of the biggest prime lenses in the E-mount system, and also one of the most expensive. Luckily, it also happens to pack quite a punch in the image quality department.
Build Quality
Like every lens jointly released by Sony and Zeiss so far, this 35mm f/1.4 lens is very well built. Being a Sony Zeiss collaboration, the lens was designed by the two companies and then manufactured by Sony according to Carl Zeiss specifications. Lenses produced in this manner are then quality-checked by Zeiss to ensure certain design and performance parameters are met.
Key Feature
MOUNT: Sony E-mount
FORMAT: 35 mm full frame
FOCAL LENGTH (MM): 35mm
35 MM EQUIVALENT FOCAL LENGTH (APS-C): 52.5mm
LENS GROUPS / ELEMENTS: 8/12
ANGLE OF VIEW (35 MM): 63°
ANGLE OF VIEW (APS-C): 44°
MAXIMUM APERTURE (F): 1.4
MINIMUM APERTURE (F): 16
APERTURE BLADES: 9
CIRCULAR APERTURE: Yes
MINIMUM FOCUS DISTANCE: 0.98 ft (0.3 m)
MAXIMUM MAGNIFICATION RATIO (X): 0.18x
FILTER DIAMETER (MM): 72mm
DIMENSIONS (DIAMETER X LENGTH): 3-1/8 x 4-1/2″ (78.5 x 112.0 mm)
WEIGHT: 22.3 oz (630 g)