Travelling is like being a little tipsy all the time as one is relaxed and open to new things. And Andaman islands are surely the best place to experience the same. I got a chance to enjoy the mesmeric beauty with my family; after all the family that travels together stays together.
Whether one is fond of travel or not, one should always plan a trip to Andamans, and experience a true heaven on earth
Port Blair
Surrounded by tropical forest and rugged coastline, the Andamans' lively provincial capital, Port Blair, is a vibrant mix of Indian Ocean inhabitants – Bengalis, Tamils, Telugus, Nicobarese and Myanmarese. Most travellers don't hang around any longer than necessary (usually one or two days while waiting to book onward travel in the islands, or returning for departure), but PB's fascinating history warrants exploration while you're in town. There are also some enticing day trips.
Samudrika Marine Museum
Located in Port Blair, Samudrika Naval Marine Museum is a well-known tourist attraction in the Andaman Islands. This popular sightseeing place of Andaman is also known as Fisheries Museum. This place has a wide range of installations with informative coverage of the islands' ecosystem, plants, animals, tribal communities and marine life. This museum also includes a small aquarium that houses various collections of fishes and corals and shells. On the outside you will also come across a skeleton of a blue whale that was washed ashore on the Nicobars. The Samudrika Naval Marine Museum is run by the Indian Navy and it stores five galleries dotted with history, geography, anthropology and marine life of the Island. Besides this, there is also a tiny zoo that shelters saltwater crocodiles in Haddo of Andaman Island.
Cellular Jail
Cellular Jail in Andaman and Nicobar Islands, India, stands as a dark reminiscence of the British rule in the Indian subcontinent. This most dreaded and gruelling colonial prison situated in the remote archipelago was used by the British particularly to exile Indian political prisoners. Isolated from the mainland, this jail, also referred as Kala Pani (where Kala means death or time and Pani means water in Sanskrit) witnessed the most atrocious punishments imposed on prisoners. India's struggle for independence saw imminent freedom fighters like Batukeshwar Dutt and Veer Savarkar being incarcerated in this jail. The jail is now open to public viewing as a National Memorial, and its museum gives one a glimpse of years of India's struggle for freedom .
Also called as kaali paani, this is a must-visit place for everyone. It gives you the feeling of pride of being Indian along with the pain that our freedom fighters had gone through during the British Raj. Even though the queue for the ticket was big, but it was worth it.
Chidiya Tapu
Chidiya Tapu is one of the most famous tourist destination in Andaman , and if you are on a trip to the islands, do not forget to spend a few hours at this wonderful place. Chidiya Tapu is mainly popular for its wide range of birds and is a haven for bird watchers. Indigenous and migratory birds can be seen decorating the skies here, enticing nature lovers and wildlife enthusiasts visiting the place.
This Island in Andaman is also a treasure trove of thick forests and stunning views of the ocean. At almost every turn, the mesmerizing views of a thick green blanket and azure sea waters await you. Experience serenity as the dense mangroves cover the entirety of the island and provide a sense of calm to the senses. A walk through the jungles will make you forget everything about your hectic lifestyle.
Neil Island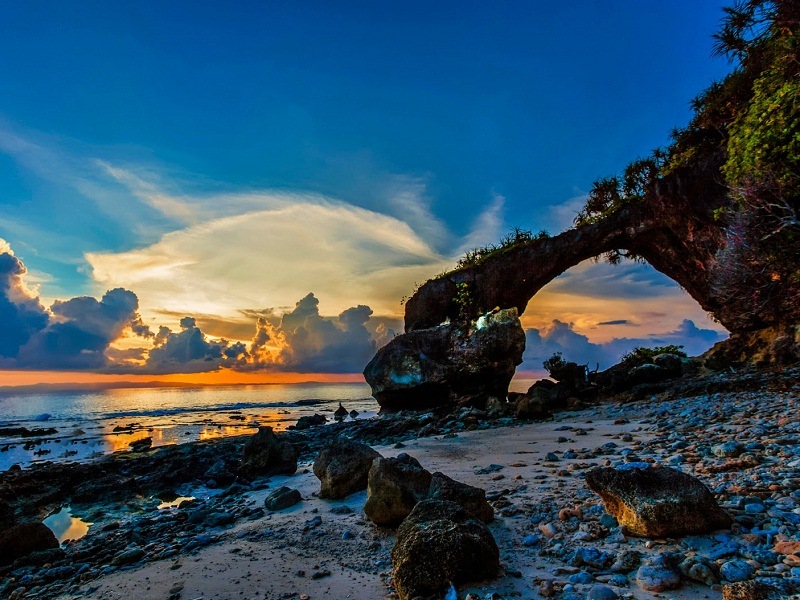 For a person who connects more to the mountains than beaches it is a little difficult to fall head over heels for an island. But believe me Neil will make you fall in love with it in the first sight itself.
Neil islands is one of the islands in the southern part of the Andaman and Nicobar group of islands in India.
Neil Island is a small island, and 1 day is enough to explore the place. One can book a cab or hire a bicycle to enjoy the beauty at your own pace. I would recommend going for bicycle trip as it will give you altogether a whole new experience.
Sitapur Beach
At the tip of the island about 5km from the market lies Sitapur beach or beach No. 5. Also known as the 'sunrise beach' it is best situated to enjoy the lovely sunrise early every morning. This postcard perfect serene beach has two curved bays and clear blue waters which tempt one to go for a swim.
Due to its location, it is prone to higher tides and stronger currents, but swimming is possible at all times. All along the white stretches of soft sand there is plenty of shade from the palm treess.. At low tide one can walk to the second bay and explore small caves or just enjoy the peacefulness of Sitapur beach. As the beach is never crowded there are no facilities yet, one can only buy fresh coconuts. There is a resort with a small restaurant 100 meters away in case you run out of water or get hungry.