India has to be one of the world's most romantic destinations. Its beguiling mix of ancient forts, pretty palaces, shimmering lakes and gorgeous beaches is bound to get many a traveller feeling the love. If you're looking for a special place to spend time with a special someone, here are the most romantic places in India.
Taj Mahal, Agra
The Taj Mahal is, quite simply, one of the world's most stunning buildings. This white marble mausoleum in the city of Agra has become the premier cultural icon of India; endlessly photographed, its image is familiar all over the world. Yet people seeing the reality for the first time still gasp at its breathtaking beauty. To architects, the Taj Mahal is the finest surviving example of Mughal architecture (a blend of Indian, Persian and Islamic), unsurpassed in its harmonious proportions and fluidity of decoration. To the rest of the world, it is an enduring monument to love, built by a grief-stricken man after the death of his most beloved wife.
A labour of love
The Taj Mahal was constructed in the 17th century. When the young prince Khurram (1592–1666), favourite son of the Mughal Emperor Jahangir, met Arjumand Banu Begum, descended from Persian nobility, he was instantly dazzled by her beauty and was determined to marry her. They were betrothed in 1607, when he was 15 and she 14, but had to wait for another five years to marry, until the court astrologers found an auspicious date for the wedding.
After they were married, the prince, finding his wife 'elect among all the women of the time', gave her the title of Mumtaz Mahal, 'Jewel of the Palace'. For the next 19 years the couple were inseparable, with Mumtaz, despite her many pregnancies, often travelling with her husband on his military campaigns. The prince took two other wives, but according to court chroniclers, his feelings for Mumtaz 'exceeded by a thousand times what he felt for the others'. In 1627, when he succeeded to the throne as Shah Jahan, his trust in her was so great that he gave her his imperial seal, the Muhr Uzah.
Udaipur, Rajasthan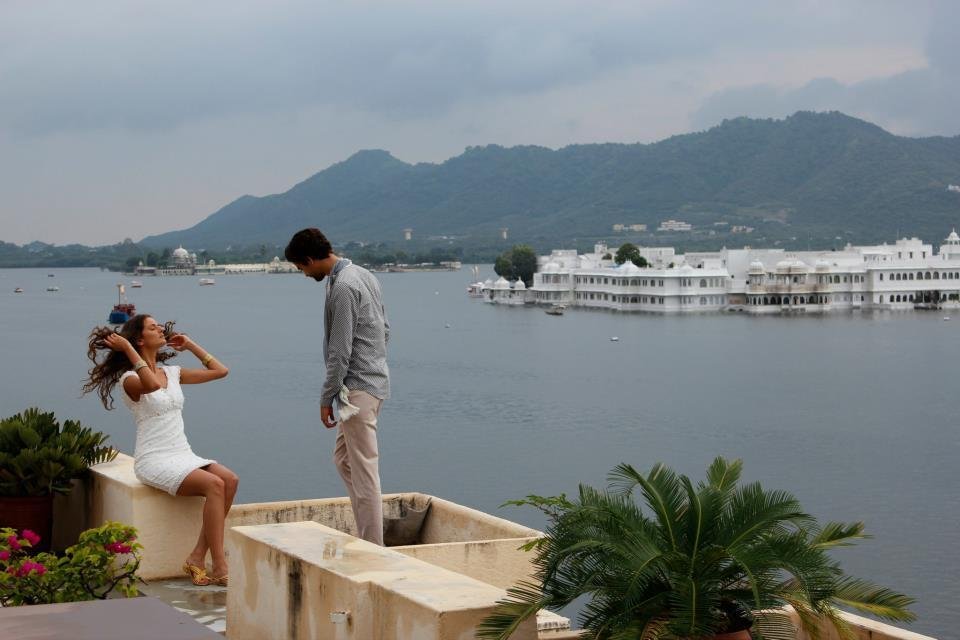 If you think sunset views are overrated, then you have never witnessed a sunset in Udaipur. Head to Sunset Terrace at Fateh Prakash Palace, which is surrounded by Aravalli mountains and overlooks the majestic Lake Pichola. Sitting here and seeing the setting sun over the horizon is surely one of the most interesting things to do in Udaipur for couples; don't forget to capture the beautiful memories of the evening in your camera.
Visiting hours: 7am to 10:30pm
Location: Fateh Prakash Palace, The City Palace Complex, City Palace Rd, Silawat Wadi, Udaipur, Rajasthan 31300.
Kumarakom, Kerala
Kerala has a beautiful coastline to boast of. Most couples prefer destinations such as Kumarakom, Alappuzha, Munnar, Kovalam and Trivandrum as they offer beautiful backdrops overlooking the backwaters, tea estates, beaches and mountains. While selecting the facilities for the guests who are staying at the resorts during the wedding, it can be a thoughtful gesture to include authentic Ayurvedic massages on the indulgence list. Local musicians and priests can be booked beforehand for specific cere .
Why choose Kumarakom
 Kumarakom is surrounded by lush landscaped greenery and twinkling streams. Temple weddings, river side weddings are being styled and executed with perfection, right from the traditionally dressed young hosts with welcome lamps or a flowered arch at the bottom of a aisle replete with fresh petals to a soft live band. Several resorts offers premium personal service that caters to every requir .
Jaisalmer Desert, Rajasthan
Romantic stay with your beloved one Ride a camel into the sunset, visit local villages and be entertained by Rajasthani musicians. Live entertainment in a luxury camp and serve buffet dinner around camp fire at our Honeymoon suite luxury Tent.Breathe in the timelessness of desert life, the peace and calm that permeates your very being.Spend a romantic night in the thar desert with an evening in a deluxe tented desert camp.  Enjoy the peace of the natural environment at the sand dunes.  In the evening join the other guests around the fire for a live Rajasthani cultural show and an extensive evening buffet meal.  This excursion also includes a visit to local sights and ghost village, and an optional camel ride into the sunset.  Your journey begins and ends in Jasailmer where you will travel by private vehicle to the desert camp.
Kodagu, Karnataka
Located amidst imposing mountains in Karnataka with a perpetually misty landscape, Coorg is the place to be for all nature lovers. This popular coffee producing hill station is not only popular for its beautiful green hills and the streams cutting right through them. It also stands as a popular destination because of its culture and people. The Kodavas, a local clan specialising in martial arts, are especially notable for their keen hospitality.
Coorg, officially known as Kodagu, is the most affluent hill station in Karnataka. It is well known for its breathtakingly exotic scenery and lush greenery. Forest covered hills, spice and coffee plantations only add to the landscape. Maderiki is the region's centre point with all transportation for getting around starting from here. On a visit to Coorg, cover the beautiful towns like Virajpet, Kushalnagar, Gonikoppal, Pollibetta, and Somwarpet, and experience the beautiful concept of "homestays" to make your experience more memorable!
How To Reach
Coorg does not have its own railway station, and the nearest one is at Mysore (120 km). The closest airport is at Mangalore (152 km), from where the tourists can head to Coorg by bus or taxi.