Bangalore is one of the most popular places in India, known for its diverse culture, language and crowd. It is a major hub for IT offices in the nation with people from all over India flocking down to the city for a better livelihood and high-paying job. Here are some of the tourist places near Bangalore within 50 km which not only extremely popular and fun to visit but have something in store for everyone!
Staying in a city as busy and hectic as Bangalore calls for some short day or weekend trips which allow an individual to relax and unwind and de-stress himself once in a while.
Over the years, Bangalore has born many titles, all of which have been appropriate and descriptive of the place itself. From the middle ages, when it was known as 'City of Guards', past the picturesque title of 'Garden City of India', all the way to a more contemporary – 'Silicon Valley of India'. These titles portray the rich tapestry that is Bangalore's history and culture, making it increasingly more obvious why it is so successful today. Besides boasting immense monuments and temples to see, another big reason why it's so prominently visited is because of the so-called medical tourism. Many people stricken with illness come to high-tech hospitals and institutes of Bangalore to seek treatment.
While it may not seem attractive to hang around in a megalopolis such as Bangalore, it's definitely worth the visit. However, if you're certain that you won't be enjoying yourself in its many urban areas, there are still dozens of places to see in the immediate vicinity of this enormous place. Take a look at some of the places to visit near Bangalore within 50 kms, a perfect distance for those who want to avoid the hustle and bustle of a megacity, but still stay relatively close to it.
time for a relaxing day in one of the largest amusement parks in India. Located just 28 kms from Bangalore, Wonderla Holidays is a great representative of a more progressive future. In that manner, it is similar to the megacity itself. The list of things you can do grows each year. Some of the more futuristic ones are laser tag and virtual reality shows. It's one of the best places to visit near Bangalore within 50 kms if you're travelling with children. They'll be more than excited when they see what Wonderla has to offer.
With 55 water and land rides, an amazing dance floor and solar-powered pools, visiting Wonderla can be a perfect end to a perfect weekend! Even though this place sounds tailored to children far more than adults, adults can do their business too. Keep in mind that there are conference rooms for business meetings and a huge hotel complex.
If you're looking for a different, relaxing experience, Wonderla Holidays can easily be what you're looking for. It's good to know that you have an alternative if you ever get bored with visiting temples and natural parks in the area. They constitute the majority of things to do around Bangalore, and sometimes you just need a refreshment.
Only 20 kms from Bangalore, you will find the last forest of its kind so close to the city. Unfortunately, constant fires and pollution are destroying what's left of it. Almost all trees in the forest are that of eucalyptus. It is also home to many little critters such as mongooses, hares, owls and babblers. There are also jackals and many other kinds of birds to be seen.
It's great for hiking and trekking, but it would be very wise of you to be as careful as possible since you're exploring the last forest outside of the city. It's very beautiful, with breathtaking views from certain vantage points, allowing you to take great photographs. Do take care of the environment while you're there! It's such a gentle place that will most likely be completely gone soon. Turahalli Forest serves as a great reminder of what we're sacrificing on our way to progress and the future. Take the opportunity now and visit these remaining havens with unique flora and fauna while they still exist.
Another excellent location for trekking near Bangalore, Thottikallu Falls go by many other names. They are usually referred to as the TK Falls, but the locals call them Swarnamukhi, or 'golden-faced'. It's located just outside of Bangalore, no more than 25 kms away from the city itself.
Thottikallu Falls are a display of grandeur and beauty, just like most waterfalls in this province are. However, keep in mind that they tend to dry up during the summer, leaving very little to be enjoyed. Local people claim they are best visited after monsoons, as that is when there is enough water to create spectacular imagery. That makes it one of the best getaways in the vicinity of Bangalore.
Distance from Bangalore: 25 kilometres
Thattekere is not one of the popular tourist places – at least not yet. At a distance of only 40 kms, it's an excellent spot for a day trip from Bangalore. Mahadeshwara temple sits at the west bank of a gorgeous lake after which the village of Thattekere was named after.
If there's one reason for you to visit Thattekere, it's serenity. Even young people from Bangalore come here to take their minds off of things and enjoy lovely scenery. The tranquillity of this scarcely populated lake is almost intoxicating.
This tiny village doesn't have more than 2,000 people living there, making it the perfect place to come and relax. It's especially true if you're not used to being in a megalopolis and all the hustle and bustle that comes with it. Beyond the lake, you'll find excellent birdwatching spots, although this is rarely a popular pastime among locals and tourists alike.
At the very edge of our 50 kms limit lies the Shivaganga mountain peak. This holy mountain gets its name from words 'shivalinga', thanks to the disc-shaped peak. The word 'ganga' stems from the local stream flowing in the area. It is one of the most prominent trekking locations near Bangalore. It rewards those brave and endurant enough with spectacular views from the top. By that, we absolutely mean awe-inspiring since the peak rests at the height of 804 metres. Just like in any place of religious significance in India ('shivalinga' is a disc-shaped, abstract representation of Shiva), there are many temples that dot the landscape such as Sri Honnammadevi Temple, Olakal Teertha and Patalagang Sharadambe temple.
If you decide to go trekking or rock climbing, you will find that the entire area has been properly marked. It's well-suited to adventure seekers. It's probably one of the best places to visit near Bangalore within 50 kms if you want to take some cool photos!
Distance from Bangalore: 50 kilometres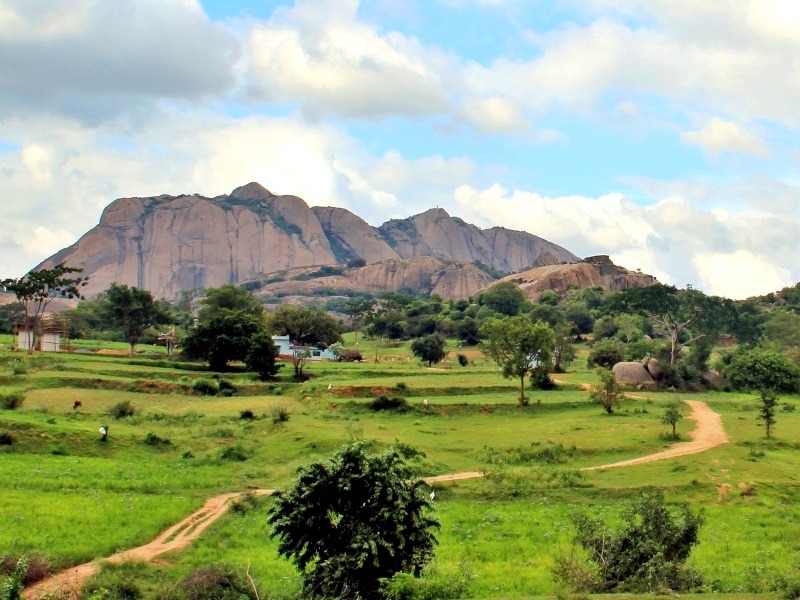 About 32 kms from Bangalore lies one of the largest monolith hills in entire Asia – Savandurga Hills. Technically, it's actually two hills that constitute Savandurga: Black Hill (Karigudda) and White Hill (Biligudda). It is yet another location very popular among pilgrims who travel there to pray at Savandi Veerabhadreshwara Swamy Temple and Narasimha Swamy Temple.
The view from Savandurga is breathtaking and allows you to spectate the surrounding area to great detail. Many megalithic settlements have been discovered in the area, including a cemetery with remains of a fallen warrior. You can also observe several majestic species of butterflies on the slopes of Savandurga Hills.
Nearby, you'll find Manchinbele dam where you can try kayaking on for size on the mighty river called Arkavati. This river is a tributary of an even mightier river called River Kaveri. The great Kaveri is the source of water for Bangalore and other southern cities. Overall, this place is one of the best to have amazing day trips! It's highly likely that stunning views of the area won't let you go back to the city without a fight.
Distance from Bangalore: 32 kilometres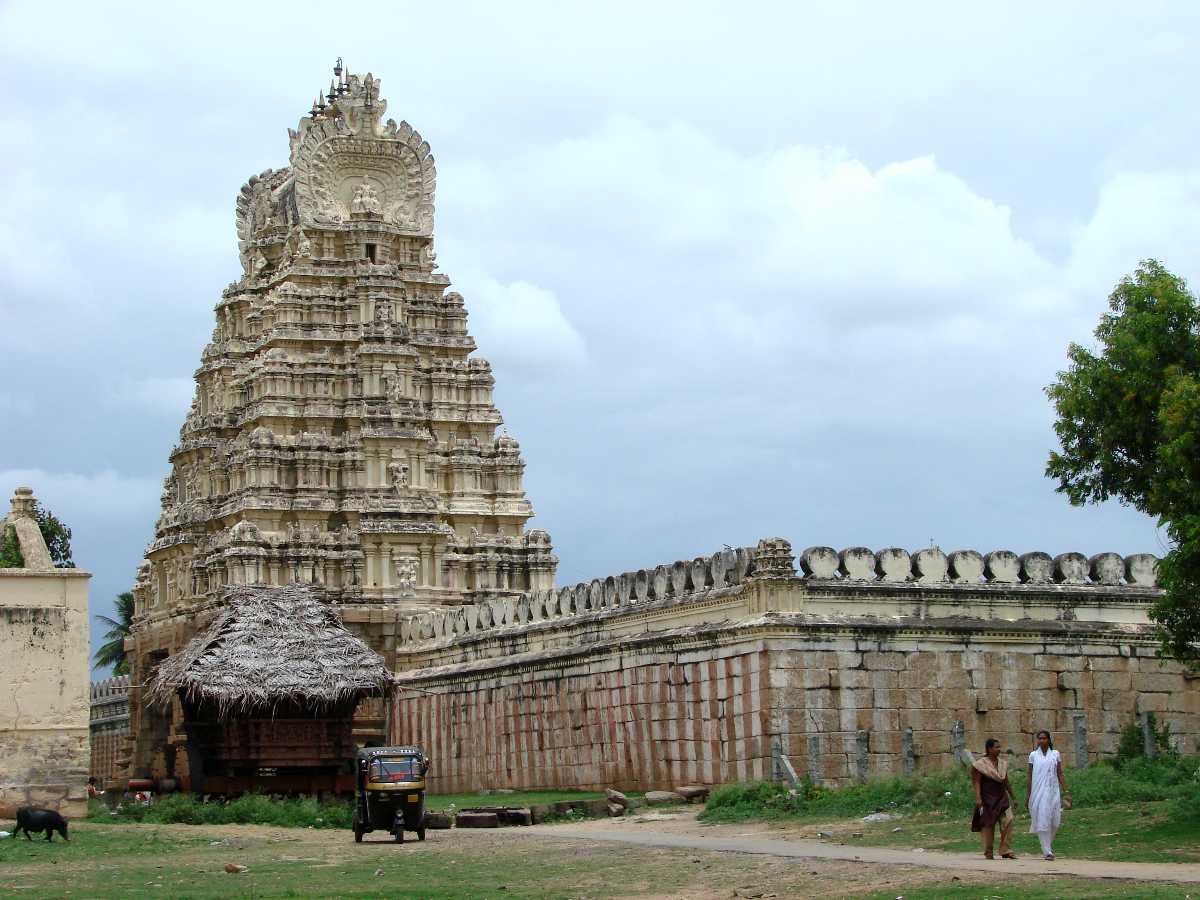 Sitting at approximately 44 kms from Bangalore, Ranganatha Swamy Temple prides itself on its long history. It is claimed that Ranganatha was built in the 12th century. Naturally, the temple has been renovated and expanded several times since then, but it's still equally impressive to visit.
It's reminiscent of other temples in Bangalore, with unusually colourful decorations that westerners aren't really used to. That doesn't make it any less beautiful though and visiting Ranganatha Swamy Temple can be considered a crowning jewel of your journey through Bangalore and Karnataka province.
Distance from Bangalore: 44 kilometres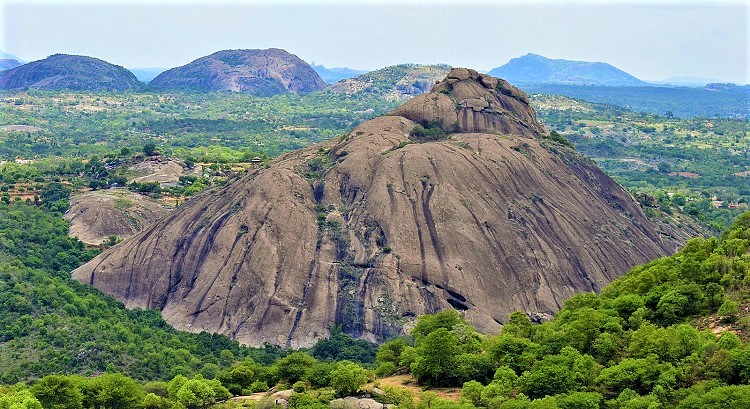 Situated about 44 kms from the city of Bangalore, this large town is very interesting. There are reasons for that other than natural beauty or shrines (even though it has some). It is the biggest importer of silk cocoons in Asia. So if you visit this town, you'll witness the making of exquisite Mysore silk. This is why they call Ramanagara 'Silk Town' and it thrives on sericulture. Sericulture, or silk farming, is the process of silkworm cultivation for the purposes of producing silk. It's one of the bases on which their country was built.
Besides providing you with a peek at one of the most characteristic industries in Asia, it's also featured in movies. It is a town that has been used in Indian movies, just under different names. Surrounding the area, tourists can find large boulders and rocks that are perfect for climbing. You can get a lesson in rappelling if you haven't done that before. Or, you can just go hiking if you prefer a smoother ride. It's one of the farther trips from Bangalore and it takes some time getting there. But it will be a worthy lesson in the history of the local economy and also a fun experience if you head out to the boulders. The fastest way to get here is by taking a train leaving from a Bangalore city junction.
Distance from Bangalore: 44 kilometres
Close to the tranquil Hesaraghatta Lake near Bangalore, you'll find the first contemporary Gurukul for Indian classical dances, which has grown into a full-on dance community. Before we proceed, an explanation of the term 'Gurukul' is in order. Gurukul was a kind of boarding school where students used to live together with their gurus. This was the most sacred institution where young minds would learn from their gurus over the course of several years.
Nrityagram is, as we have mentioned, the first such school for classical dances. Its name means 'dance village' which is exactly what this place is. Dancers go there to drop the malevolence of society and express themselves through dance. It is located about 30 kms from Bangalore, a hidden sanctuary where people only dance and enjoy life. It is a remarkable place and quite an experience to observe their dances. However, don't despair if you haven't got the time to visit them in the dance village, because Nrityagram Dance Ensemble performs internationally as well! You might get the opportunity to see them somewhere in the area if you're lucky.
Distance from Bangalore: 30 kilometres
Despite the direct translation of Muthyala Maduvu being 'Pearl Pond', this tourist attraction which is located about 40 kms from Bangalore is better known as Pearl Valley. Navigating to this place will require you to get to Anekal first. After that, it's a 5 km hike for you.
Muthyala Maduvu is basically a small, but a gorgeous waterfall. Climbing to the top will reveal lovely views and enable you to truly appreciate the nature of Karnataka. As for how it got its name – after you get to the waterfalls, you'll realise that water barely trickles down to the bottom. It falls down in thin strings over plants and rocks and these bright strings of water resemble, you guessed it – strings of shiny white pearls.
It is also one of the popular pilgrimage sites as the waterfall also hides a temple to Shiva, and each morning, people come to pray. Muthyala Maduvu is something special, it's a sight that you'll never forget, and it makes you wonder how many places like this one exist in the world. Surrounded by breathtaking mountain ranges and green pastures, it's quite obvious why many tourists come here to have a picnic.
Distance from Bangalore: 40 kilometres
Lakshmi Narasimha Swamy Temple
It wouldn't be fair if we omitted a temple situated so close to the city of Bangalore itself, at 32 kms distance. That being said, there are dozens upon dozens of temples to Lord Narasimha in India, and it's difficult to say which is more impressive than the other. Lakshmi Narasimha Swamy temple near Bangalore attracts thousands of tourists every year for many reasons. First of all, each temple complex to Narasimha is an architectural work of marvel, and just gazing at their entrances is amazing on its own merits.
The entrance to Lakshmi Narasimha Swamy temple is very similar to that of a Subramanya temple, with the exception of columns. Subramanya temples have columns rising from the ground level, while these ones just have regular walls. What you'll notice in both of these temples is a colourful display of religious figures and idols. Sometimes, it's even difficult to look past all the decorations and palettes of colours similar to that of a rainbow in order for the face of god to appear. Whatever the case, temples around Bangalore are works of pure grandeur and even luxury. Make sure to visit at least one to see if these places are to your liking.
Distance from Bangalore: 32 kilometres
At the edge of our 50 kms boundary, beyond Ramagaram, lies a folk museum that tells the story of the people of Karnataka. Janapada Loka, or 'folk cosmos' as it is so eagerly called, showcases more than 5,000 artefacts. These belong to the people of this South Indian province and tell us more about them. It is a window into their lives, habits and celebrations. Also, it is a beautiful collage of a culture so different than our own.
Considering Janapada Loka as one of the popular destinations to visit near Bangalore should be of great importance to anyone wishing to fully understand these people. Hiking through landscapes and savouring local cuisine is all well and good, but investing oneself in learning about the history and customs of these people is equally amazing and unforgettable. You can see what kinds of pots they used to store grain, which instruments they prefered, tools they used, where they lived and even how and when they got married. That way, you'll be able to fully experience what it means to live (or have lived) in Karnataka.
Distance from Bangalore: 50 kilometres
Each great Bangalore tour should start by taking visitors to see the Electronic City. It is one of the biggest IT hubs in India, encompassing an area of 800 acres. If you'd like to see what future looks like, a visit to this information technology industrial park is an absolute must. There are more than 200 IT and outsourced companies operating out of the Electronic City.
Commonly known as ECity, it's one of the main driving forces of the city of Bangalore, located at less than 17 kms from the city centre. It was founded by Rama Krishna Baliga whose idea was to turn Bangalore into the Silicon Valley of India. Suffice it to say that he succeeded in his idea, creating jobs for thousands of Indians and propelling the country to high-ranking positions in the IT sector. The industrial park itself is divided into four phases that travellers can visit separately.
If you plan on visiting Bangalore, don't miss out on what could be the experience of a lifetime. Electronic City is situated less than 20 kms south from Bangalore. You can even hire a flyover and observe the ECity from above.
Distance from Bangalore: 17 kilometres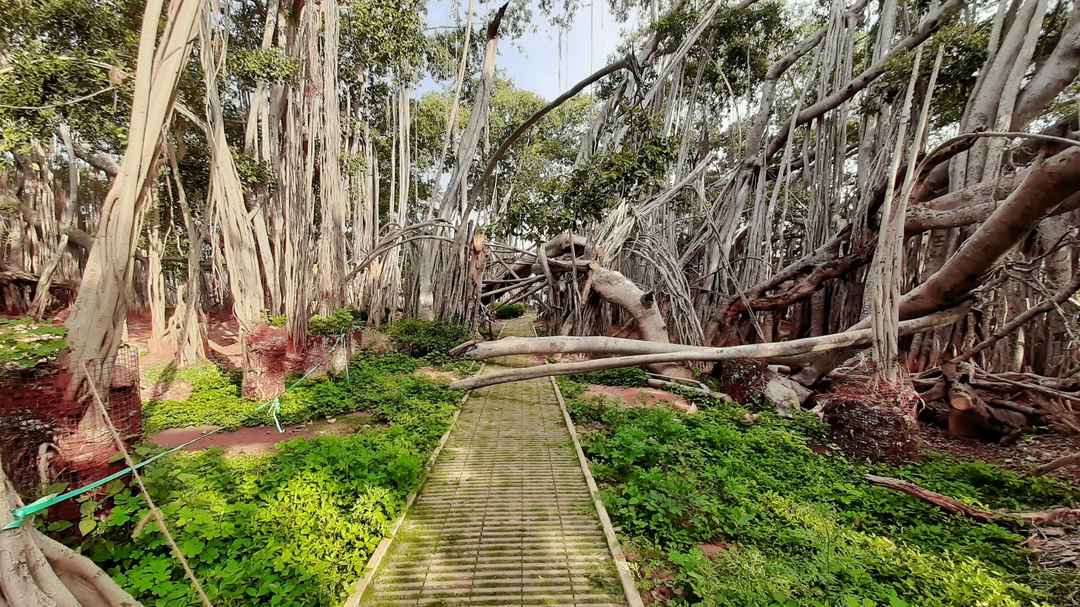 In the village of Kethohalli, 28 kms from Bangalore, you'll find what seems to be a splintered tree called Dodda Alada Mara in the local language. We'd translate that as Big Banyan Tree, which is exactly what this is. It used to be a 400-year old Banyan tree, but its roots were unfortunately damaged by natural disease. Several families of monkeys have made this place their home, so be mindful of your belongings, otherwise, they might disappear!
Due to the aforementioned disease, this gigantic life form, this ancient tree looks as if it were torn apart into several smaller trees. But do not be fooled by its appearance – it is, in fact, just one huge tree! It's incredible seeing it in person, even though you've spent your whole life hearing about such enormous trees in school. Perhaps this is once in a lifetime opportunity, because who knows when it might go down completely, having in mind the proximity of ever-growing megalopolis and the fact that a road passes right next to it. Having said that, you can take a bus that leads you directly to Dodda Alada Mara.
Distance from Bangalore: 28 kilometres
Bannerghatta National Park
About 22 kilometres south of Bangalore, tourists can visit one of the most beautiful national parks in India. Aside from providing people with the first-hand experience with certain rare species, you also get to visit shrines and temples scattered about. For those looking to discover the area on their own, hiking trails allow for a more adventurous approach to the park.
Bannerghatta Biological Park is the section where you'll be able to see some extraordinary creatures such as white tigers, Bengal tigers and lions. There are also snakes and butterfly enclosures and even crocodiles. The elephant sanctuary that is part of this park has enough room for these massive creatures to wander around. If you love nature and animals, then this park should be the top priority on your list of places to visit, only a short distance away from the city.
If you're looking to make the visit even more challenging and less about just looking at flora and fauna, many tourists have found that this park makes for a great trekking location that will test your endurance and survival skills!
Distance from Bangalore: 22 kilometres
Manchanabele Dam is built on the water of the tranquil Arkavati River. Located in the state of Karnataka, this place is visited by a lot of people because it is ideal to get away from the pell mell of city and enjoy some serenity in the lap of nature. Manchanabele Dam is replete with cool and clear water. This dam is also surrounded by lush green trees in small hills that makes the place look even more mesmerizing. The panoramic views of the sky and the earth can be best observed during sunrise or sunset. The place looks spellbinding during these two phenomenons as the different hues of the sky juxtaposed with the lush greenery and blue water is simply magical. Manchanabele Dam is a perfect place to visit to unwind and relax.