The turn of a new year in Australia throughout much of the country also brings along with it a significant bump in the thermometer readings, as summer is in full swing and shows no signs of slowing down. Add in school holidays, and January makes for one of the busiest periods in the entire calendar year to travel in Australia, with much of the northern third of the country in particular nearing uncomfortable levels of warmth.
As a result, many travellers will instead want to flock south during January, for purposes of both cooling down as well as escaping the crowds that envelop many of Oz's biggest-name tourist spots. This warmer climate brings with it the benefit of making a number of typically chilly southern destinations far more viable, however, with some truly unique experiences to be had in the "downunder" portion of DownUnder.
If you're looking for a summer escape that also offers some truly enjoyable things to do, here are 5 of the best places in Australia to visit in January.
Port Macquarie nsw
Travel to beautiful Port Macquarie, New South Wales and you will find a coastal township featuring all the beauty of the beach set alongside gorgeous national parks, an array of attractions, and a township offering great restaurants, cafes and shopping.
Port Macquarie Australia is located halfway between the Gold Coast, Qld and Sydney, NSW on the New South Wales coast at the mouth of the Hastings River. The weather in Port Macquarie is beautiful all year round and temperatures range from 20c to 32c in summer and from 8c to 21c in winter.
Some of the activities you can enjoy in Port Macquarie are swimming in the pristine waters at any one of the 14 Port Macquarie beaches, walking through the national parks of Port Macquarie and taking in some of the historical sites such as Timbertown. Fishing in Port Macquarie is another popular pastime.
You should also consider a tour of the Hastings River wine region. A good place to start your tour is at the Sherwood Wine Embassy. As well as tastings, the Embassy provides maps and brochures for most of the wineries in the area. A map of Port Macquarie will give you an idea of just how much there is to see and do and how accessible it is from your accommodation in Port Macquarie.
Attraction
Koala Hospital
Tacking Point Lighthouse
Sea Acres Rainforest Centre
Lighthouse Beach
Town Beach
Flynns Beach
Port Macquarie Museum
Roto House, NSW National Parks
Livvi's Place at Westport Park
Geelong vic
On the western side of Port Phillip Bay, the beautiful Bellarine Peninsula sits about 100 kilometers southwest of Melbourne, opposite the Mornington Peninsula. Equally as gentrified as its nearby sister peninsula but much quieter, the Bellarine Peninsula is a blend of history with a modern twist. Long curving beaches, quaint seaside villages with hip cafes, museums, and heritage architecture are some of the region's top attractions.
The bustling city of Geelong is the gateway to the peninsula and it's packed with things to do. It's also a popular stopping-off point for travelers heading to the Great Ocean Road, one of the world's top scenic drives. Other top Bellarine Peninsula places to visit include the charming seaside village of Queenscliff; the beautiful beaches of Barwon Heads; and the sleepy town of Point Lonsdale, with dramatic views of the Port Phillip Heads.
Families can hang out with their favorite Aussie animals at wildlife parks, and foodies can feast their way around the region visiting boutique food producers and family-owned farms. Plan your trip to this picturesque region with our list of the top attractions in Geelong and the Bellarine Peninsula.
Attraction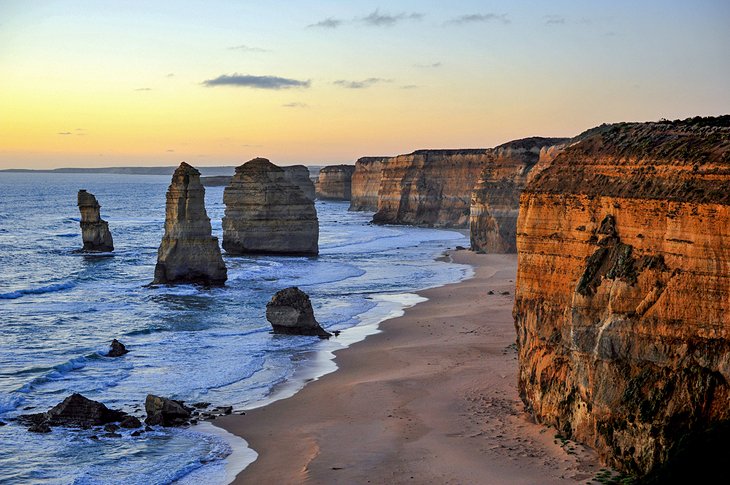 Adventure Park Geelong, Victoria
Geelong Waterfront
Geelong Botanic Gardens
National Wool Museum
Eastern Beach
Geelong Gallery
Eastern Beach Reserve
Eastern Beach Road
Serendip Sanctuary
Snowy Mountains, NSW
Australia's most famous high-country area may be renowned for its wintersports, yet New South Wales' Snowy Mountain region makes for a veritable playground for outdoor enthusiasts during the warmer periods as well. Sometimes inhospitably cold for many travellers during winter, in the summer season much of the Snowies have thawed out, opening up countless opportunities for the likes of walking, riding, kayaking, and a range of other activities all amongst some untouched Aussie bushland.
Many of the previously frigid and dully-hued landscapes of the Snowy Mountains transform to become draped in a layer of colour during the warmer months, with its glowing glacial lakes contrasting with brightly-coloured wildflowers of vivid hues making for a bright and radiant landscape during January.
The eponymous mountain range consists of part of the greater Kosciuszko National Park, with its namesake peak an obvious highlight and offering a surprisingly accessible walk for those interested in making the hike to its summit. Walking up Kosciuszko is far less daunting than the prospect may initially seem, with a reasonable gradient and solid footing meaning walks of even moderate fitness levels can expect to complete the trek in around three to four hours. In return for your efforts, you'll encounter a mixture of ancient glacial landscapes, and vibrant alpine flowers that combine with the views to make for some stunning scenery.
Attraction
Kosciuszko National Park. Kosciuszko National Park. …
Kosciuszko Walk. Walking track to Mount Kosciuszko. …
Perisher Ski Resort. …
Thredbo Village. …
Charlotte Pass. …
Jindabyne. …
Lake Jindabyne. …
Cooma.
Hobart, TAS
On the Waterfront
Hobart is a harbour town – a port city where the world rushes in on the tide and ebbs away again, bringing with it influences from afar and leaving the locals buzzing with a global zeitgeist. Or so the theory goes. These days Hobart's waterfront precinct is certainly abuzz, with old pubs alongside new craft-beer bars, myriad cafes, museums, festivals, ferries, fishing boats, yachts, accommodation and a floating pier upholding fine restaurants…all of it washed with sea-salty charm and a sense of history. On a sunny afternoon, there are few more pleasant places to find yourself.
Up the Mountain
Riding high above the city is kunanyi/Mt Wellington, a craggy basalt beast seemingly made for mountain biking and bushwalking. Known as kunanyi by local Aboriginal people, and just 'the mountain' by everybody else, this 1271m-high monolith both defines the city below and shelters it. Drive to the summit in any season – you're assured of either a show-stopping view or an out-of-time, lunar, cloud-shrouded experience, wandering around between snowdrifts, lichen-dappled boulders and the stunted plants that somehow survive in these lofty skies. Finally, barrel back down to the waterfront on a mountain-bike tour like no other.
Eating & Drinking
Watery cappuccino? Lukewarm sausage roll? Maybe a deep-fried, reconstituted squid ring? Forget it: the bad old days of Hobart food and drink are long gone. The new order of service here focuses on top-quality local and seasonal produce, turned by deft chefs into marvellous restaurant, cafe and pub meals. Coffee culture is also firmly entrenched, with double-shot pick-me-ups available at every turn. And booze? Cascade Brewery leads Australian's mainstream brewing brigade, but an under-fleet of creative craft-beer breweries is also bubbling up here. And with dinner, cool-climate wines from the nearby Coal and Derwent river valleys are hard to beat.
Party Time
Hobart's summer festival season is an absolute blast! For a few weeks circling around New Year's Eve, this little city goes berserk with travellers, foodies, musicians, and sailors from the Sydney to Hobart Yacht Race turning the town upside down. The Taste of Tasmanian festival, highlighting local produce, is the summer centrepiece. Then, in the depths of winter, Hobart's more macabre, unhinged side comes out to play: the Dark MOFO festival shines a pale gothic light on the city's past and present, with visitors revelling in offbeat performances, feasts, bonfires, installations and plenty of good red wine.
Attraction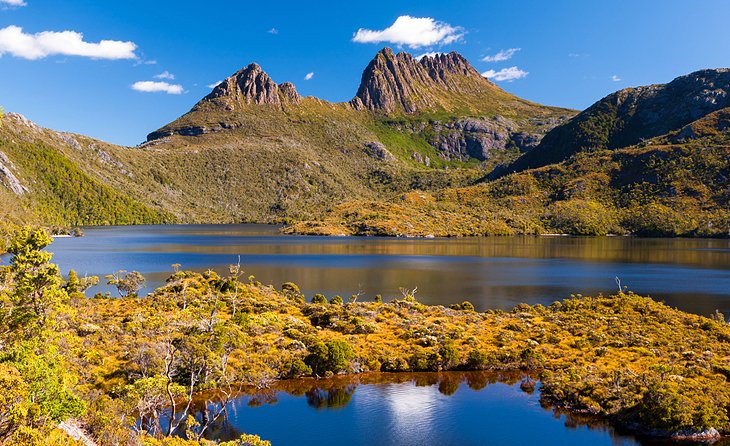 Mount Wellington
MONA
Salamanca Market
Royal Tasmanian Botanical Gardens
Cascade Brewery
Tasmanian Museum and Art Gallery
Wrest Point
Cascades Female Factory Historic Site