If you're expecting a massive redesign in the MacBook Pro (15-inch, 2019), think again. This 2019 model, which hit the streets in the summer of 2019, feels like an iteration of last year's model.
On the plus side, after spending some time putting it through the paces, we've come to realize that the MacBook Pro (15-inch, 2019) is also sporting some fresh features you won't find in the older models – and many of which have been long overdue. That keyboard, for one, gets an improved design, so it's no longer problematic – a great news to long-suffering MacBook Pro users who need to upgrade their MacBook Pro anyway. Specs-wise, the highest configuration of the line now boasts some incremental changes, more than enough to make it worth the upgrade if you've got a 2017.
Then, there's a model equipped with a 2.3GHz 8-core 9th generation Intel Core i9 processor, Radeon Pro 560X with 4GB of GDDR5 memory, 16GB DDR4 memory and 512GB SSD storage for $2,799 (£2,799, AU$4,099/AED11,679).
In the US and Australia, this price compares favorably with last year's base model, which sold for $2,399 (£2,349, AU$3,499) and came with a 2.2GHz, 6-core 8th generation Intel Core i7 CPU, Radeon Pro 555X GPU, 16GB of DDR4 memory and a 256GB SSD. That's basically the same spec, aside from the updated processor and GPU.
Design
If you know what the Apple MacBook Pro looks like, there are few surprises when you look at this machine (though there are some). It follows the same elegant space gray aluminum casing with delicate speakers each side of the keyboard (and hidden downward-facing speakers underneath).
Build quality, like previous MacBook laptops, is immaculate: solid, detailed with every element integrated perfectly from those side speakers to the solid, flexible hinge. As is common on Apple laptops, this is perfectly weighted so you can open it one-handed, unlike many rival computers.
There's a Retina display with slim black glass bezel in a flush, slim lid. But compared to the 15in MacBook Pro which this new model replaces, every bezel is slimmer, so the extra screen real estate is included with almost no extra overall size.
The previous effect was an immersive display with minimal frame. Now, it's even better.
The other big change to the design is the keyboard. Look closely: the Touch Bar is still in place, as it is in every MacBook Pro model in the current range, but here, it's shorter. First, it finishes on the left edge sooner, making room for – Hallelujah! – a physical Escape key.
So, the MacBook Pro 15-inch (2019)'s dimensions are 13.7 x 9.48 x 0.61-inches (34.92 x 24.07 x 1.55), basically the same as last year's model, and is slightly smaller than MacBook Pros launched before 2016's refresh. The new MacBook Pro 15 also weighs 4.02 pounds (1.83kg) – which, again, is exactly the same as last year's model.
Secondly, the Razer Blade Pro 17 (2019) showcases how to have a slim laptop (its dimensions are 15.55 x 10.24 x 0.78-inches, which isn't a lot larger than the MacBook Pro, especially considering it has a 17-inch display) and still have all the essential ports. It has an Ethernet, two USB 3.2, two USB-C 3.2, a 3.5mm audio jack, HDMI 2.0B and an SD card reader. That's the kind of port selection that many people – particularly photographers – would find extremely useful and convenient.
Keyboard
Much has been written about Apple's recent laptop keyboards. The butterfly keyboard introduced with the 2015 MacBook was thinner, crisper, louder and with only a small amount of travel. I quite liked it, but it was plagued with failures due to dust getting under the keys and stopping them from depressing.
The 16in MacBook Pro has a new "magic keyboard" that moves back to the traditional scissor switches used by older Apple laptops and practically every other manufacturer. The keys are more stable and the travel is slightly shallower than Apple's pre-butterfly keyboards, arriving at a nice combination of the best bits of the butterfly and scissor-switch keyboards.
Most will like the feel. It's stable and has enough travel. It's also easier to repair, so while it shouldn't suffer from the same dust issues plaguing the butterfly keyboard, at least it should be easier to fix if something goes wrong.
Screen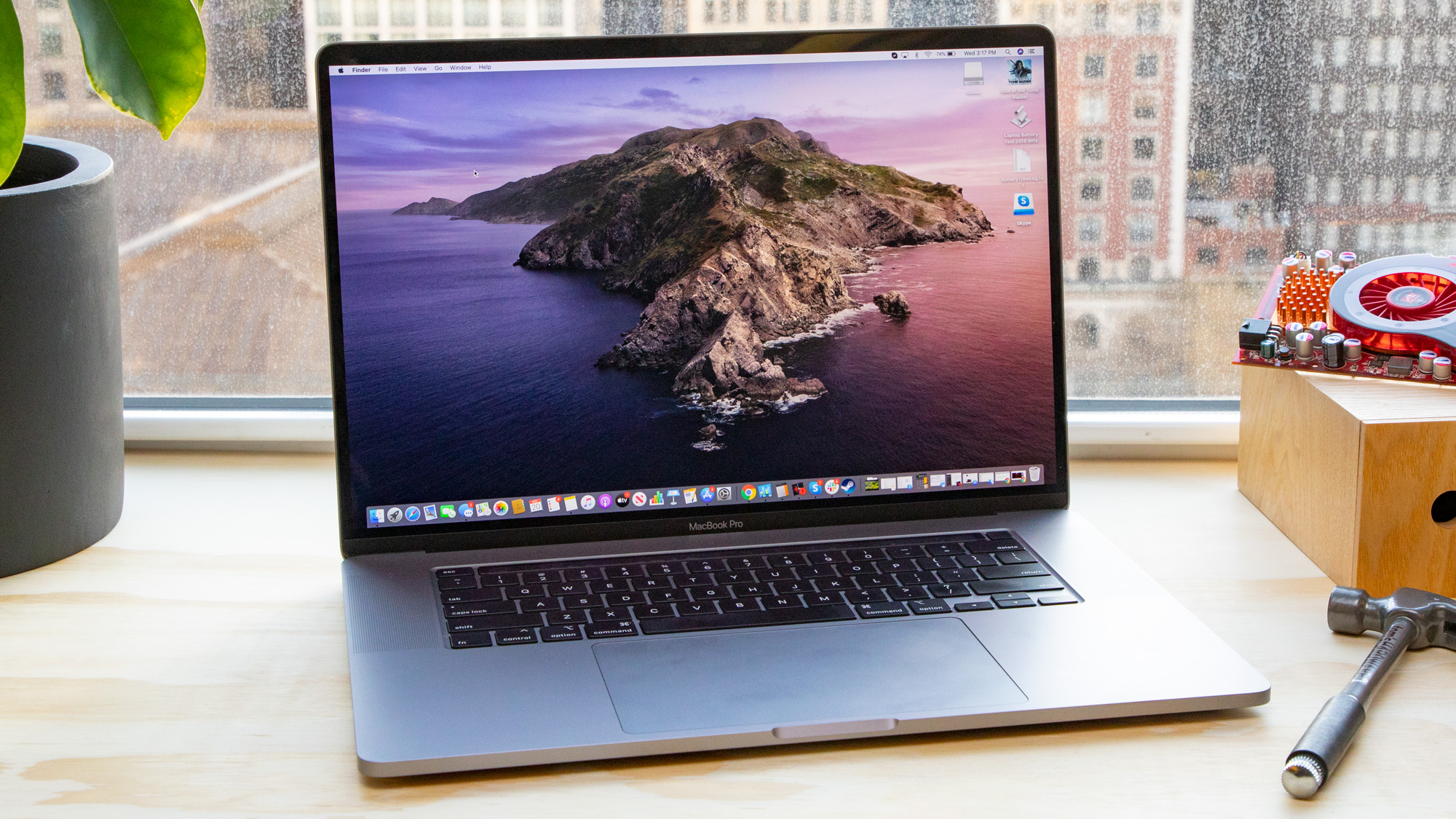 The screen is marginally bigger at 16in on the diagonal rather than 15.4in, although you can only really tell side by side. The display has a higher resolution, which provides slightly more screen real estate in use, as well as being slightly crisper on paper with a density of 226 pixels per inch (up from 220ppi).
On the whole it's one of the nicest displays I've used on a laptop. Rich, bright, easy to use in most lighting conditions, it is individually calibrated at the factory and it has a mode that simulates high dynamic range. But it is not a true HDR display nor is it 4K, which may be an issue for those looking to work with content in both although most will likely transition to an dedicated edit suite for serious work. The MacBook Pro does support output to up to two 6K or four 4K displays simultaneously, for those who use this as their sole machine working at a desk.
Specification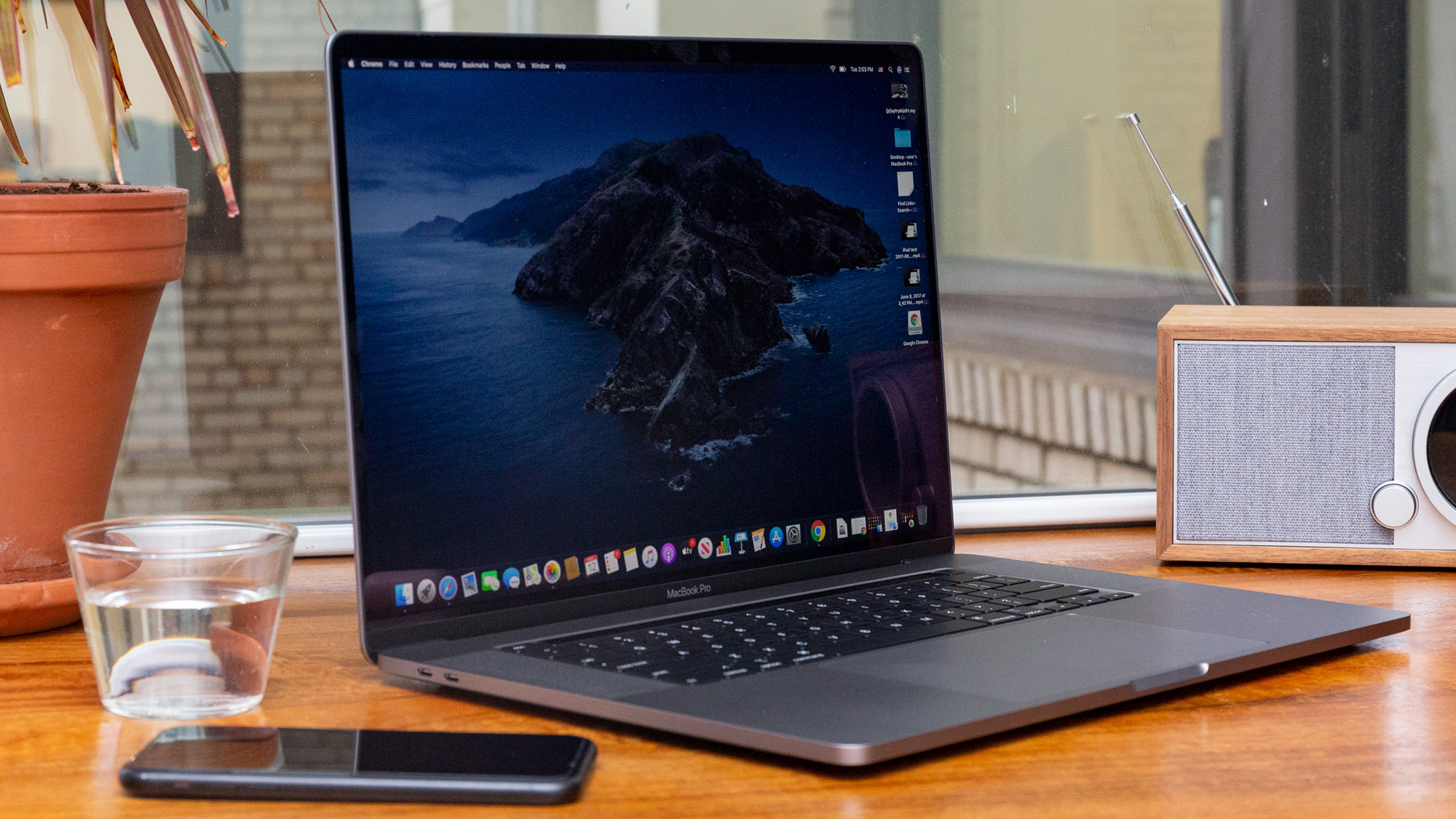 CPU: 2.4GHz Intel Core i9 processor (octa-core, up to 5.0GHz)
Graphics: AMD Radeon Pro Vega 20
RAM: 32GB (2,400MHz DDR4)
Screen: 15.4-inch, 2,880 x 1,800 Retina display (backlit LED, IPS, 500 nits brightness, wide color P3 gamut)
Storage: 4TB SSD
Ports: 4x Thunderbolt 3 (USB-C), 3.5mm headphone jack
Connectivity: 802.11ac Wi-F, Bluetooth 5.0
Camera: 720p FaceTime HD webcam
Weight: 4.02 pounds (1.83kg)
Size: 13.75 x 9.48 x 0.61 inches (34.93 x 24.07 x 1.55cm; W x D x H)