The Rajwadi land of Rajputs is a paradise for foodies out there. Rajasthani cuisine is among those rare cuisines boasting of a never-ending platter with a plethora of dishes; ranging from tangy drinks to spicy starters, mouth-watering sabzis and crunchy bread along with added delights of chutneys, achars, papad and chhach. Not to forget the delicate desserts and rich crunchy delights that melt in your mouth instantly!
Rajasthani cuisine is influenced by its rich heritage and arid climatic conditions. The little availability of fresh fruits and vegetables distinguishes their cuisine. A few common ingredients are beans, lentils, gram flour, corn, barley, millet, bajra, bread and dairy products (esp. Ghee). There is more inclination towards vegetarian food, but various kinds of meat dishes prevail as well.
Dal Bati Churma – Traditional Food of Rajasthan
Rajasthani cuisine is one of the rare cuisines of India that has unique and never-ending platters. It is one of those cuisines in which the whole platter is complete with sweet, spicy as well as savoury dishes along with breads. Because of the scarcity of water and the extreme climatic conditions, the dishes of Rajasthani cuisine are prepared using unique cooking methods. This has led to different food habits of the people of Rajasthan and it displays in their food. You just name it and they have it, and all their dishes are such that you can store them for a couple of days, and they will have a fresh taste. It's the land of Maharajas, who have been known for their appetite and taste buds. For foodies, the land of Rajputs is a bliss and those who love spices would want to taste the Rajasthani dishes without worrying about the spiciness. Your taste buds will get to experience the culinary delights that you may have not till now. One such dish is Daal Baati, which is ideally served with churma (made of crumbled chapatis and dipped in ghee and jaggery). This dish is a specialty of Rajasthani cuisine and is something without which the flavour of Rajasthani dishes will feel incomplete. This is one of the easy steps to make Daal Baati, which consists of crispy baatis made of wheat flour, sooji or semolina, salt and ghee. These baatis are cooked in tandoor which gives them a smoky flavour when dipped in the dal. This dal is also a very unique dish and is prepared using 3-4 types of lentils. This dal has a tadka of several authentic Rajasthani spices that gives it a unique taste. While preparing this main dish recipe, it is suggested that you should use a generous amount of ghee while making the baatis, as then only the real flavour of this dish will come out. You can serve this dish on any occasion and it will only earn your praises. Try this easy recipe and enjoy with your loved ones!
Ingredients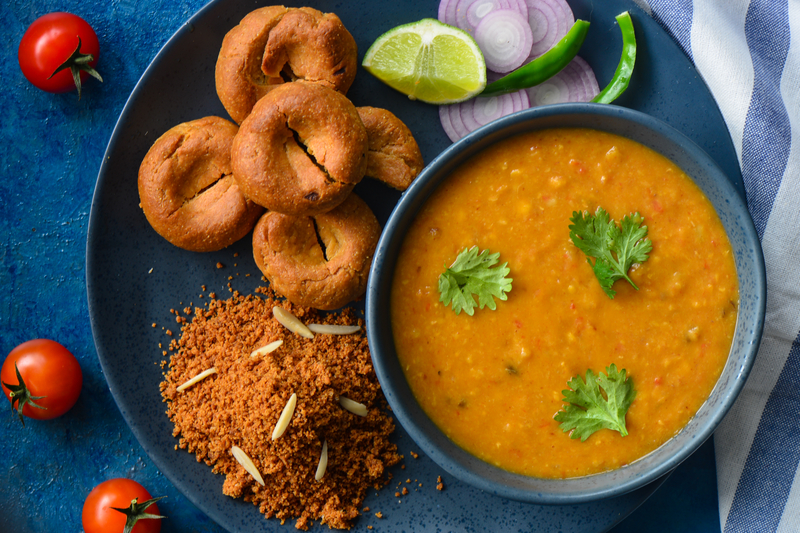 1 cup wheat flour
1/4 cup chana dal
1/4 teaspoon garam masala powder
1/8 teaspoon turmeric
1/2 tablespoon lemon juice
1/2 tablespoon coriander leaves
1/4 teaspoon cumin seeds
2 cup water
1 tablespoon urad dal
1/4 cup green moong dal
1/2 tablespoon ghee
1/2 teaspoon red chilli powder
1/4 teaspoon coriander powder
2 pinches salt
1/4 inch ginger
1/4 teaspoon mustard seeds
1/4 cup toor daal
Laal Maas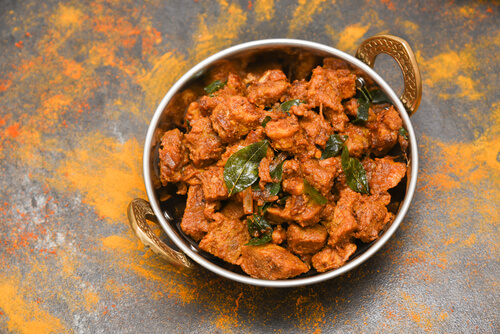 Laal maas is a fiery Rajasthani meat curry. Lamb cooked in a variety of masalas with a burst of red chillies. This bright red coloured delicious dish garnished with coriander leaves and a good amount of ghee looks extremely appetizing.
Ingredients
2 Small onions, finely chopped
2 green chillies, finely chopped
18-20 red chillies
2 tsp coriander seeds (whole)
1 tsp jeera
1 cup mustard oil
10 cloves garlic, finely chopped
1 piece small ginger, finely chopped
1/2 kg lamb (cut into pieces with bones)
1 tsp salt
1 cup kachri powder (kachri is a dried vegetable, a variety of cucumbers found in Rajasthan and ground into a powder), small
3-4 pods cardamom
1/2 tsp black pepper
1 cinnamon stick
A pinch of mace
1 pod black cardamom
water
Handful coriander leaves, chopped
Mirchi Bada
Rajasthani Mirch vada is prepared with thick and less spices green peppers, which are stuffed with little spicy-tangy potato stuffing and dipped in a gram flour batter and then deep fried until crispy. You can have these yummy Rajasthani mirch vadas anytime of the day with zingy coriander chutney or tomato sauce.
Ingredients
Green chilly – 11 (250 grams)
Gram flour – 1 cup (100 grams)
Boiled potatoes – 3 (250 grams)
Green coriander – 2 to 3 tbsp (finely chopped)
Cumin seeds – ½ tsp (coarsely ground)
Turmeric powder – ¼ tsp
Red chilly powder – ½ tsp
Coriander powder – 1 tsp
Ginger paste – ½ tsp
Green chilly – 1 (finely chopped)
Garam masala – ¼ tsp
Mango powder – ½ tsp
Carom seeds – ½ tsp
Baking soda – ½ pinch
Salt – 1 tsp or to taste
Oil – for frying
Gatte – Famous Food of Rajasthan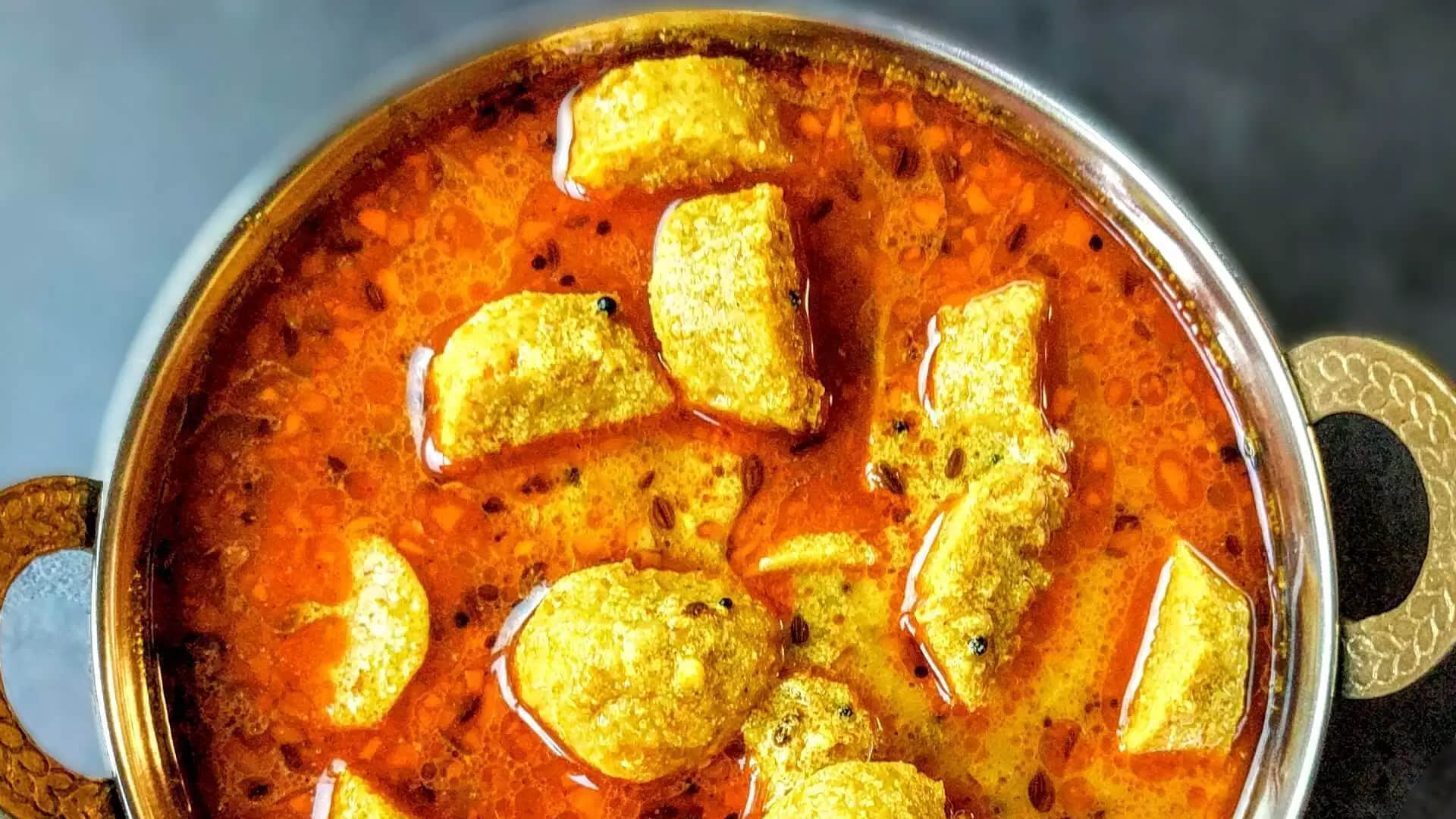 Gatte Ki Sabzi is a delicious Rajasthani curry prepared with gram flour (besan) as the base ingredient. 'Gatte' refers to cooked and spiced gram flour dumplings, which are then dunked into spicy curd gravy.
Rajasthan is an Indian state with large stretches of desert. The scarcity of vegetables gave rise to more reliance on dishes made from pluses, milk and other non perishable food items.
This has resulted in some very exquisite and mouth watering regional cuisine which is famous as Rajasthani cuisine. Rajasthani gatte ki sabzi also known as besan ke gatte is one such authentic dish from Rajasthani cuisine.
Ingredients
For Gatte (Gram Flour Dumplings)
1 Cup Chickpea Flour (Besan)
A pinch of Asafoetida (Heeng)
1/2 Teaspoon Turmeric Powder (Haldi)
1/2 Teaspoon Red Chilli Powder
1 Teaspoon Salt or as per taste
1 Tablespoon Ghee / Cooking Oil
For the Curry/Gravy
1 Cup fresh Curd (Yogurt / Dahi)
3-4 Cloves of Garlic
~1 inch piece of Ginger
2 Green Chilies
1 Teaspoon Black Mustard Seeds(Rai)
1 Teaspoon Cumin Seeds( Jeera)
1 pinch of Asafoetida (Heeng)
1/2 Teaspoon Turmeric Powder (Haldi)
1/2 Teaspoon Red Chili Powder
1/2 Teaspoon Coriander Powder (Dhania Powder)
1/4 Teaspoon Garam Masala
1 Teaspoon Salt or as per taste
1 Tablespoon Cooking Oil