This list is completely dominated by Canon and Nikon lenses so we've decided to break them out separately into two lists and then have put the 6 other lenses (from a variety of manufacturers) into a third list.
Note: at this stage we didn't see any major trends in lenses for compact camera systems which is why we've not featured any here. We expect this market to grow as the mirroless/compact system cameras continue to grow in popularity
Canon EF 50mm f/1.4 USM.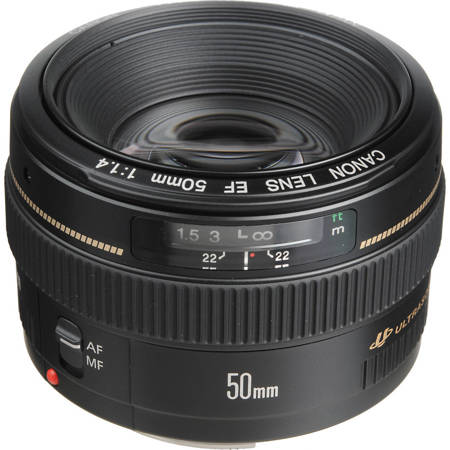 The Canon EF 50mm ƒ/1.4 USM has a relatively long history, first produced in 1993. We published our first review of this lens in March 2007, as part of Jim Tanner's comparative review of 50mm lenses. We've taken another look at the 50mm lens, with the release of our multi-sample Canon EF 50mm ƒ/1.4 USM test.
Build Quality and Handling
The EF 50mm ƒ/1.4 USM is a nicely built lens, small and light for the purpose: it's just 290 grams (10 oz), so why wouldn't you take it with you where ever you go? The weight savings are due to the plastic construction, completed with a matte black finish; the body mount is metal, and the 58mm filter threads are plastic.
There's only one control surface on the lens: a selector switch to disengage autofocus (Canon abandoned aperture rings many years ago). There is a windowed distance scale, complete with a depth-of-field indicator tuned to the ƒ/22 aperture setting. There is no infrared index.
The manual focusing ring is composed of a ribbed rubber, a half-inch wide. There's a generous amount of manual focusing distance, around 120 degrees, and it will focus slightly past infinity. There are soft stops at either end of the focusing spectrum, with the increased resistance alerting you that you've reached a limit.

Lens Specifications:
| | |
| --- | --- |
| Focal Length & Maximum Aperture | 50mm 1:1.4 |
| Lens Construction | 7 elements in 6 groups |
| Diagonal Angle of View | 46° |
| Focus Adjustment | Overall linear extension system with USM |
| Closest Focusing Distance | 0.45m / 1.5 ft. |
| Filter Size | 58mm |
| Max. Diameter x Length, Weight | 2.9″ x 2.0″, 10.2 oz. / 73.8 x 50.5mm, 290g |
Nikkor 35mm F1.8G DX
The AF-S Nikkor 35mm F1.8G DX is Nikon's latest lens, announced in February for PMA 2009. Its introduction came as something of a surprise to many observers, not because it's an updated 35mm lens with a built-in autofocus motor, but because the 'DX' designation indicates that it's designed for use on DX format bodies, and isn't fully compatible with Nikon's growing FX format camera range.
The 35mm focal length is roughly equivalent to 50mm on an FX camera, and the lens therefore fits into the 'standard' category, with an angle of view offering none of the 'perspective distortion' associated with wideangle or telephoto lenses. The fast F1.8 maximum aperture admits more than four times as much light as the kit lens, which is useful for shooting in low light while keeping shutter speeds reasonably high. The 'Silent Wave Motor' allows autofocus on all of Nikon's DSLR bodies, with the added bonus of allowing the user to tweak focus manually in AF mode if desired.
Key Feature
Date introduced
February 2009
Maximum format size
DX
Focal length
35mm
35mm equivalent focal length

52.5mm
Diagonal Angle of view
47º
Maximum aperture
F1.8
Minimum aperture
F22
Lens Construction
• 8 elements / 6 groups
• 1 hybrid aspherical element
Number of diaphragm blades
7, rounded
Minimum focus
0.3m (1.0 ft)
Maximum magnification
0.16x
AF motor type
• Ring-type Silent Wave Motor (ultrasonic-type)
• Full-time manual focus
Focus method
Internal (rear) focus
Image stabilization
• None
Filter thread
• 52mm
• Does not rotate on focus
Supplied accessories
• Front and rear caps
• HB-46 hood

Optional accessories
Weight
210g (7.4 oz)
Dimensions
70mm diameter x 52.5mm length
(2.8 x 2.1 in)
Lens Mount
Nikon F only
Nikon 55-300mm f/4.5-5.6G ED VR
This is an in-depth review of the Nikon 55-300mm f/4.5-5.6G VR lens that was released in August of 2010 together with three other lenses –  Nikon 24-120 mm. The Nikon 55-300mm VR lens is a major update to the existing Nikon 55-200mm f/4.0-5.6G ED VR lens that was released in 2007. Just like the 55-200mm VR, it is designed to be used with the Nikon 18-55mm DX VR kit lens to provide expanded focal range for telephoto shots. Nikon 55-300mm is currently the cheapest way to get to true 300mm focal length in Nikon's current line of lenses, with a little more shorter range to work with than the Nikon 70-200mm lens.
Key Feature
Mount Type: Nikon F-Bayonet
Focal Length Range: 55-300mm
Zoom Ratio: 5.5x
Maximum Aperture: f/4.5
Minimum Aperture: f/22
Format: DX
Maximum Angle of View (DX-format): 28°50′
Minimum Angle of View (DX-format): 5°20′
Maximum Reproduction Ratio: 0.28x
Lens Elements: 17
Lens Groups: 11
High Refractive Index Elements: 1
Compatible Format(s): DX, FX in DX Crop Mode
VR (Vibration Reduction/Image Stabilization): Yes
Diaphragm Blades: 9
Distance Information: Yes
ED Glass Elements: 2
Super Integrated Coating: Yes
Autofocus: Yes
AF-S (Silent Wave Motor): Yes
Minimum Focus Distance: 4.6 ft. (1.4m) throughout entire zoom range
Focus Mode: Auto/Manual
Filter Size: 58mm
Accepts Filter Type: Screw-on
Dimensions (Approx.): 3.0×4.8 in. (Diameter x Length) 76.5x123mm (Diameter x Length)
Weight (Approx.): 18.7 oz. (580g)
Supplied Accessories: HB-57 Snap-on Type Lens Hood, LC-58 Snap-on Front Lens Cap, LF-4 Rear Lens Cap, CL-1020 Soft Lens Case
Nikon 70-200mm f/2.8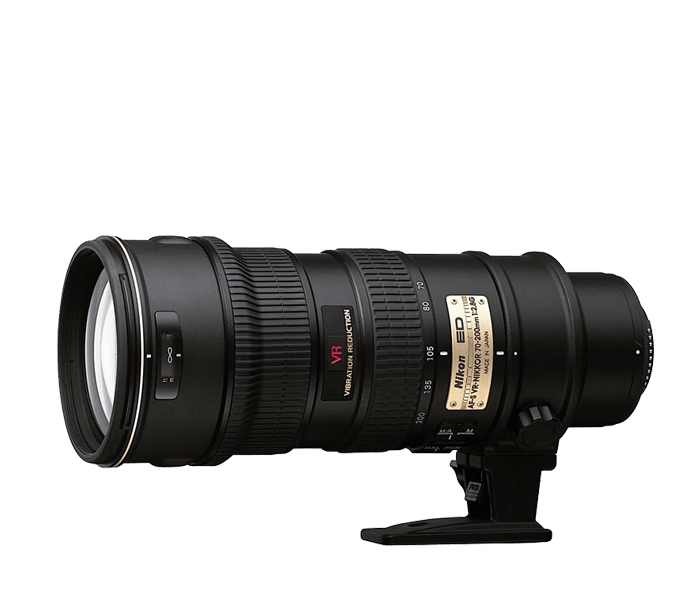 Nikon's latest offering to the genre , a constant f/2.8-aperture zoom that features a number of notable improvements over its very able predecessor.Compatible with all FX-mount Nikon cameras, the new zoom is equally at home as a 105–300mm equivalent zoom on DX-format Nikon cameras.
Upgrades can be found inside and out.  Six extra-low dispersion (ED) lens elements plus one Fluorite and one High Refractive Index (HRI) element have replaced the 7-ED-element design formula used in Nikon's previous 70-200mm f/2.8 zoom. In addition to Nano Crystal and Super Integrated lens coatings, the front and rear lens elements of the new lens have dust, moisture, and smudge-proof Fluorine coatings.
For maintaining greater exposure accuracy when capturing longer bursts of higher-speed continuous burst rates, the AF-S NIKKOR 70-200mm f/2.8E FL ED VR sports an all-new specialized electromagnetic aperture mechanism that is compatible with all current and select earlier-generation Nikon cameras.
Key Feature
Focal length: 70-200mm
Maximum aperture: f/2.8
Minimum aperture: f/22
Lens construction: 22 elements in 18 groups (with 1 Fluorite and 6 ED lens elements)
Picture angle: 34°20' – 12°20' (22°50' – 8° with Nikon DX format)
Closest focusing distance: 1.1 m/3.6 ft. (throughout entire zoom range)
No. of diaphragm blades: 9 (rounded)
Filter/attachment size: 77mm
Diameter x length (extension from lens mount): Approximately 88.5mm x 202.5mm (3.4in x 7.9 in)
Weight: Approximately 1430g (50.5oz)