Kedarnath is one of the most sacrosanct pilgrim spots of north India and is flocked by people from all corners of the globe. Besides its religious significance, it is also visited by those who love to conquer the rough terrain of Garhwal. Lapped in the green hills of the Himalayas, the serene atmosphere here, with its cool and gentle breeze, offers an ideal tourist retreat.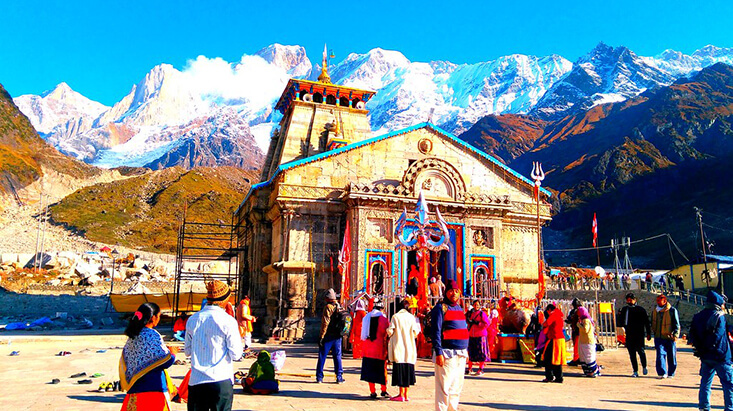 Kedarnath is one of the most sacred Hindu temples as it is a part of Chhota Char Dham Yatra in Uttarakhand. The temple is the highest among the 12 Jyotirlingas dedicated to Lord Shiva. This abode of Lord Shiva can only be reached from Gaurikund through a trek and remains closed for the six months of winters due to heavy snowfall. Kedar is another name of Lord Shiva, the protector, and the destroyer, and its believed that a journey to this sacred land opens up doorways to "Moksha" or salvation.
Located on the Garhwal Himalayan Range in the Rudraprayag District, the Kedarnath Temple is situated at the height of 3,583 metres. Set amidst the snow-clad mountains near Chorabari Glacier with Mandakini River flowing in front of it, Kedarnath witnesses lakhs of devotees every year due to its religious significance.

The present Kedarnath Temple is believed to be re-constructed by Adi Shankaracharya, initially built by the Pandavas thousand years ago from enormous stone slabs over a large rectangular dais.
Way Of Kedarnath
After the massive flash floods and landslides hit north India and particularly Kedarnath in 2013, pilgrims were apprehensive about the Char Dham Yatra. But owing to the remarkable reconstruction administered by the government of India, the number of pilgrims witnessed a stupendous increase since 2018.
Char Dham is a set of four pilgrimage sites in India – Kedarnath, Badrinath, Gangotri and Yamunotri. The number of pilgrims visiting the sites in 2018 was recorded at 26 lakh while the figures are equally impressive this year. Till August 25, the count was 28, 04,000 out of which 7,32,000 people registered through photometric registration while 30,000 pilgrims registered online. 26,000 people registered through the mobile application.
The Char Dham Highway – Prime Minister Narendra Modi's dream project – is also expected to increase the number of pilgrims two folds after its inauguration.
Pilgrims Prefer Walkways
After the devastating floods, Kedarnath was in the depths of despair as roads and paths leading to the Uttarakhand town were completely destroyed. However, reconstruction commenced soon after the disaster and due to the swift pace of work, walkways and roads have been restored. Pilgrims hence, opt for walkways over motorways.
Prior to the disaster, the axis on the main entrance was a footpath, less than 10 metres wide. It was destroyed as a result of the floods and got buried in debris along with some of the monuments on this path.
The footpath has now been reconstructed into stairways as 2,660 local stones have been carved and placed on it. A special arrival platform has been developed as well that enables tourists and international pilgrims to view Kedarnath from a distance if they desire to avoid the crowd and discomfort.
Improved Facilities for Pilgrims
The Char Dham Highway, the foundation stone of which was laid down by PM Modi in December 2016, has started taking shape in Kedarnath. There is a visible difference on the way leading to the Uttarakhand town as well as the main monument. Moreover, almost 3000 pilgrims can stand in the temple premises. The confluence of river Saraswati and Mandakini, that was earlier inaccessible, has now been opened and pilgrims can view Kedar Puri from here as well.
The 270 metre long path leading to the main temple has also been broadened to 50 metres. New ghats have been constructed over Mandakini and Saraswati rivers. Changing rooms and seating areas are available at the ghats as well.
PM Modi wants that reconstruction should cater to the needs of the pilgrims. He is personally monitoring the restoration.
Meanwhile, free medical facilities for pilgrims have been arranged at base camps in Kedarnath. The Swami Vivekananda hospital was inaugurated on September 2 by Uttarakhand Chief Minister Trivendra Singh Rawat. With 12 beds, the hospital will treat pilgrims for free and also has amenities such as X-ray, ventilator and ICU.
The medical department has set up medical relief points (MRP) and warm rooms on the Gaurikund- Kedarnath walkway. At a stretch of 17kms, nine MRPs and warm rooms have been established and Kedarnath will also get two warm rooms. These rooms will help combat hypothermia (a condition where the rapidly decreasing temperature leads to stressful breathing) among pilgrims.
The second leg of the Kedarnath Heli service began from September 10. The service will be up and running till October 20 and it can be booked online by passengers. The Heli service can be availed from Guptkashi.
The government has taken it upon itself to make sure the pilgrims have the best of facilities and comfort while going for Kedarnath darshan. All the district magistrates have been given special orders to pay special attention to the pilgrims. Being a warm host, banning the usage of single use plastic products and monitoring the health facilities of all four dhams including Kedarnath are some of the orders given.
Best Time to Visit Kedarnath
Kedarnath is cold for the most part of the year, however, May to June and September to October are the best time to visit Kedarnath. This means that avoiding the winters while planning your trip might be a wise decision. Winter ranges from November to April, reaching sub-zero temperatures along with heavy rainfall. Summertime (May-June) brings pleasant weather, ideal for visiting Kedarnath and other nearby sites. However, monsoons fall from July to August and bring heavy rainfall, causing landslides and hindrance
In Summer
Summer have cool and pleasant climate and is the right period to spend relaxing moments and visiting the Kedarnath temple. Summers is ideal for all sight seeing, temple visit and also for visiting nearby attractions. Summer (May to June) are very pleasant with moderate climate, with average around 17°C.
In Monsoon
In Monsoons, the Landslides are common so tourists should avoid visit to Kedarnath Shrine in Monsoon season. Monsoon months are End of July, Aug and Early September. Monsoon (July to August) are accompanied with occasional rains and also temperature drops down to 12°C. Landslides are common so tourists should avoid holidaying in this season.
In Winter
In winters due to heavy snowfall, the Kedarnath Temple is closed and no one stays in Kedarnath. For six months (November to April) the Palki of Lord Kedarnath is transferred to a place near Gupakshi called Ukhimath and is reinstated at Kedarnath, in the month of May. It is at this time, that the doors of the temple are thrown open to pilgrims, who gather from all parts of India, for a holy pilgrimage.