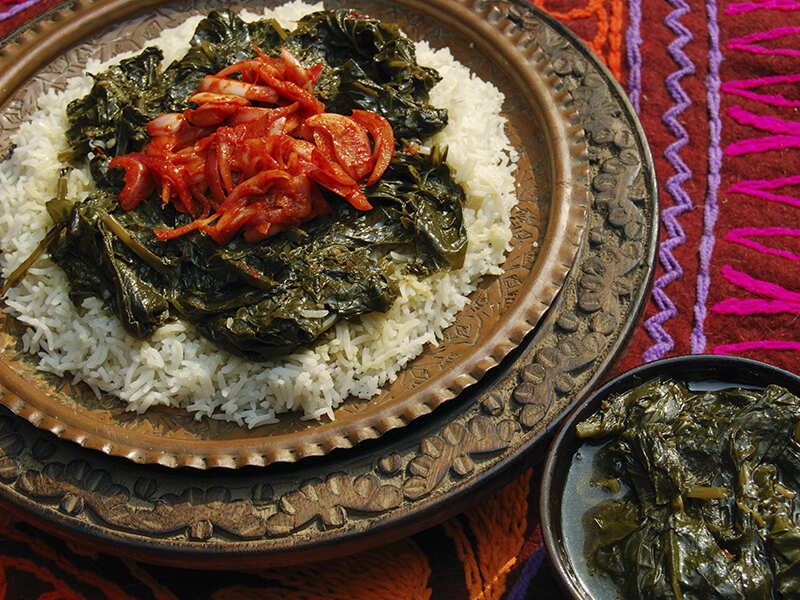 The crown of the nation is not just soothing to the eyes but also does wonders for your taste. Mouthwatering delicacies of Kashmiri food will leave your stomach full but your tongue still craving for more. What's more is that it's not just one cuisine from the north that will do this. Kashmir and Leh regions have different cuisines, each to their own and once you try them out you'll realize why this variety could not have fit one plate at once. Here is a list of some of the most popular Kashmiri food dishes which everyone must try at least once in their lifetime.
The beautiful state of Kashmir is not only famous for its beauty and serenity but the state also offers authentic non-vegetarian dishes too. Kashmiri food is mild in taste and rich in flavour with the high use of hot spices like cardamom, fennel, ginger, cinnamon, cloves and saffron. Influenced by Mughals, Kashmiri cuisine is predominantly non-vegetarian, with mutton, chicken or fish used as prime ingredients but there are a few delicacies for vegetarians too!
Modur Pulav.
Have you ever confused Pulao with Biryani? I did during my childhood days. When my friend used to bring Pulao for her lunch, I had always imagined reddish or yellowish spicy rice with vegetables and get disappointed on seeing white long grain rice with vegetables. I still couldn't understand the reason behind my confusion. But both pulao and biryani are my to-go comforting one pot meals. While biryani calls for spices, pulao is a mild rice with vegetables. I never knew sweet pulao till I tasted it in a temple. Later, I found the name of the rice as Modur Pulao – Kashmiri Sweet Pulao prepared with nuts.
Modur pulao is a Kashmiri Sweet Pulao prepared using dry fruits and nuts. It is a delicious aromatic rice prepared using a surplus amount of ghee. It is a flavorful concoction of spices and nuts. You will be amazed while cooking as all your senses will be occupied with the flavor emanating from the cinnamon, cloves, bay leaves and nuts added to the rice. Try this sweet pulao from your usual pulao and you will be preparing it more often.
Ingredients
1 Cup Basmati Rice
1 Cup Sugar
4 tablespoon Ghee
3 Bay leaves
10 Cloves
3 – 1 inch Cinnamon Stick
10 Green Cardamom
½ teaspoon Black Peppercorns
¼ teaspoon Saffron Strands
1/4 Cup – Chopped dates, Blanched almonds, cashews and raisins
1/8 teaspoon Salt
3 Cups Water
Rogan Josh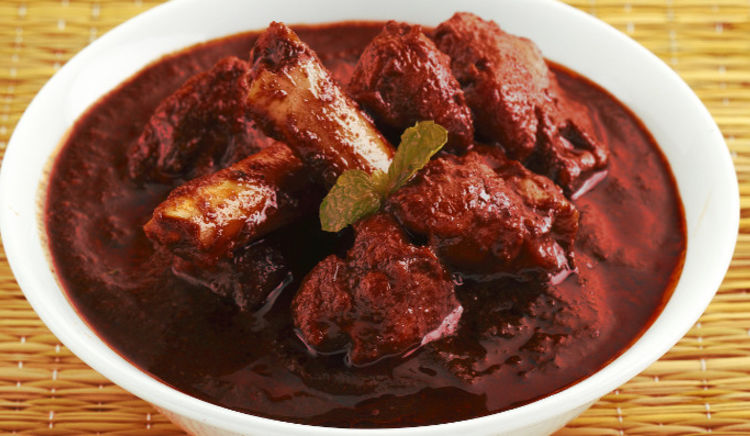 Kashmiri Rogan Josh is a very important part of the Kashmiri Wazwan. Rogan means "red" and Josh means "Hot or Passion".
Rogan Josh means cooked in Kashmiri red chillies to get that fiery Red color gravy. The authentic Rogan Josh is easy to make and does not include tomatoes, onions, ream or garam masala. The rich bright red color comes from the liberal use of dried Kashmiri red chillies. Learn how to make Kashmiri Rogan Josh. It has a very distinct flavor of fennel and ginger.
Ingredient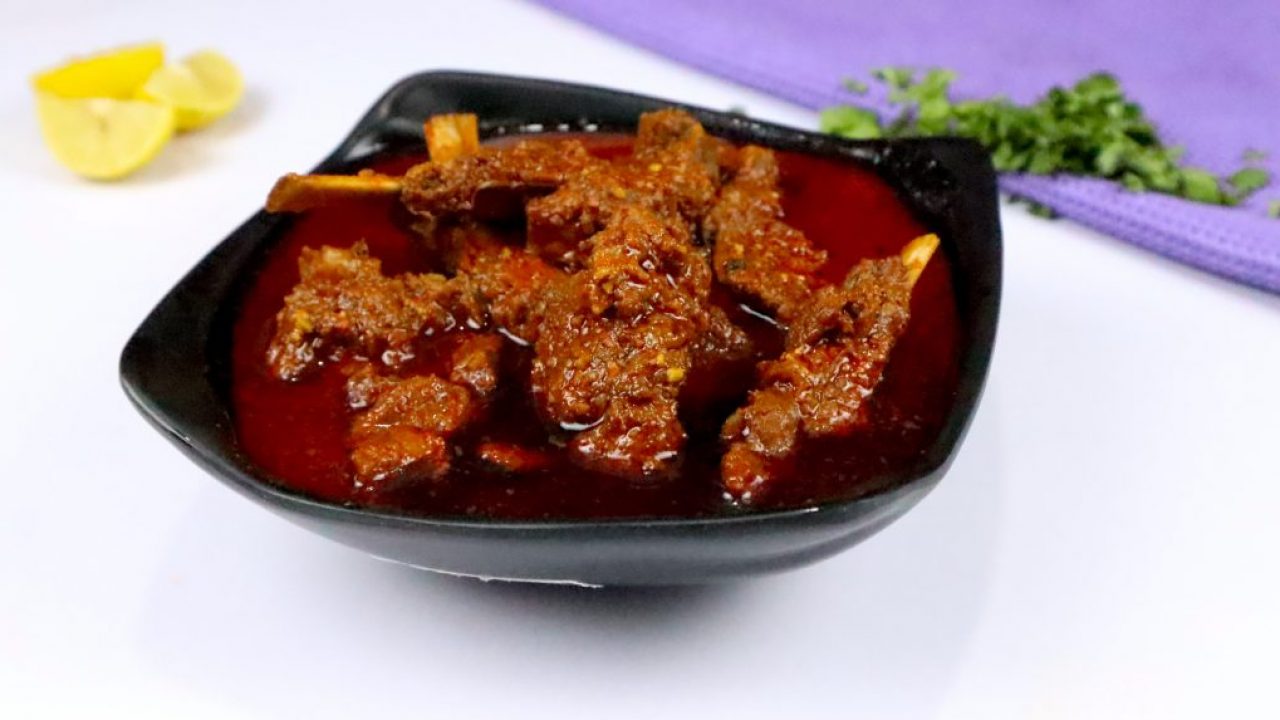 1/2 Kg Mutton Chopped
1/2 cup Thick Hung Curd (Dahi)
1 Green Chilli Slit Lengthwise
80 ml Mustard oil
1 tspGhee
A pinch of Saffron (dissolved in water)
Whole Spices
3 – 4 Cloves
2 Black Cardomom
2 -3 Green Cardamom
1/2 tsp Cumin Seeds (Jeera)
2 tsp Salt (or to Taste)
Masala:
3/4 tblsp Kashmiri Red Chili Powder
1 tsp Dry Ginger Powder
1 tsp Fennel Powder (Saunf)
A pinch Asafoetida (Hing Powder)
Yakhni or Yoghurt Lamb Curry
Yakhni is yogurt and saffron based mutton broth. You can also make it with chickenWe have to look back at the history of Kashmir Cuisine. Three successive Moghul emperors (Akbar, Jahangir, Shahjahan) influenced Kashmir Cuisine and vice versa. Kashmir was annexed by Akbar in 1586 and a favorite place of Jahangir. Yakhni originated in Persia and brought to India sometimes during Akbar period. The earliest documented recipe is found in Ain-I-Akbar. It is made with mutton. Yakhni also refers to roast. Yakhni is corruption of Akhni, which means broth or Shorba. Boneless Mutton and Mutton Shanks (Hind and fore shanks are cut with meat on bones) are boiled in lots of water and spices to make mutton Shorba. Eventually, the meat is removed. Yogurt is added to the stock. In short, Yakhni is a thin yogurt based mutton stock. It has no tomatoes, or Turmeric. Kashmir Pandits did not eat onions and garlic. The color of the Yakhni is pale yellow attributable to Dahi, and Saffron.
Ingredient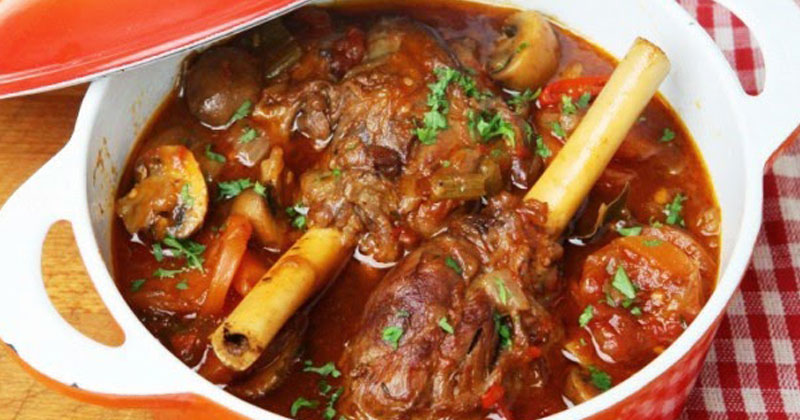 1.3 kg – lamb – (lamb on the bone is ideal – a few boneless pieces can be used too)
100 g – yoghurt
1-2 pieces – cinnamon
3 – black cardamoms
6 – green cardamoms
6 tbsp – whole aniseed
1/2 cup – ghee
2 tsp – gram flour
1 bunch – fresh mint –
dried mint as desired
3 – cloves
Kashmiri Muji Gaad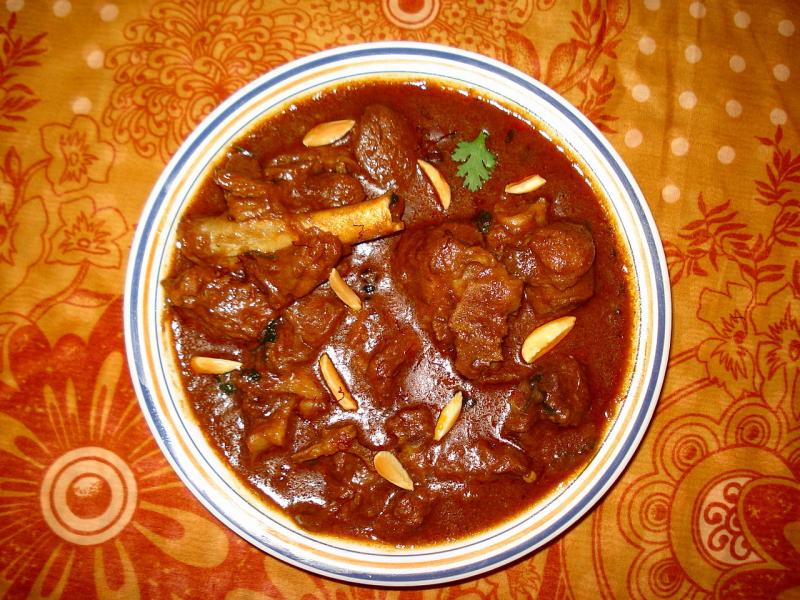 Kashmiri food carries with it a delicious nip of all things hot and spicy. It is a rich tapestry of Indian, Iranian, Afghani and Central Asian styles of cooking.
Kashmiri cuisine has some vantage ingredients: that is dry ginger, fennel, red chillies, curds and mustard oil. Even though it is dominated by non-vegetarian fare, the vegetarian delicacies manage to carve a niche for themselves. One of the typical ingredients in a lot of Kashmiri delicacies is the Kashmiri ver which is a doughnut-shaped cake of ground spices with a strong and pungent aroma. And yes how can one forget the scent of saffron, which forms an important part of this cuisine.
Riffling through the books of history one discovers that it was the invasion by Timur in 15th century that left a legacy of Kashmiri cuisine. With time there was an influx of skilled workers as also cooks from Samarkand whose descendants came to be known as Wazas or the master chefs of Kashmir. Wazwan is a unique concept in the world of Kashmiri cooking. Other influences are that of the Muslim and Rajput styles of cooking. A fantastic blend of all these is witnessed in the ultimate formal Muslim banquet called the Wazwan.
Ingredient
Fish Fillets 4
Radish 1/2 inch pieces 1 large
Red chilli powder 1 1/2 teaspoons
Asafoetida 1/2 teaspoon
Oil 2 tbsps + to deep fry
Green chillies slit 2
Black cardamom 1
Cloves 2
Turmeric powder 1/4 teaspoon
Dry ginger powder (soonth) 1/2 tablespoon
Ver 1/2 teaspoon
Aniseed (saunf) powder 1 tablespoon
Salt to taste
Tamarind pulp 2 tablespoons