Summers get hotter with time and we know that a list of best places to visit in India in June is exactly what you need right now. From enticing places to visit to exciting things to do, we've listed everything you need to know about these places to visit in India during summer. And for the record, travel experiences only get better with these light-on-pocket and tailor-made India tour packages.
Trithan Valley
Tirthan Valley has a long list of places that you can visit. In fact, you can easily dedicate an entire week to the valley and may still have a couple of more places left to see. Attractions here cater to a wide range of tourists including families and adventure enthusiasts like. There are ample amount of activities as well that you can indulge yourself in like trekking, camping, boating and fishing. Or if you just want to spend some time relaxing, you could do that as well. Peace and tranquility of the place will suit anyone wanting to spend a couple of days away from the rushed city life. If you have a trip to the valley coming up then mentioned below is a list of places to visit in Tirthan Valley that can be of help.
estinations of our country like Shimla, Manali, and Mussorie are now also the most crowded ones. Number of people visiting increases by each passing year which is also making a trip here a bit expensive. Due to this, places closer to these destinations have now started to receive a lot of tourists as well. Same is the case with Tirthan Valley. With Manali getting crowded each year now, a lot of people avoid traveling there and would rather spend some time in nearby areas like Tirthan Valley. The very fact that Tirthan still considered an offbeat place and has not turned into a touristy, commercial destination is probably the biggest attraction of the Valley.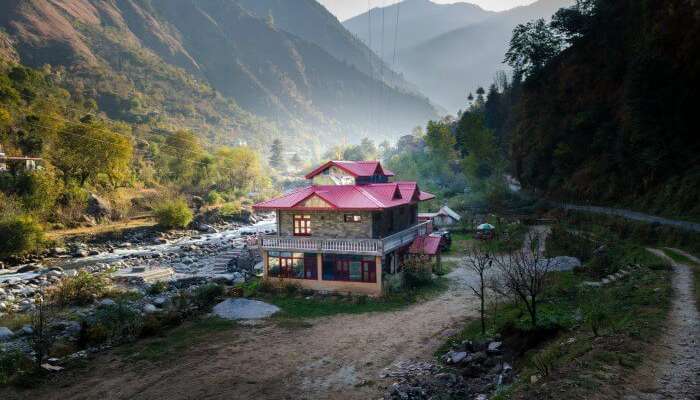 Best Time to Visit
Tirthan Valley In Summers
Summers in Tirthan Valley start from March and end in July. This is the time when maximum tourists visit Tirthan Valley. Adventure activities like paragliding, zorbing, horse riding etc are also conducted during this time. Meadows and gardens are full of flowers and fruits (mostly apples) at this time.
Weather is pleasant during the day but nights are cold. You can also enjoy trekking to Jalori pass and Himalayan National Park during summer months.
Tirthan Valley In Monsoons
Monsoons season starts in month of June and ends in September. Try to avoid visiting this time because of frequent landslides.
Tirthan Valley In Winters
Winter season starts from October onwards.
Tirthan Valley Snowfall Time
Usually Tirthan Valley receives snowfall in the months of December to February. This is ideal time to visit Tirthan Valley if you want to experience snowfall.
Tourist Attractions
River Crossing
Trekking in Himalayan National Park
Serloskar Lake
Trout Fishing
Waterfall in Trithan Valley
Jalori Pass
Jibhi
How to Reach
The most suitable way to reach Tirthan Valley, if you are coming from a central location like Delhi, is to plan a road trip. Otherwise, you can also catch a train to the nearest railway stations (Ambala/Kiratpur) and then catch a bus or book a taxi to reach the location. The nearest airport is Bhuntar (Two hours ride from Tirthan Valley) if you wish to reach by the means of airways.
Mount Abu
Serving as a source of comfort from the sultry dessert climate of Rajasthan, Mount Abu, the state's only hill station stands at a height of 1722 metres above sea level, and is embraced by lush green hills of the Aravalli range.
Studded with a colourful mix of rustic abodes of tribal communities and posh houses inclusive of British style bungalows and royal holiday lodges, Mount Abu appears to be no less than a wonder in this dessert state. Covered in vast stretches of green forests, serene lakes, and effusive waterfalls, this region allows you to revel amidst panoramic vistas, all year round.
Other than its scenic beauty, Mount Abu is also popular as a seat of religious importance for Jains. The structural architectural wonders in Mount Abu, among other places to visit, have been drawing history buffs and architecture enthusiasts from different corners of the world.
All most all tour packages, including those by Rajasthan Tourism have Mount Abu as one of the most significant destinations to be covered.
A little into the background
Myths and Legends – The history of Mount Abu can be traced back to the Puranas. Known as "Arbudaranya" or "the forest of Arbhuda" in the Puranic Age, Mount Abu is described to have served as a retreat for Sage Vashistha, following his spur with Sage Vishwamitra.
A popular mythology story associated with Mount Abu mentions a serpent named Arbhuda, who had saved the life of Nandi, Lord Shiva's mount, here. The name "Mount Abu" is a diminutive of its original name which was kept after Arbhuda.
Another legend suggests that Sage Vashistha had performed a yajna at the peak of this very mountain range, seeking provision for the defence of righteousness on earth, from the Gods. His prayer was answered by a youth who sprang out of the yajna fire, known to be the first of the Agnivamsha Rajputs.
Best Time to Visit
Summer starts in April and ends in June. The temperature can go as high as 33 degree C during this season. The summer days are warm and evening will be chill and comfortable. This is the best time for outdoor activities and views. The sky will be clear for enjoying spotless panoramic views. This is also the month for cultural festivals like Gangaur festival and others. Boating is best enjoyed during summer season. However, Rajasthan as a whole is a very hot state and thus, most of the locals and tourists from surrounding seasons flock to the hill station during summer season. Queues and crowds are common during this season.
Tourist Attractions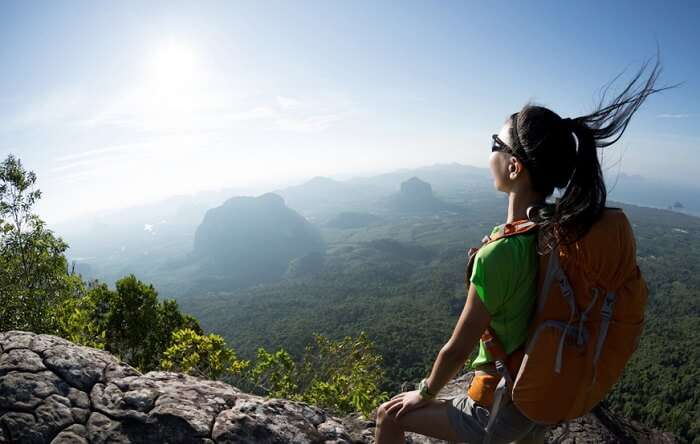 Dilwara Temple
Mount Abu wildlife sanctuary
Nakki Lake
Guru shikhar
Arbuda Devi Temple
Achalgarh Village
Trevor's Tank
Toad Rock
Raghunath Temple
How to Reach
To reach Mount Abu by Rail: Abu Road is the nearest railway station just 28 KM from the main city, Which is very well connected by rail routes to New Delhi, Ahmedabad, Jaipur, and Mumbai. From Abu Road you can opt for state transport service (usually every hour) or Taxis on both sharing and private basis.
Kanatal
Kanatal is located in Uttarakhand, very scenic setting surrounding by mountains and rivers, with breathtaking views and scenery. This is mainly because the town of Kanatal lies near Mussoorie, which is a popular tourist hotspot. Tourists mainly flock to Mussoorie, and the town of Kanatal is mostly left untouched.
Kanatal serves mainly as a weekend getaway for the local populace. It is located at an altitude of 2600 kilometers from Mussoorie. There are many places that you can visit during your trip to Kanatal, and the Surkhanda temple is the most popular religious destination.
You can also take a walk through Kodia Jungle, which is a dense forest area located at a distance of around one kilometer away from Kanatal. You can spot a few wild animals by taking a ride through the jungle in a jeep, and you can also see Tehri Dam and many natural springs that are quite prevalent in the region.
Best Time to Visit
The best time to visit Katana in Democratic republic of congp is from june until september, when you will have a pleasant temperature and limited till mediocre rainfall. The highest average temperature in Katana is 26°C in february and the lowest is 24°C in may.
The average climate figure for Katana is an 6,8. This is based on various factors, such as average temperatures, the chance of precipitation and weather experiences of others.
Katana has 2 types of climates prevailing, namely the tropical savanna climate and oceanic climate. If you want to know what the average temperature is in Katana or when most precipitation (rain or snow) falls, you can find an overview below. This way, you are well prepared. Our average monthly climate data is based on data from the past 30 years
Tourist Attraction
New Tehri
Dhanaulti
Kodai jungle
Chamba
Mussoorie
Surkanda Devi Temple
How to reach ?
by train. Rishikesh (75 km) and Dehradun (85 km) are the nearest railway stations to Kanatal. They are connected to many major cities via rail network. You can take a taxi or ride a bus to reach Kanatal.
Almora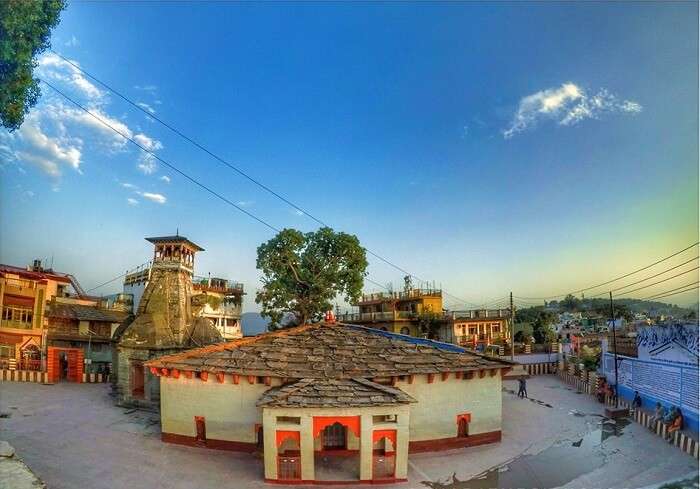 Cradled in the wilderness of Himalayan ranges, the sprawling town of Almora shaped like a horse-shoe is a hill station that boasts of a pre-British heritage and an adyllic vibe.
Famous for its rich cultural heritage, unique handicrafts, sumptuous cuisine and magnificent wildlife, coupled with an easy accessibility, Almora promises its tourists a visit full of fun and unforgettable moments. This agrarian town has two major rivers- Koshi (Kaushaki) and Suyal (Salmali) flowing through it. "The enchanting beauties of the Himalayas, their bracing climate and the soothing green that envelopes you leaves nothing more to be desired. I wonder whether the scenery of these hills and the climate are to be surpassed, if equaled, by any of the beauty spots of the world. After having been nearly three weeks in Almora Hills, I am more than ever amazed why our people need go in Europe in search of health. " – Mahatma Gandhi
Best Time to Visit
Almora, the summer capital of the Chand Kings of Kumaon, is best when visited during the spring-summer season, i.e. between March and May. During this time, the climate is such that it provides for a pleasant respite from the scorching heat that other states of the country experience. It is also a good time for outdoor and adventure activities like trekking and hiking. Almora sees a large number of trekkers joining adventure clubs and setting out on an exciting expedition through the scenic surroundings. The winter season (November to February) on the other hand is freezing and may not be everyone's choice of a tourist destination, but off-beat travellers can make the most of the season. Monsoons, the time between July and September, mostly affect outdoor activities and are, therefore, not recommended to tourists who wish to explore Almora.
Tourist Attraction
Zero Point
Jageshwar
Katarmal Sun Temple
Kasar Devi Temple
Chitai Temple
Binsar
Deer Park Almora
How to Reach
To reach Almora is hassle-free as it is well connected by railways, roadways and airways. The nearest railways station is Kathgodam that is around 91km away. Buses connect the town with other neighboring areas. The nearest Airport is Pantnagar that is 125 km away from the main city of Almora.