India is a land of diversity where you are treated with utmost love and a plate of a delicious meal no matter where you set your foot. From the royalty of Tunday Kebab in Lucknow to the spicy Biryani of Hyderabad everything is just meant to make your taste buds get going. Every nook and corner of our beloved India has a unique cuisine to offer from its kitty. Such one state lies in the unexplored and untouched part of the map whose cuisines are uniquely different and extremely celestial. Tripura, one of the seven sister hills of north-east India and surrounded by Bangladesh from three sides lies peacefully in its own cocoon. But, the culture and rich food of Tripura speaks for itself. Here is more you need to know about the food culture and Tripura cuisine you must please your stomach with before you die!
Mui Borok
Tripura cuisine is predominantly non-vegetarian and most of the main dishes are non-veg with lots of vegetables. There are a few Tripuri (people of Tripura) who follow vegetarianism. The traditional cuisine is Mui Borok and a key ingredient in Tripura cuisine is Berma, dried and fermented fish. Berma is used in almost all the dishes. Cuisine is healthy as oil is not used in most of the preparations. Bamboo shoots are part of many dishes which is considered healthy. Rice is a staple and is called mia. Some of the vegetables that are used in daily cooking are pumpkin, bamboo shoots, brinjals, corn and chilies. Meats & seafood eaten by the Tripuri are pork, chicken, mutton, turtle, fish, shrimps, crabs, and frogs. Tripuri food such as bangui rice and fish stews, bamboo shoots, fermented fish, local herbs, and meat roasts are extremely popular within and outside the state. (Source wiki).
Ingredient
¼ kg, little over ½ lb. of Green Beans
4 Green Chilies
1 ¼ medium sized Onion into rings or slices.
4 – 6 Cloves of Garlic (I used 4 big cloves)
1 ½ – 2 tsp. Shrimp Paste or 2-3 Berma (dried and fermented fish)
½ – 1 tsp. Turmeric
Salt to taste
1/8 – ¼ tsp. Pepper Powder (opt. and adjust to taste. Green chilies are hot, so adjust accordingly)
Cilantro for garnish
Mosdeng Serma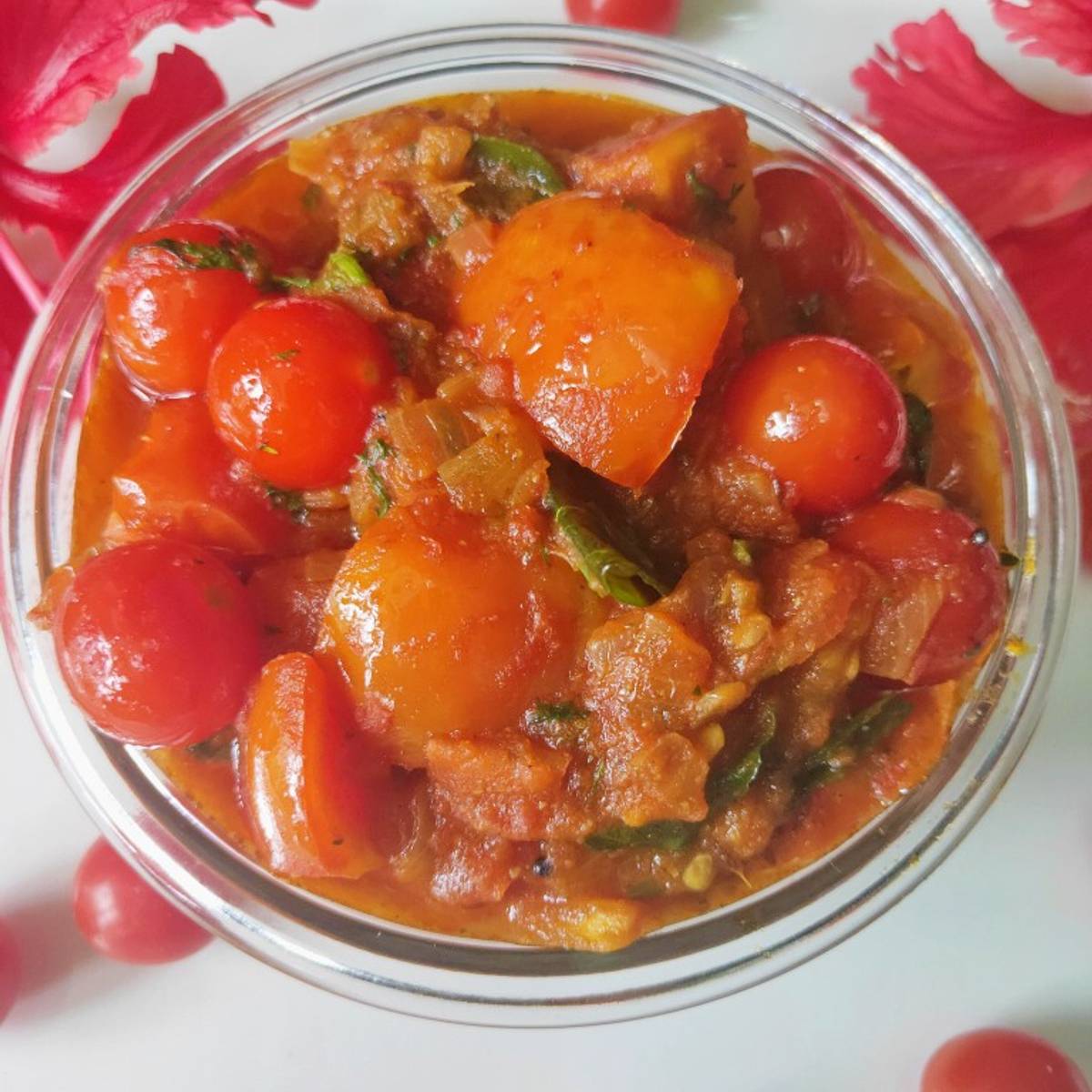 Mosdeng Serma is a popular recipe of Tripura, one of the North Eastern states of India. It is a spicy tomato chutney which is traditionally served with pork side dishes and hot steamed rice. Like most recipes of North East, this a simple recipe with basic spices but is very tasty and brings in the traditional flavours of the region. Dry red chillies are soaked in water before bringing it into the recipe here. I used green chilies along with red chillies, since I lave the flavour that it brings along when blended together. Berma or dried fish is also commonly used in traditional Mosdeng Serma Recipe. To override the tanginess, I have also used a bit of sugar, which you can skip also.
Ingredients
2 Tomato , chopped
2 Onion , chopped
5 cloves Garlic , crushed
5 Green Chillies , crushed
6 Dry Red Chillies , soaked in warm water for 30 min
1 teaspoon Sugar
1 tablespoon Sunflower Oil
2 tablespoon Coriander (Dhania) Leaves , chopped
Salt , to taste
Kasoi Bwtwi
Tripura Style Kosoi Bwtwi Recipe is a recipe from North East. Tripura Style Kosoi Bwtwi Recipe is a vegetarian delicacy with simple spices but protein rich tofu in it. The people from Tripura also use Shrimp sauce instead, that manages the protein content in the meal.
Ingredients
2 cups Green beans (French Beans) , chopped to 1-inch & parboiled
1/4 cup Onion , chopped
1 cloves Garlic , chopped
2 Green Chillies , slit vertically
100 grams Tofu , cubed
2 teaspoons Sunflower Oil
Salt , to taste
Black pepper powder , to taste
Wahan Mosdeng
Wahan Mosdeng is a popular Tripura cuisine in which pork is the key ingredient and apart from that, only minimal ingredients required to prepare this delicious salad. Wahan is nothing but pork and interestingly, this recipe is prepared without using a drop of oil. Yes! you read it right… this is zero oil recipe. This Wahan Mosdeng is also called as Pork Bharta and Pork chutney. Traditionally this recipe is prepared using pork but people who do not eat pork, substitute it with chicken. Though I am planning to try it with chicken, I am sure that chicken bharta will also be equally taste as this dish. The fresh ginger and roasted chilli gave a perfect flavour to the dish and personally, I loved it with rice.
Ingredients
250gm pork
1 Big Onion
5-6 Green Chilli
1/2 Tbsp Ginger, finely chopped
1/4 Cup Coriander leaves, finely chopped
Salt to taste