"I didn't go into the rocket business, the car business, or the solar business thinking, 'This is a great opportunity.' I just thought, in order to make a difference, something needed to be done. I wanted to create something substantially better than what came before." – Elon Musk
FAMILY BACKGROUND AND EARLY LIFE
Elon Reeve Musk was born in 1971 in Pretoria, one of South Africa's three capital cities. His father was an engineer and his mother was a model and nutritionist. He is the oldest of three children in an ambitious family. His brother Kimbal Musk is currently a venture capitalist and environmentalist. His sister Tosca Musk is an award-winning producer and director.
After his parents divorced when he was nine, Musk lived mostly with his father. Musk started school a year early, attending the private Waterkloof House Preparatory School and later graduating from Pretoria Boys High School. He read voraciously and was also an avid fan of comics. Self-described as a bookworm and something of a smart aleck, he was bullied in school and withdrew to his books at the expense of his social life.
At the age of 10, Musk was introduced to computers with the Commodore VIC-20. He quickly learned how to program and at the age of 12 sold a game called Blastar to Spectravideo for $500.
In one telling incident at that time, Musk, along with his brother, planned to open a video game arcade near their school. Ultimately, their parents nixed the plan. But apparently the only thing stopping them was the need for a city permit which had to be applied for by an adult.
FROM BEING BULLIED AS A CHILD TO MOVING TO CANADA
Musk's intellectual aptitude did him few favors as a child. He found few friends in the tough-minded Afrikaner culture he encountered in school."I had a terrible upbringing. I had a lot of adversity growing up. One thing I worry about with my kids is they don't face enough adversity," he would later say in an interview.Musk attended the English-speaking Waterkloof House Preparatory School, and later graduated from Pretoria Boys High School. The years were lonely and brutal, from his descriptions.
"They got my best friend to lure me out of hiding so they could beat me up. And that hurt," Musk said. "For some reason they decided that I was it, and they were going to go after me nonstop. That's what made growing up difficult. For a number of years there was no respite. You get chased around by gangs at school who tried to beat the (expletive) out of me, and then I'd come home, and it would just be awful there as well."
If there was a point of bright escape for Musk; it was technology. When he was only 10, he became acquainted with programming via the Commodore VIC-20, an inexpensive home computer. Before long, he had become proficient enough to create Blastar – a video game in the style of Space-Invaders. He sold the BASIC code for the game to a magazine called PC and Office Technology for $500.
At 17, Musk moved to Canada to avoid serving in the South African military, whose main duty in the late 1980s was enforcing apartheid. He would later obtain Canadian citizenship through his mother.After emigrating to Canada, Musk enrolled in Queen's University in Kingston, Ontario. It was there that he met Justine Wilson, an aspiring writer. They would marry and have five sons together, twins and triplets, before divorcing in 2008.
MARKS' EDUCATION IN US AND AFTER LIFE
After two years at Queen's University, Musk transferred to the University of Pennsylvania. He took on two majors, but his time there wasn't all work and no play. With a fellow student, he bought a 10-bedroom fraternity house, which they used as an ad hoc nightclub.Musk graduated with a Bachelor of Science in Physics, as well as a Bachelor of Arts in Economics from the Wharton School. The two majors speak to the direction Musk's career would take later, but it was physics that made the deepest impression on his thinking.
"(Physics is) a good framework for thinking," he'd later say. "Boil things down to their fundamental truths and reason up from there."
Musk was 24 years old when he moved to California to pursue a PhD in applied physics at Stanford University. With the internet exploding and Silicon Valley booming, Musk had entrepreneurial visions dancing in his head. He left the PhD program after just two days.
In 1995, with $28,000 and his younger brother Kimbal at his side, Musk started Zip2, a web software company that would help newspapers develop online city guides. The company got bought out, and Musk used his Zip2 buyout money to create X.com, which he intended to shape into the future of banking. X was merged with a company called Confinity and the resulting company came to be known as PayPal. Musk was then ousted from the company before it was bought by eBay.
After PayPal slipped away, Musk helped generate funding for an electric car startup called Tesla. You probably know the rest. His early interest in reading philosophy, science fiction, and fantasy novels is reflected in his sense of idealism and concern with human progress. He aims to work in the areas he has identified as crucial to our future, specifically the Internet, the transition to renewable energy sources, and space colonization. With his work with PayPal, Tesla Motors, SolarCity, and SpaceX, he has defied critics and made advances in all three of these frontiers.
COMPANIES
ZIP2 CORPORATION
Musk launched his first company, Zip2 Corporation, in 1995 with his brother, Kimbal Musk. An online city guide, Zip2 was soon providing content for the new websites of both The New York Times and the Chicago Tribune. In 1999, a division of Compaq Computer Corporation bought Zip2 for $307 million in cash and $34 million in stock options.
PAYPAL
In 1999, Elon and Kimbal Musk used the money from their sale of Zip2 to found X.com, an online financial services/payments company. An X.com acquisition the following year led to the creation of PayPal as it is known today.In October 2002, Musk earned his first billion when PayPal was acquired by eBay for $1.5 billion in stock. Before the sale, Musk owned 11 percent of PayPal stock.
SPACEX
Musk founded his third company, Space Exploration Technologies Corporation, or SpaceX, in 2002 with the intention of building spacecraft for commercial space travel. By 2008, SpaceX was well established, and NASA awarded the company the contract to handle cargo transport for the International Space Station—with plans for astronaut transport in the future—in a move to replace NASA's own space shuttle missions.
A CRYSTAL CLEAR TRANSFORMATIVE PURPOSE
Part of Musk's ability to motivate his team to do great things is his crystal-clear Massively Transformative Purpose, which drives each of his companies.As I always say, social movements, rapidly growing organizations, and remarkable breakthroughs in science and technology are all backed by a powerful MTP.
Musk's MTP for Tesla and SolarCity is to accelerate the world's transition to sustainable energy.
To this end, every product Tesla brings to market is focused on this vision and backed by a Master Plan Musk wrote over 10 years ago.
Elon's MTP for SpaceX is to backup the biosphere by making humanity a multiplanet species.
Elon has been preaching this since the founding of SpaceX back in 2002 even when he was experiencing numerous rocket failures.
"I think fundamentally the future is vastly more exciting and interesting if we're a spacefaring civilization and a multiplanet species than if we're or not. You want to be inspired by things. You want to wake up in the morning and think the future is going to be great. And that's what being a spacefaring civilization is all about." – Elon MuskThese MTPs are like a north star for Elon and his employees.They keep all efforts focused and aligned, which helps his organizations grow cohesively even in times of chaos.
FIRST PRINCIPLES THINKING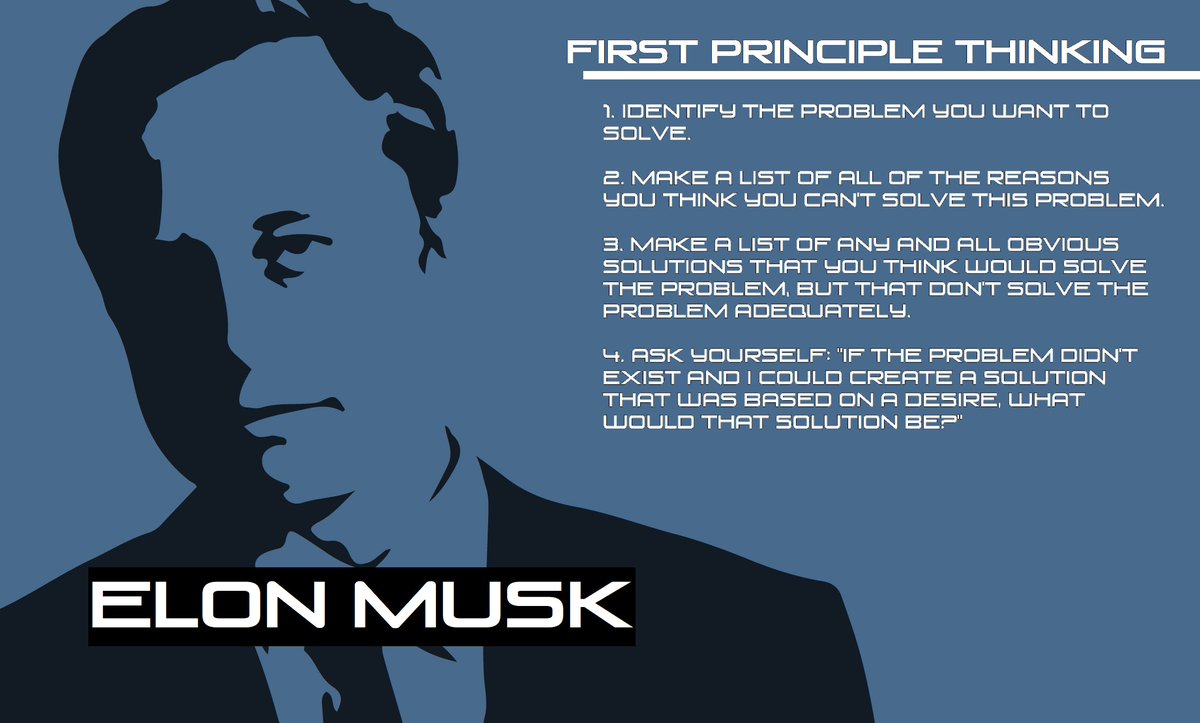 First principles thinking is a mode of inquiry stolen from physics designed to relentlessly pursue the foundations of any given problem from fundamental truths. Elon has deployed this thinking strategy to give himself an unfair advantage when developing new batteries, a key component for both Tesla and SolarCity.
Here is Elon describing first principles thinking in this 2012 interview with Kevin Rose:
"I think it is important to reason from first principles rather than by analogy. The normal way we conduct our lives is we reason by analogy. [When reasoning by analogy] we are doing this because it's like something else that was done or it is like what other people are doing — slight iterations on a theme.
First principles is kind of a physics way of looking at the world. You boil things down to the most fundamental truths and say, "What are we sure is true?" … and then reason up from there.
Somebody could say, "Battery packs are really expensive and that's just the way they will always be… Historically, it has cost $600 per kilowatt hour. It's not going to be much better than that in the future."
With first principles, you say, "What are the material constituents of the batteries? What is the stock market value of the material constituents?"
It's got cobalt, nickel, aluminum, carbon, some polymers for separation and a sealed can. Break that down on a material basis and say, "If we bought that on the London Metal Exchange what would each of those things cost?"
It's like $80 per kilowatt hour. So clearly you just need to think of clever ways to take those materials and combine them into the shape of a battery cell and you can have batteries that are much, much cheaper than anyone realizes."
First principle thinking works so well because it gives us a proven strategy for editing out complexity, while also allowing entrepreneurs to sidestep the tide of popular opinion.
DEEP-ROOTED PASSION
Musk only tackles those problems where he has deep rooted passion and conviction.After selling PayPal, with $165M in his pocket, Musk set out to pursue three Moonshots, and subsequently built three multibillion-dollar companies: SolarCity, Tesla and SpaceX.
This passion allowed him to push forward through extraordinarily difficult times and take big risks.
You might think it was always easy for Musk, but back in 2008 he was at a lowest low: SpaceX had just experienced its third consecutive failure of the Falcon-1 launch vehicle, Tesla was out of money, SolarCity was not getting financed, and Musk was going through a divorce. Musk borrowed money for basic living. Traumatic times.
Despite the 2008 economic crisis at the time, he bet every penny he had, and eventually everything turned around.Ultimately, it was his passion, refusal to give up, and grit/drive that allowed him to ultimately succeed and begin to impact the world at a significant scale.