DJI has also worked hard to make sure that they can provide drones for users of all ages. Prior to the kid versions of drones, drones were made primarily for adults and older teens. As younger children saw the drones, they wanted to enjoy them and have fun with them too. Because there was a need for drones dedicated to smaller hands, DJI moved to incorporate new products that were made with all age groups in mind.
One major improvement that DJI saw that was needed was camera stabilization to ensure a beautiful picture that was in focus and not obscured by blur due to movement. This improvement allowed many of the users the opportunity to capture photos that they once tried to without luck. Now, users can have the confidence they need when they attempt to take videos or photos from above.
Design and Durability
It's no joke that the DJI Spark is as small as a can of soda. Measuring in at a scant 143 x 143 x 55mm and 300 grams (10.6 ounces), the mini drone is something you can easily stuff into any bag or even hang off the back of your belt.
The DJI Spark also comes in a small foam box that's really no bigger than a headphone case we would normally put into our bag. The included storage box also has compartments for four replacement propellers and two extra batteries.
Aside from its small size, the Spark is DJI's first drone to be offered in a variety of colors: Alpine White, Sky Blue, Meadow Green, Lava Red and Sunrise Yellow. The splash of color is welcome piece of personalization in a world of drones that have thus far been a mix of gray, white and black.
In terms of looks, the Spark is a lot like a shrunken DJI Mavic pro, and that shouldn't really come as a surprise. It has a very similar angular body with a camera hanging right underneath the front sensor array.
One key difference of the Spark is its limbs don't fold into the drone like the Mavic Pro and GoPro Karma Drone. The good news is you can fold the propellers to make it a smaller package and these rotor blades will also lock into flight position once they start spinning.
Unlike most other drones, the DJI Spark also has stubbly feet rather than extended landing gear. This is in part to keep the drone as small as possible while also making it comfortable enough to hold when landing the drone onto your palm. That said, the Spark's tiny feet make it harder to land on uneven and rocky surfaces.
Spark in Hand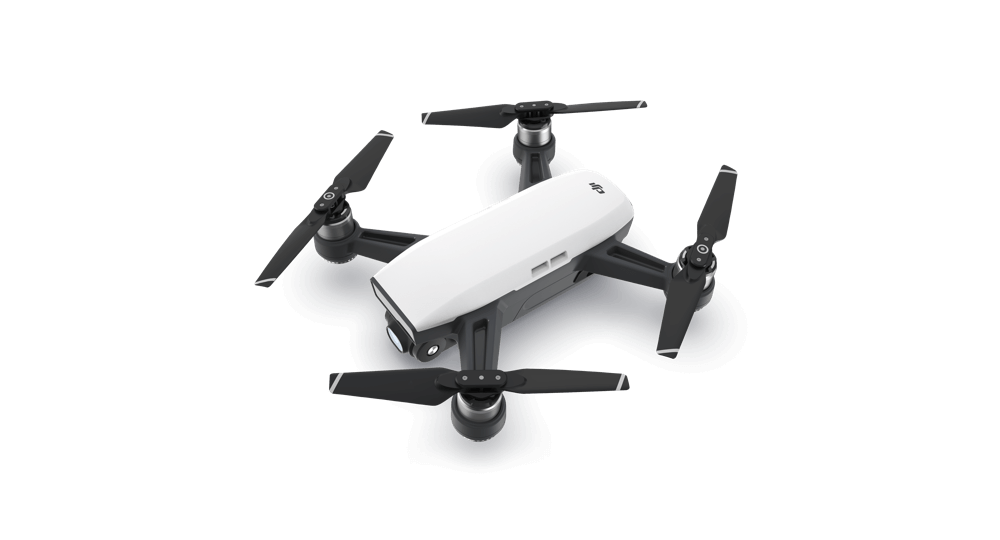 The DJI Spark might be small, but its main body feels dense and solid as a brick. The drone's limbs feel just a sturdy thanks to some heavy ribbing. With nearly zero visible seams along the drone's body, it's clear that most of the Spark's fuselage is molded from one solid piece of plastic.
Taking off with the DJI Spark takes mere seconds of setup with attaching the propeller guards, turning it on and linking it to your smartphone through the DJI Go 4 app.
Alternatively, you can skip the controller and command the DJI Spark with just hand gestures through the new feature called PalmControl
You can have the drone take off from the palm of your after it scans your face. From there you can wave your hands at it to take control of flying it like a Jedi moving objects with the force. Waving your hand commands the drone to fly up and away from you, after which you can form a picture frame with your fingers to have it take a selfie.
Although PalmControl feels intuitive enough, it is also very finicky if you want to do anything beyond the basic navigation commands. You have to wave at the drone in just the right way, and selfies only trigger a third of the time when we make the picture frame gesture.
Spark vs Mavic Mii air specification
Spark Battery Life:
16 minutes, 1480 mAh
Mavic Air Battery Life:
21 minutes, 2375 mAh
Spark Flight Range:
0-98 ft (0 – 30 m)
Mavic Air Flight Range:
2.5 mi (4 km)
Spark Max Speed:
31 mph (50 kph)
Mavic Air Max Speed:
42mph (68kph)
Spark Satellite Positioning Systems:
GPS/GLONASS
Mavic Air Satellite Positioning Systems:
GPS + GLONASS
Spark Obstacle Avoidance:
Front
Mavic Air Obstacle Avoidance:
Forward, Backward and Downward
Spark Return To Home:
Yes, with obstacle avoidance
Mavic Air Return To Home:
Yes
Spark Operating Frequency:
2.4 GHz & 5.8 GHz
Mavic Air Operating Frequency:
2.4 GHz – 5.8 GHz
Spark Video Transmission:
720p 30 fps.
Mavic Air Video Transmission:
720p at 30fps
Spark Landing Gear:
On the bottom of the drone
Mavic Air Landing Gear:
Two flip down feet in the front to protect the camera.Spark Compatible Video Devices:

DJI GO 4 App

iOS 9.0 or Later (DJI Software more stable overall)
Android 4.4 or Later (DJI Software less stable overall)
Mavic Air Compatible Video Devices:

DJI GO 4 App
iOS 9.0 or Later (DJI Software more stable overall)
Android 4.4 or Later (DJI Software less stable overall)
Spark Flight Modes:

Coordinate
Direction
QuickShot mode
Gesture Mode

PalmControl
Follow
Beckon
PalmLand
Mavic Air Flight Modes:

Active Track
QuickShot

Rocket
Dronie
Circle
Helix
Asteroid
Boomerang

SmartCapture
TapFly
Tripod Mode
Cinematic Mode
Point of Interest
Tripod Mode
Gesture Mode
Cinematic Mode
Fixed-Wing Mode
TapFly
Terrian Follow
Point of Interest
Course Lock
Waypoints
Home Lock
Spark vs Mavic Air Camera Specs
Spark Lens:
25 mm
Mavic Air Lens:
24 mm
Spark Sensor Size:
1/2.3″ CMOS
Mavic Air Sensor Size:
1/2.3" CMOS
Spark Media Storage Method:
Micro SD card
Mavic Air Media Storage Method:
Micro SD Card, 8GB of onboard internal storageSpark Filters:
Mavic Air Filters:

Filters are available.
Spark Gimbal Stabilization:
2-axis mechanical – pitch & roll
Mavic Air Gimbal Stabilization:
3-Axis
Spark ISO:
Video: 100-3200, Photo: 100-1600
Mavic Air ISO:
Video: 100 – 3200 (auto) 100 – 3200 (manual) Photo: 100 – 3200 (auto) 100 – 3200 (manual)
Spark Aperature:
f/2.6
Mavic Air Aperature:
f2.8
Spark Shutter Speed:
Electronic shutter 2-1/8000 s
Mavic Air Shutter Speed:
Electronic Shutter: 8 – 1/8000sSpark Image Size:

3968×2976
1440×1080 with ShallowFocus
2300×1280 with Pano (horizontal)
960×1280 with Pano (vertical)
Mavic Air Image Size:

4:3: 4056×3040
16:9: 4056×2280
Spark Photo Modes:

Single Shot
Burst Shooting: 3 frames
Auto Exposure Bracketing (AEB): 3 bracketed frames at 0.7 EV bias
Interval: 2/3/5/7/10/15/20/30/60 s
Mavic Air Photo Modes:

Single shot
HDR
Burst shooting: 3/5/7 frames
Auto Exposure Bracketing (AEB): 3/5 bracketed frames at 0.7EV Bias
Interval: 2/3/5/7/10/15/20/30/60 s
Spark Photo Formats:

JPEGMavic Air Photo Formats:

Spark Video Codec:

H.264Mavic Air Video Codec:

MP4/MOV (H.264/MPEG-4 AVC)Spark Video Recording Resolution:

Mavic Air Video Recording Resolution:

4K Ultra HD: 3840×2160 24/25/30p
2.7K: 2720×1530 24/25/30/48/50/60p
FHD: 1920×1080 24/25/30/48/50/60/120p
HD: 1280×720 24/25/30/48/50/60/120p
Spark Zoom Capabilities:

The DJI Spark cannot zoomMavic Air Zoom Capabilities:

None.Spark Other Notable Camera Features:
Mavic Air Other Notable Camera Features:

Features 8GB of onboard storage
32 megapixel sphere panoramas
Gimbal is tucked inside the body of the drone more than the Mavic Pro