Vibrant cities, beaches, amusement parks, and natural wonders like nowhere else on earth make California an intriguing land of possibilities for travelers. The gateway cities of San Francisco and Los Angeles are home to some of the state's most well-known sites, from the Golden Gate Bridge to Hollywood and Disneyland. But the national parks, covering mountains, forests, desert, coastal areas, and islands offer their own outstanding experiences. The tallest and largest trees on earth, the largest alpine lake in North America, and the famous sites of Yosemite, offer once in a lifetime opportunities for outdoor adventure.
Top attractions in california:-
San Francisco and the Golden Gate Bridge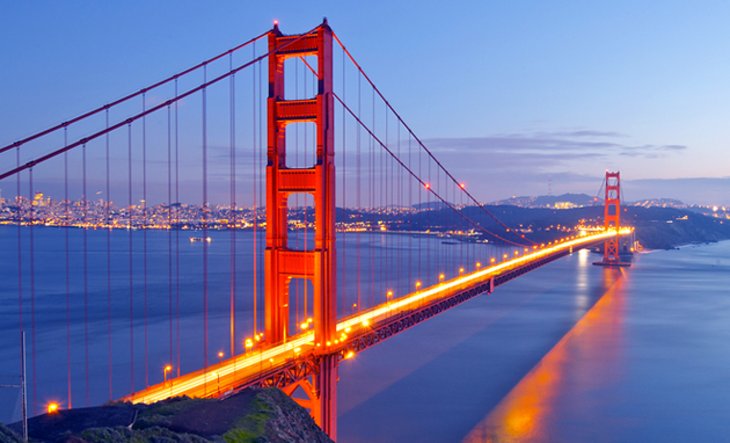 One of the most beautiful cities in America, San Francisco should be on everyone's must-see list. The ocean and hills provide a stunning natural setting, but the quaint neighborhoods, historic sites, green spaces, inspiring cultural institutions, and relaxed attitude are what truly make this city special. The iconic Golden Gate Bridge is one of the key sights and what many people call to mind when they think of the city, and even California. The orange frame against the blue water of San Francisco Bay, or rising out of the fog that often covers the area is an unforgettable sight. You can appreciate the bridge from afar or, for a more personal experience, drive over it, walk on it, or even bike across it.
If you have time to explore the city and are up for a little exercise, see some of the sights on foot. Families traveling with children will find a world of activities to entertain youngsters and even older children with our article on things to do with kids in San Francisco.
Yosemite National Park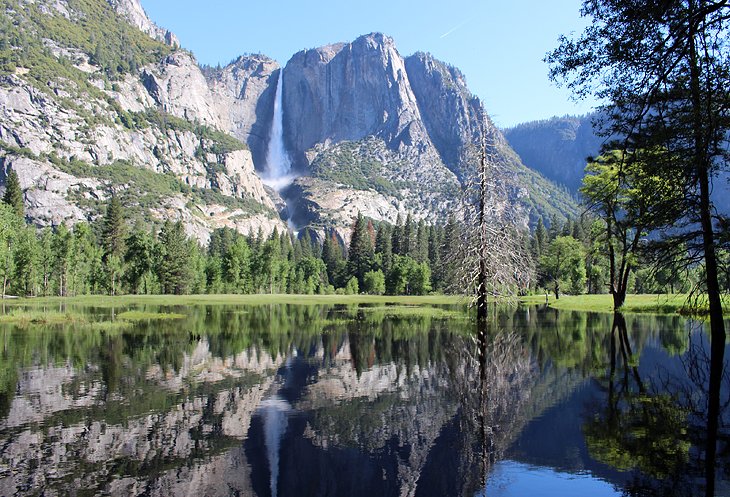 Yosemite National Park in Northern California is one of the United States' most scenic and most visited national parks. The mountains, valleys, rivers, and spectacular waterfalls have drawn tourists, artists, and athletes here for decades. Most of the key sights and things to do in Yosemite National Park are in Yosemite Valley. Carved by glaciers during the last ice age, the granite walls and huge waterfalls are some of the most outstanding features in the park. This is where you'll find the big name attractions, like Yosemite Falls, Half Dome, and El Capitan. Beyond the Valley are the Tioga Road and the Glacier Point Road, both of which offer access to alpine areas, lookout points, and incredible views. Sometimes overlooked by tourists but also definitely worth seeing are the giant sequoias. The largest stand is located in Mariposa Grove, in the southern part of the park.
One of the best ways to explore Yosemite is to get right out into the landscape on some of the incredible hiking trails. These range from easy walks along streams and lakes to life-altering trails that will take you to the tops of mountain peaks and to famous landmark sites. If you are spending a few nights and want to set up here for a while, you'll also find a number of outstanding campgrounds in Yosemite and the surrounding area.
Disneyland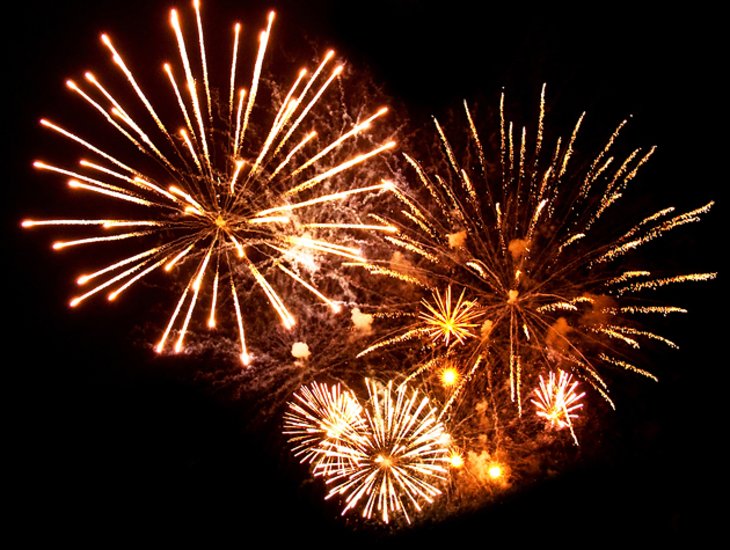 Disneyland, located in Anaheim, is California's premier family destination and has been for decades. This massive amusement park is home to all kinds of rides, games, shows, and entertainment, complete with restaurants and hotels.
The park is a combination of theme rides and recreated worlds and cultures. You can find shows and other entertainment designed for both children and adults. Long line ups and wait times have been reduced somewhat by the invention of passes, which give you a "return time" to various attractions. However, when kids are out of school, either for the summer, Christmas, spring break, or any other holiday, you can be sure that the park will be very busy.
Keep in mind there is more to Disneyland than just the parks. The entire Disneyland resort experience features hotels, dining, shopping at the Downtown Disney District, and the Disney Adventure Park. Although the parks are definitely what the children are here to see, there is something for everyone in the family.
Death Valley National Park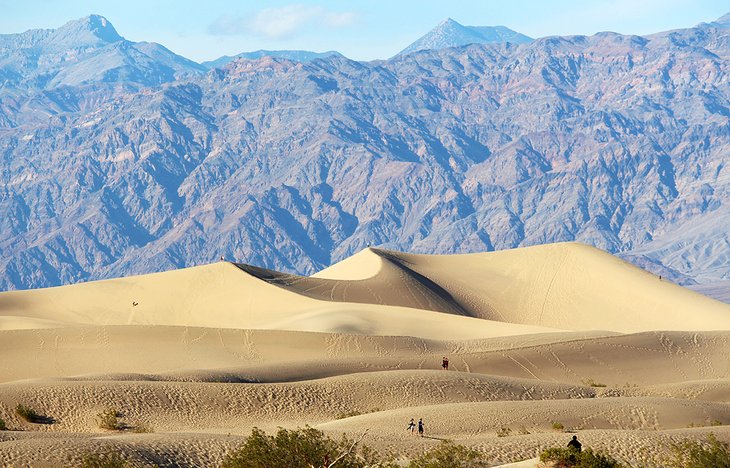 Death Valley National Park contains some of California's most inhospitable terrain, with extreme heat that has left this desert area strangely beautiful. Salt fields, dry parched land, sand dunes, mountains, and a lake that lies below sea level create a unique landscape in this remote valley. Visitors can drive through the park and stop at lookouts, hike short trails, see the ruins of the valley's former industry, and even paddle in the shallow Badwater Lake, if there is any water in the lake at that time.
Big Sur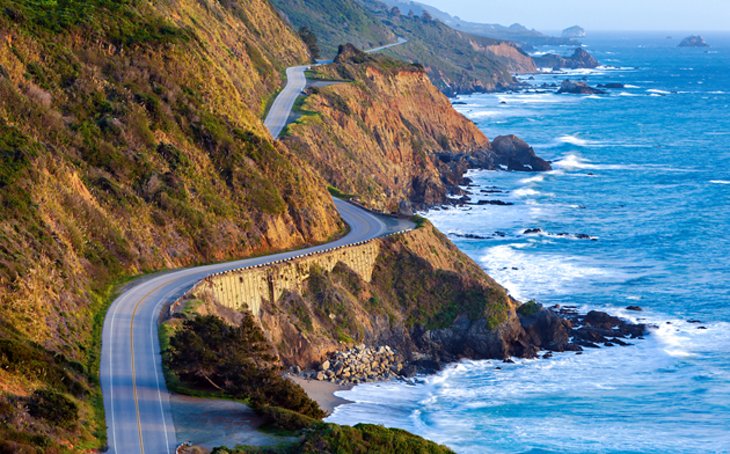 This beautiful stretch along the Central Coast of California offers a chance for visitors to get back to nature. Camping and hiking are two of the most popular activities in the area, and Garrapata State Park and Pfeiffer Big Sur State Park are some of the best places for these pursuits.
Big Sur begins about four miles south of Carmel in Yankee Point and stretches along the Highway No. 1 as far as Salmon Cove, some 17 miles north of San Simeon. From Highway 1 there are splendid views over the picturesque coastline. To the east stretches a true wilderness – the Santa Lucia Mountains and Ventana Forests, with more than 220 miles of trails.
Pfeiffer Big Sur State Park is a great place for hikers, sunbathers, and those looking for a nature escape. The park has camping facilities and, for anyone looking for a little more comfort, the Big Sur Lodge offers a peaceful retreat in a superb location. One of the highlights in the park is Pfeiffer Falls, which is reached by the Valley View Trail. A branch off this trail leads to the Valley Overlook with views that extend to the ocean and the Big Sur River Valley.
Garrapata State Park is another popular area of Big Sur. The main attraction here is Garrapata Beach, a long, wide, crescent-shaped stretch of golden sand. Waves here can be big, and it may not be the best for swimming but it's great for taking a stroll and soaking up the sun. For those looking to get a little exercise, there are also day hiking trails in the park providing fabulous views of the coastline, mountains, and redwoods.
Lake Tahoe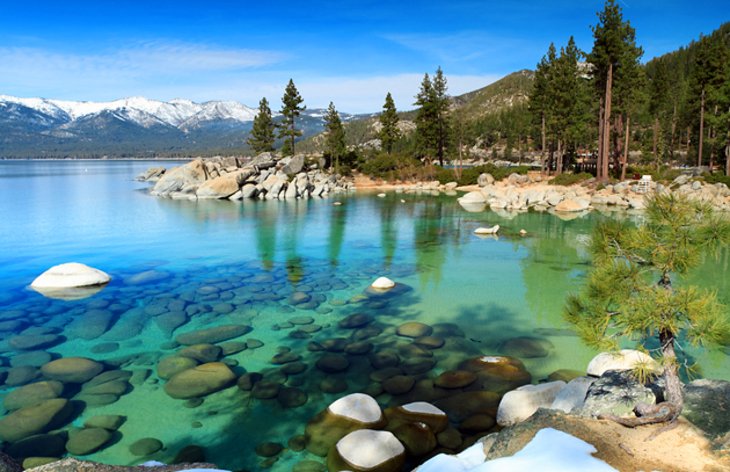 Lake Tahoe lies high in the Sierra Nevada mountain range and is a popular year-round vacation destination. The blue lake, with it's turquoise coves and surrounding mountain scenery, is a summer playground for boaters, beach goers, campers, and nature lovers. You'll find outstanding hiking trails for all abilities in the mountains and along the shoreline. Campgrounds in the area are also excellent, with many in beachfront locations or wooded areas. Much of the summertime action focuses around the town of South Lake Tahoe.
Lake Tahoe is also California's premiere skiing destination, with several popular ski resorts. During the winter, skiers from across the United States descend on the area to take advantage of the incredible terrain and great snow conditions.
Sequoia and Kings Canyon National Parks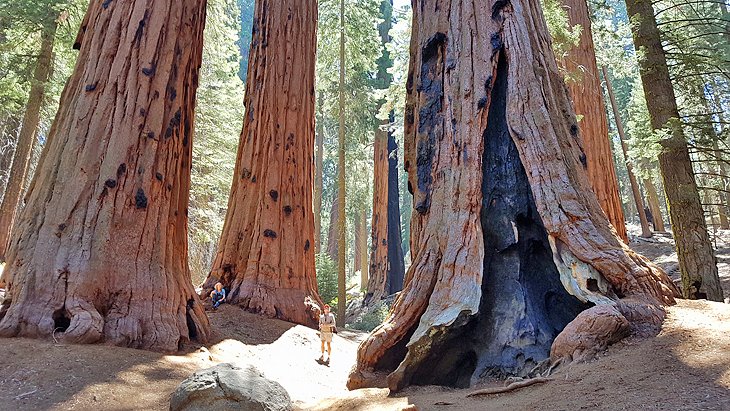 Home to the largest trees on earth, a visit to Sequoia and Kings Canyon National Parks is a bucket-list event. The sequoias here are the largest living things in the world, and many of them are more than 2,000 years old, with some even over 3,000 years old. These adjacent parks cover an area of mountains with majestic granite peaks, deep gorges, lakes, rivers, and forests, but they are quite different from each other. If you are planning on visiting both parks, you will need at least a couple of days.
Although both parks are home to the giant sequoias, Sequoia National Park is arguably the best place to visit these ancient wonders. Easy walking trails, many of them paved, meander through the trees and provide easy access to the major sites. This park is also home to Mt. Whitney, which at 14,495 feet is the highest mountain in the US (apart from Alaska). You can find some beautiful campgrounds in Sequoia National Park, many of which are well positioned for visiting the trees and other attractions, like Moro Rock, and the famous giant sequoia known as General Sherman Tree.
Kings Canyon National Park is more rugged and wild, with jagged peaks, roaring rivers, and remote sections where you can escape the crowds and enjoy nature. This is a popular park for hiking. You'll also find some incredible campgrounds in Kings Canyon, both close to the trees, in the Grant Grove area, and in the Cedar Grove area at the far end of the 26-mile Kings Canyon Scenic Byway.
Redwood National and State Parks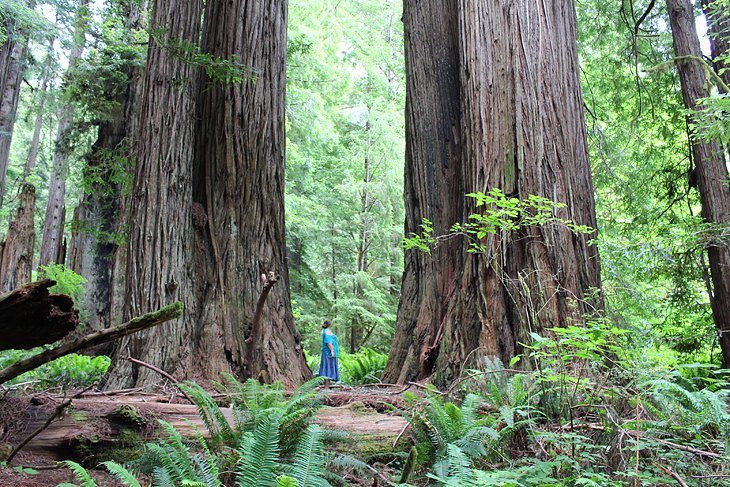 Walking through a forest of giant redwoods, towering more than 300 feet above you, feels like entering another era. Descendants of trees from the Jurassic Period, these are the tallest trees on the planet, and they are truly one of California's greatest treasures.
These jointly managed parks, which include Redwood National Park, Jedediah Smith Redwoods State Park, Del Norte Redwoods State Park, and Prairie Creek Redwoods State Park, stretch out along a spectacular portion of Northern California Coast. Each offers something a little different, but in all of them you can find great hiking trails and beautiful campgrounds.
Joshua Tree National Park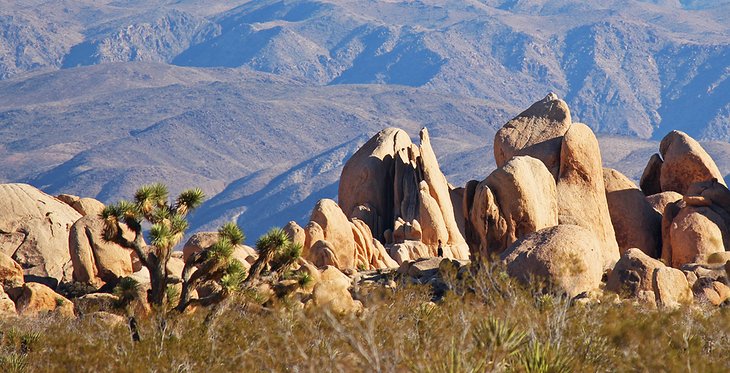 This park is truly a jewel in the desert. The Joshua trees bring a type of magic to this otherwise lunar-like landscape, where giant boulders and rock formations create unique shapes that capture the imagination. The park covers 800,000 acres and offers a range of diverse sites that include much more than just the Joshua trees. The Cholla Cactus Garden, where chollas stretch out endlessly along the hillside to the mountains beyond, the ruins of the historic Keys Ranch, the giant palms of the Lost Palms Oasis, and the vista from over 5,000 feet at Keys View are just some of the highlights. If you are going to stay awhile, you may want to consider spending a night under the stars and trees at one of the fabulous campgrounds in Joshua Tree National Park.
Universal Studios Hollywood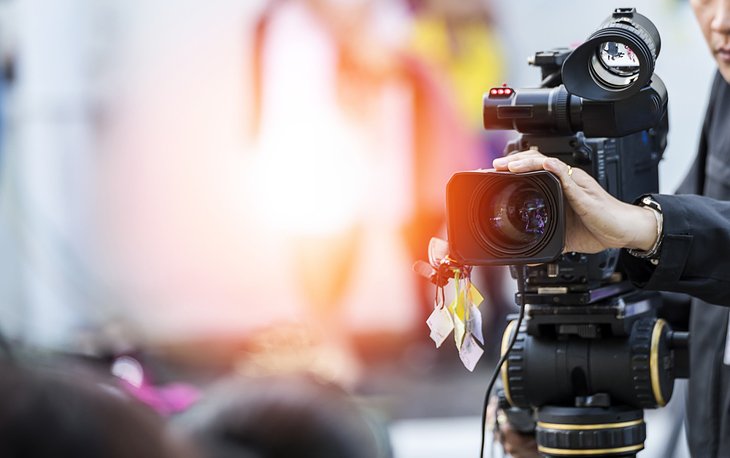 This amusement park and movie studio is one of the most popular attractions in California, and the perfect place for families with older children and teens. Rides and sets are based on famous movies, with everything from shockingly realistic simulator rides to roller coasters, and much more. You can tour huge sets on organized studio tours. Some of the most popular experiences in the park are The Wizarding World of Harry Potter, Fast and Furious – Supercharged, and The Walking Dead Attraction, among others. You'll also find dining, shows, unique shopping opportunities, and various events held throughout the year.