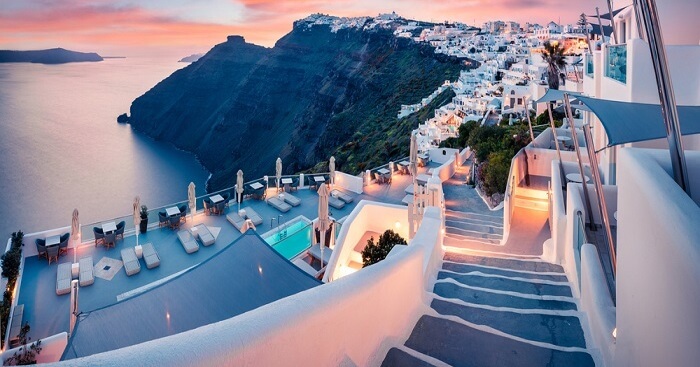 Spreewald is a beautiful place to visit. A huge natural UNESCO biosphere reserve only an hour's train ride from Berlin, so a perfect place to escape the city and enjoy a summer in nature.
I visited Lubbenau recent trip to Germany as a day trip from Berlin. As soon as you walk up from the train station there are brightly painted murals and tree trunks have been carved into wonderful art. Walking into the town centre is a beautiful square with cafes and benches, perfect for relaxing in the sunshine. Plus a whole family of quirky metal art pieces.
But what makes this an ideal summer location is the wonderful waterways. There are so many options for exploring this natural area. On a hot sunny day take a punting trip down the waterways, stopping off at nearby Lehde for some refreshments or visit the amazing open air museum which has recreated a traditional German village. The punting trip also stops off at local refreshment stops on the way too where you can try the famous Spreewald pickles, they even have pickle beer, which is lovely and refreshing on a summer's day.
Freiburg
Thanks to an extraordinary location in southern Germany, the city of Freiburg is considered the gateway to the Black Forest and one of the top tourist destinations in the Baden-Wurttenberg region. Visitors to Freiburg can look forward to enjoying a relaxed holiday, as the city offers plenty of opportunities to get away from it all and enjoy a well-deserved break. On the other hand, if you rather go for a city break, Freiburg offers a vibrant urban environment where it is virtually impossible to be struck by boredom. No matter which kind of holiday you are looking for, you will find it in Freiburg.
Freiburg's geographical location means that the city is blessed with mild weather all year round. In fact, Freiburg is known as the sunniest city in the whole of Germany, and boasts an impressive average of 1,740 hours of sunshine every year. The best times to visit are usually late spring and autumn, when daytime temperatures stay at around 20 degrees. The sunniest month is July, with an average of 240 hours of sunshine, and the driest month is March. If you are planning on doing any outdoor activities, April, May and October are good times to visit too.
Getting There And Around
Getting to Freiburg from other German towns or from other European countries is easy. The nearest airport is Basel-Mulhouse-Freiburg (also known as the Euro Airport), which is located 75 kilometres south of the city. To reach Freiburg from the airport, you can use shuttle buses (bus line number 50 or the new FlixBus, which offers tickets starting at 8.5 €) or trains. Travel time is approximately 1 hour for both trains and buses.
Freiburg is well served by national and international trains, as other European cities like Milan, Paris, and Amsterdam are between 3.5 and 6 hours away. There are also direct trains to Basel, Berlin, Zurich, and Cologne.
Once you are in the city, you can use the local and efficient public transportation system to get around, although the majority of tourist landmarks are located in a compact area that is easily walkable. If you decide to use public transport and are planning to stay in the city for a few days, the best option is the Regio 24 ticket, which gives you unlimited rides in city buses and trams for approximately 6 € per person per day. Another cost-effective option is the Welcome Card, which is valid for 3 days and includes access to the city's scenic cable car.
ATTRACTION
Freiburger Münster
Europa-Park
Schauinsland
Freiburg Bächle
Schlossberg
Schwabentor
Augustiner Museum
Martinstor
Münsterplatz
North Rhine Westphalia
North Rhine-Westphalia in western Germany has it all: captivating landscapes, fascinating historical monuments, beautiful churches and fairytale castles. We cherry-picked the best of the best attractions and compiled present to you the best things to do in North Rhine-Westphalia.
Cologne Cathedral might be the most impressive landmark in the entire state of North Rhine-Westphalia. The masterpiece of Gothic architecture miraculously survived World War II, which turned much of the city to rubble, and was added to the list of UNESCO World Heritage Sites in 1996. The twin spirals soar into the sky and overlook the city centre, with the cobbled streets of the old town, the central station and the main shopping promenade. And while the façade is quite impressive, much of the fascinating details await inside, including the Shrine of the Three Wise Men, the treasury, and beautiful stained glass windows.
Charlemagne, or Charles the Great, was the first Emperor of the Roman Empire and chose Aachen as his seat in 800 AD. Today, you can follow a self-guided tour around the city to explore how the ruler has shaped Aachen, both the city and the entire region. The tour passes many of the city's architectural and historical highlights, from the jaw-dropping Aachen Cathedral and several museums to historical buildings, the Gothic Town Hall and more. Themed stations along the way revolve around different aspects of life, such as history, science, religion and power.
ATTRACTION
Cologne
Düsseldorf
Bonn
Aachen
Dortmund
Münster
Essen
Duisburg
Beilstein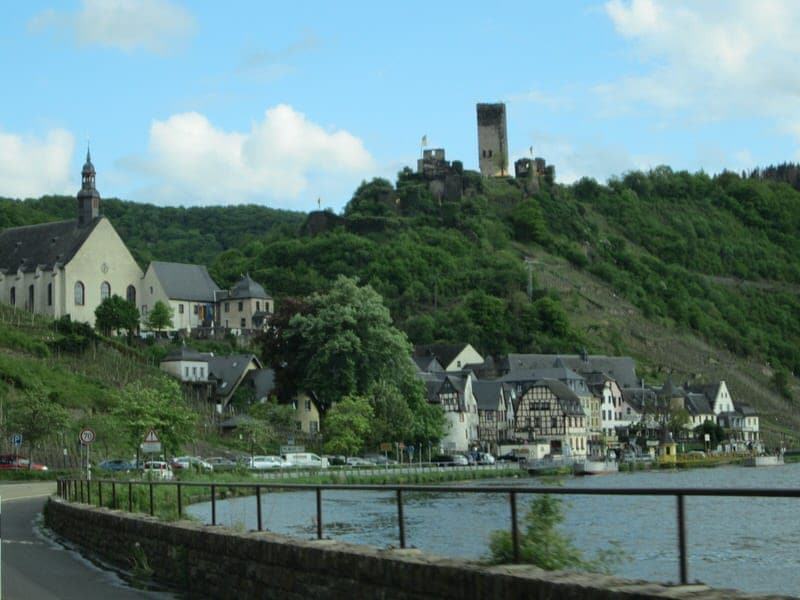 Beilstein Germany is a tiny town sitting along the peaceful Moselle River (a.k.a. Mosel River in English). Beginning in France, the Moselle River enters Germany near Trier and meanders to Koblenz where it flows into the mighty Rhine River. While not nearly as popular as the Rhine Valley, the Moselle River Valley is a delightful place to visit as both sides of the river are dotted with castles, vineyards, and cute little villages.
We sadly only had two days to explore this area, and we chose to stay in Beilstein, known as the "Sleeping Beauty of the Moselle" because of its historic inaccessibility and beautiful setting. We'll tell you about our explorations in Beilstein, share some tips on getting there, and give you some pros and cons of staying there versus the picturesque and popular Moselle town of Cochem. We'll also provide a list of accommodation options in both Beilstein and Cochem.
Beilstein is located along the Moselle River about 15 minutes driving distance from Cochem, 40 minutes from Burg Eltz, 40 minutes from Frankfurt Airport, 1 hour from Koblenz, and 1 hour and 15 minutes from Trier.
ATTRACTION
Metternich Castle
Geierlay Suspension Bridge
Kloster Maria Engelport
Weinmuseum Schlagkamp-Desoye GmbH
Martberg
Strimmiger Berg
Weingut Servaty-Müller
Römergrab von Nehren
Burg Balduinseck
Passau
The power of flowing water has quite literally shaped the picturesque town of Passau on the border with Austria. Its Altstadt is stacked atop a narrow peninsula that jabs its sharp end into the confluence of three rivers: the Danube, the Inn and the Ilz. The rivers brought wealth to Passau, which for centuries was an important trading centre, especially for Bohemian salt, central Europe's 'white gold'. Christianity, meanwhile, generated prestige as Passau evolved into the largest bishopric in the Holy Roman Empire. The Altstadt remains pretty much as it was when the powerful prince-bishops built its tight lanes, tunnels and archways with an Italianate flourish, but the western end (around Nibelungenplatz) has received a modern makeover with shopping malls centred on the hang-glider-shaped central bus station (ZOB).
Passau is a Danube river-cruise halt and is often bursting with day visitors. It's also the convergence point of several long-distance cycling routes.
ATTRACTION
Veste Oberhaus
St. Stephan's Cathedral
Ilz
Altstadt (Passau)
Dreiflüsseeck
Passau, Old Town Hall
Glass Museum, Passau
Wild Park Castle Ortenburg
Oberhausmuseum