We're going to help you choose the best Nikon camera, whether you're a happy snapper looking for a simple point and shoot camera, an enthusiast keen to develop their camera skills or an expert or pro seeking out the best upgrade.
Nikon D850
The Nikon D850 is Nikon's latest high resolution full-frame DSLR, boasting a 46MP backside-illuminated CMOS sensor. But, in a fairly radical departure for the series, it is also one of the company's fastest-shooting DSLRs. This combination of properties should significantly widen the camera's appeal to high-end enthusiasts as well as a broad range of professional photographers.
Key Feature:
45.7MP BSI CMOS sensor
7 fps continuous shooting with AE/AF (9 with battery grip and EN-EL18b battery)
153-point AF system linked to 180,000-pixel metering system
UHD 4K video capture at up to 30p from full sensor width
1080 video at up to 120p, recorded as roughly 1/4 or 1/5th speed slow-mo
4:2:2 8-bit UHD uncompressed output while recording to card
1 XQD slot and 1 UHS II-compliant SD slot
Battery life rated at 1840 shots
3.2″ tilting touchscreen with 2.36M-dot (1024×768 pixel) LCD
Illuminated controls
19.4MP DX crop (or 8.6MP at 30fps for up to 3 sec)
SnapBridge full-time Bluetooth LE connection system with Wi-Fi
Advanced time-lapse options (including in-camera 4K video creation)
Nikon Z6
We had to wait a little longer for the Nikon Z6 to arrive than the Nikon Z7, but it's this camera that perhaps has the broader appeal of Nikon's two full-frame mirrorless models, particularly among enthusiast photographers.
Nikon is adopting a two-pronged strategy similar to that employed by Sony when it launched the original Alpha A7R and A7 , with the Nikon Z6 and Z7 sharing the same design and a pretty much identical spec sheet, but with three notable differences: resolution, autofocus and burst shooting speed.
As we've just touched on, while the Z7 has a 45.7MP resolution the Nikon Z6 features a back-illuminated 24.5MP full-frame sensor, which, while not offering quite the staggering resolving power of its sibling, delivers a pixel count that should satisfy most users. It also means the native ISO range is that bit broader, running from ISO100 to 51,200 (the Z7's native ISO range is 64-25,600); this can be expanded to 50-204,800, matching the Alpha A7 III.
Key Feature
Sensor: 24.5MP full-frame back-illuminated CMOS
Lens mount: Nikon Z mount
Screen: 3.2-inch tilt-angle touchscreen, 2,100,000 dots
Burst shooting: 12fps
Autofocus: 273-point AF
Video: 4K
Connectivity: Bluetooth and Wi-Fi
Battery life: 310 shots
Weight: 675g with battery and memory card
Nikon D750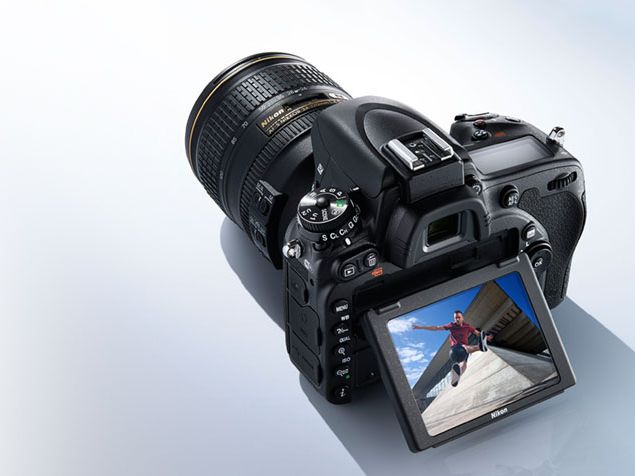 It's been a long time coming, but the spiritual successor to the much-loved Nikon D700 is finally here. A lot has changed in the market since the D700 was introduced as Nikon's first truly affordable full-frame enthusiast DSLR back in 2008, and likewise, the brand-new D750 is replete with new features that bring it right up to date. Not surprisingly, given that it arrives on the scene some six years after the D700's debut (and almost three years after it was discontinued), the D750 is a new camera from the ground up.
The D750's 24.3-megapixel, full-frame sensor is similar to that in the Nikon D610, but it's paired to the more powerful EXPEED 4 processor from the D810. Full-resolution performance is just slightly better than either camera at 6.5 frames per second, while the sensitivity range falls somewhere in between.
Also borrowed from the D810 are the D750's high-res 91,000-pixel RGB metering sensor and 51-point Multi-CAM 3500FX autofocus module, although the latter has been refined and now works in even lower light down to -3EV. (That's a record for a Nikon DSLR of any format).
Key Feature
Full model name:
Nikon D750
Resolution:
24.30 Megapixels
Sensor size:
35mm
(35.9mm x 24.0mm)
Kit Lens:
5.00x zoom
24-120mm
(24-120mm eq.)
Viewfinder:
Optical / LCD
Native ISO:
100 – 12,800
Extended ISO:
50 – 51,200
Shutter:
1/4000 – 30 sec
Max Aperture:
4.0 (kit lens)
Dimensions:
5.5 x 4.4 x 3.1 in.
(141 x 113 x 78 mm)
Weight:
54.7 oz (1,550 g)
includes batteries, kit lens
Availability:
09/2014
Manufacturer:
Nikon
Nikon D7200
The Nikon D7200, introduced in 2013, was one of our favorite DSLRs, as evidenced by its Gold Award. Our main beef with that camera was its small buffer, which made it a poor choice for anyone shooting a moving subject using the Raw format (JPEG was fine, though). Nikon has taken care of that issue, with performance now matching that of the 'classic' D300s, at twice the number of pixels no less. The AF system and video spec has been improved too, while battery life has increased by 160 shots to 1110 shots per charge.
Nikon didn't change the physical design or build quality of the D7200, which is mostly a good thing, though we'd like the grip to be more like that of the D5500 and D750 (i.e. deeper).
Key Feature
Sensor: 24.2MP APS-C CMOS
Lens mount: Nikon F-mount
Screen: 3.2-inch screen, 1,200,000 dots
Burst shooting: 6fps
Autofocus: 51-point AF
Video: Full HD 1080p
Connectivity: Wi-Fi and NFC
Battery life: 1,100 shots
Weight: 765g