This summer is your excuse to ditch the monotony of 9 to 5 life and head for a much-deserved vacation. With many long weekends coming up, you have a perfect reason to travel and travel a lot more! Make sure you don't miss out on any of the best adventure destinations in India for a perfect trip!
Bir-Billing, Himachal Pradesh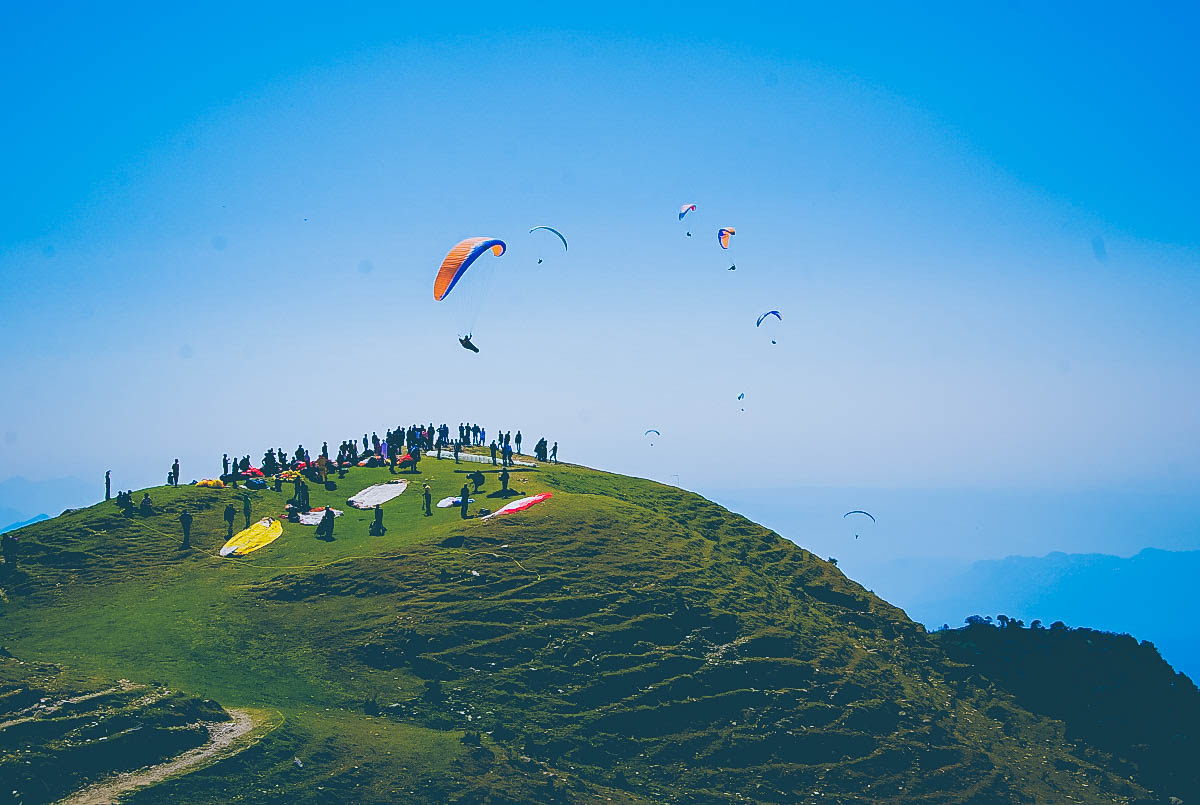 Bir Billing is a paragliding destination in the heart of Himalaya's near famous tourist destination Dharamshala in Himachal Pradesh. Bir Billing Hosted Paragliding World cup in 2015. This was "First Paragliding World Cup of India."This event happened in the month of October from 24th to 31st, 2015."
During world cup 150 top ranked paragliding pilots of all over the world participating along with 500 free flying pilots. This is a great opportunity for many local Paragliding pilots to show their skills to world.
 
Bir Billing provides the option of Paragliding, Trekking to Himachali tribal villages, Mountain Biking, Angling and Camping.
 
Bir Billing is located 70 km. from Dharamshala. Billing is situated north of Bir at the distance of 14 km. on the way to the Thamsar Pass trek, which is leading to Bada Bhangal, tribal region of Himachal Pradesh. Bir is mainly a Buddhist town and houses a monastery and a Tibetan handicraft center.
Rishikesh
Rishikesh, a most tranquil place in northern Uttarakhand, surrounded by hills and bisected by the wide and sluggish Ganges, is often claimed as the `Yoga Capital of the World'. Back in the 1960s Rishikesh gained instant fame as the site where The Beatles came to stay with their guru, the Maharishi Mahesh Yogi. It is an excellent place to meditate and study yoga. Rishikesh is also a good starting Laxman Jhula point for treks to Himalayan pilgrimage centres such as Badrinath, Kedarnath , Gangotri, Yamnotri.It is rightly called the gateway to the Himalayan Shrines of Badrinath, Kedarnath, Gangotri and Yamunotri. 7 Story Temple Situated 24 km upstream from Haridwar, at the confluence of the Chandrabhaga and Ganga,
Rishikesh has long been a spiritual centre. It is said that the sage Raibhya Rishi did severe penance here and as a reward, God appeared to him in the form of Hrishikesh, hence the name. Rishikesh has numerous ashrams, some of which are internationally recognized as centers of philosophical studies, yoga and meditation. An international yoga week is organized here every year by Uttarakhand Tourism between 2nd and 7th of February. For the adventurous, there are opportunities for white water rafting on the Ganga. The climate here is continental type but its location in the foot hills gives it a pleasant weather throughout the year. One can visit Rishikesh any time of the year.
Manali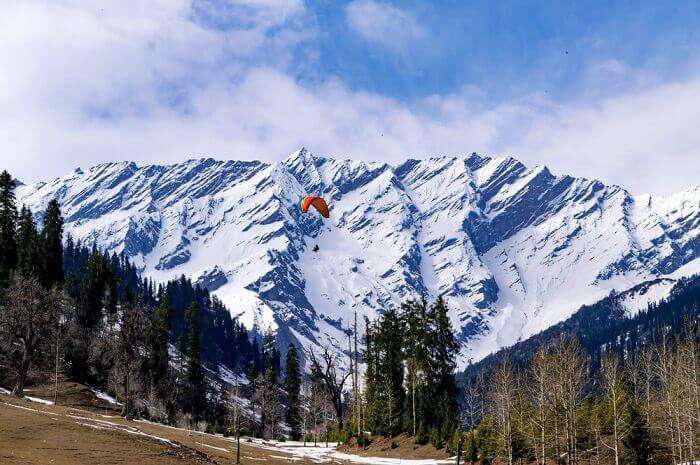 With mountain adventures beckoning from all directions, Manali is a year-round magnet. Backpackers are well catered for in parts of Vashisht and Old Manai where numerous agents offer trekking, climbing, rafting and skiing according to season. Meanwhile, so many Indian families and honeymooners come for a first taste of snow that greater Manali now has an estimated 800 to 1000 hotels and guesthouses. Tight-packed resort buildings already fill the town centre and are now steadily devouring former orchard terraces as far south as once-rustic Prini 'village'. But while the whole area gets jam-packed in season (mid-April to mid-July, mid-September to mid-October, and over Christmas–New Year), it doesn't take too much effort to get off the main tourist trail. And in November, clear skies plus slashed prices make Manali a bargain – if you can handle the cold and the closure of some restaurants.
Gulmarg
Situated at an altitude of 2730 m above sea level, Gulmarg is a popular skiing destination located in Pir Panjal Range of Union territory of Jammu and Kashmir. Surrounded by snow-covered lofty Himalayas, meadows of flowers, deep ravines, evergreen forested valleys, Gulmarg also has the world's second-highest Gondola ride.
Among one of the top honeymoon locations, Gulmarg boasts of being a beautiful town without the crowd like Manali and Shimla. Gulmarg has also been developed as an adventure hub as Indian Institute of Skiing and Mountaineering is located here. A lot of courses on trekking, mountaineering, skiing, etc. are offered by IISM at great prices here. However, if you are planning to do a course, it is advisable to book it well in advance. There are a lot of other private tour operators in Gulmarg as well which provide similar courses and facilities for skiing, snowboarding and trekking. Known for its scenic beauty, Gulmarg has also been a popular destination for shooting of various Bollywood films.
Har Ki Dun Valley
The Har ki Dun trek is a trail takes you back in time. The cradle shaped valley is populated with ancient villages that are over 3,000 years old. You see villages like Osla, Gangaad and Seema along the trail that are insulated from the outside world. They retain their culture: the clothes that they make out of the wool they weave, the food that they grow on their field, their wooden houses and their places of worship.  This is one of the rare treks where you get an intimate look into the local lifestyle.
The main deity worshipped in this region is Duryodhana. It is believed that the valley was home to a warrior named Bhog Dat, a Kaurava supporter from the Mahabharata. Due to this, the Har Ki Dun valley is one of the few places in India where Duryodhana is worshipped. However, with passing time, and the incoming modernisation, these traditions and the insulated nature of their culture are slowly being eroded.
All that aside, Har Ki Dun is one of the most beautiful valleys in the Western Himalayas. Nestled in Govind National Park, the trail goes through alpine meadows, moraine ridges, glacier basins, pine forests and ancient villages.  And now, with addition of Ruinsara Tal to the itinerary, the experience of this valley is truly complete.
Gavi
Gavi is an eco-tourist spot in Kerala which has widely become popular after 'Alistair International' the world acclaimed tourism major listed it among the leading eco-tourism centres and one of the must-see places in India. A must visit place for all nature lovers as Gavi is preserved in its natural scenic beauty untainted by the mighty hands of modernity. Gavi is mainly known for its wildlife. Endangered species including the Nilgiri Tahr and Lion-tailed macaque are often sighted at the outskirts of Gavi. Kerala's very own treasure elephants can be sighted abundantly. If you are the bird watcher, Gavi is the place for you. With more than 260 species of birds including the great pied hornbill, woodpecker, and kingfishers, Gavi is a heaven for birdwatchers. A splendid spot to be visited at least once for all those who love nature.
Bheemeshwari
Bheemeshwari, a small town in Karnataka's Mandya district, is popular as a paradise for fishing enthusiasts as it is home to the Mahseer fishes – one of the finest game fish in the world. The tranquil site is the perfect getaway for a short trip from Bangalore, one that is close to nature. Due to its proximity with the Cauvery River and its extensive forest cover with a variety of flora and fauna, Bheemeshwari is visited by adventure enthusiasts for boating, adventure camps, trekking up the hills and bird watching.

Apart from being home to a wide variety of birds, Bheemeshwari is known for the diverse fishing camps like Mekedatu, Sangam, and Kokrebellur Pelicanry. The riverside is often dotted with the locals and tourists cooking food on rented utensils. This, sometimes, leads to littering in the area. The flora of Bheemeshwari that creates picturesque views also supports exotic wildlife which includes crocodiles, wild boars, leopards, jackals and deers. Bheemeshwari is a good spot to visit for the ones looking for a long drive and a one-day getaway from Bangalore.