In today's social media-obsessed world, the ability to capture everything going on around you is more valuable than ever. That's where 360 degree cameras shine: by using multiple camera modules (usually two wide-angle lenses arranged back-to-back), they don't miss a thing.
Features to look out for include automatic stitching (to save you the trouble of perfectly aligning multiple camera captures), image stabilization, live-streaming and 4K (and greater) resolution. But do be aware that Ultra HD resolution claims don't always equal actual pin-sharp detail – by the time all those pixels are stretched out over a 360-degree frame, of which you're generally only viewing a small part at any one time, you'll probably be looking at something less than real-world Full HD quality.
Insta 360 One X
The Insta360 ONE X is the Chinese manufacturer's latest consumer 360 camera (it also makes professional options), which boasts a top video resolution of 5.7K at 30 fps.
Users can control the Insta360 ONE X via their iPhone or Android smartphone using its companion app or via direct controls on the camera body. It also boasts a range of special effects and shooting modes, as well as built-in stabilisation.
Features
The big selling point of the ONE X over the ONE is its increased resolution to 5.7K (5760 x 2880) at 30fps. This effectively means that you can film in 360 and concern yourself with composition later. At 5.7K you can find your desired angle and extract a standard 16:9 video that will still be 1080 resolution. You can do this via the companion app using its Viewfinder feature.
The Insta360 ONE X also has options to film at 4K (3840 x 1920) at 50fps or 3K (3008 x 1504) at 100fps.
Insta360 has also added a new TimeShift option that lets you adjust the speed around certain moments within a video clip. And the company has revamped its 6-axis gyroscopic FlowState stabilisation.
The Insta360 ONE X also brings live-streaming capability, which competitors like the GoPro Fusion don't have. This is achieved via a cable, provided with the camera, that connects your phone to the ONE X.
As well as spherical video, the ONE X can shoot 18-megapixel HDR still 360 images, both as JPEG or DNG raw. Content is saved to microSD (up to 128GB), and its 1200mAh battery provides about an hour's use per charge if shooting video at its top resolution.
Insta360 Evo
Insta360 is no stranger to VR cams, making some of the best 360 Camera around, but the Evo is its most ambitious yet, combining both 3D 180-degree and 2D 360-degree filming for an all-in-one package – it can take stills and shoot video, and comes with a short tripod and grip too. Along with the Vuze XR, it's one of a new breed of portable cams that can do both 180-degree and 360-degree shooting.
When 'closed', the Insta360 Evo has its two cameras pointing in different directions, which means its able to catch entire photo or video spheres. Open it out, and the dual cameras face the same way, allowing you to take photos and videos with a 180-degree half sphere perspective – which should look vaguely 3D when viewed in a VR headset or with an optional iPhone X 3D display cover.
Photos get snapped at 18MP (6,080 x 3,040 pixels) by the Insta360 Evo, with video recording choices set at 5.7K (30fps), 4K (50 fps or 30 fps) or 3K (100 fps slow-mo). Remember those pixels get stretched around a sphere, so aren't quite as sharp as you might expect. The video bit rate can hit up to 100 Mb/sec
HumanEyes Vuze XR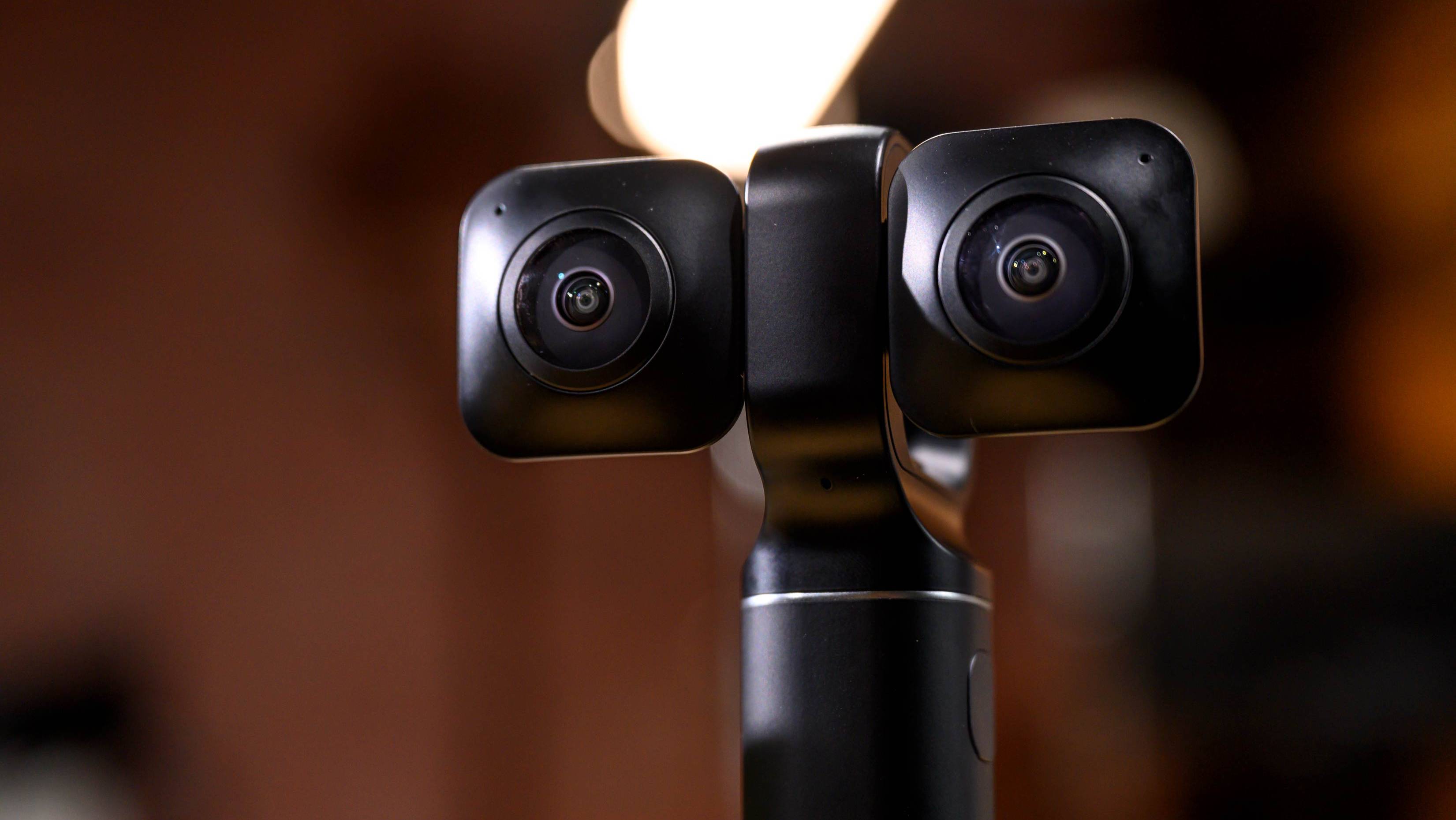 What is a 360° camera for? In recent months the classic dual lens camera has morphed into something else, with the likes of the Insta 360 One X and GoPro both offering something called 'over-capture'. Basically, you film everything on a 360°, and later use that footage merely to decide exactly what you want to include in the frame of a standard widescreen HD video. This clever new baton-shaped device from HumanEyes does that too in a basic sense, but it also adds to the regular dual-lens 360° mode a rather clever 180° mode. Cue 3D. Remember that? 
The Vuze XR has taken its sweet time coming to market; it was originally announced in July 2018 but wasn't available until CES in January. Just in time for us to take it out into the extreme conditions of southern Utah in winter. Is it a glorious new kind of gadget, or is 180° 3D merely a gimmick?
Feature
Despite it being primarily a 360° camera, the headline act here is undoubtedly 180° 3D. It's possible to physically change the positions of its two 210° f/2.4 fisheye lenses (each backed by a 12MP, 210° Sony IMX-378 sensor) at the tap of a button. You then flip them out to create a camera with the same orientation as a pair of eyes … the maker is called HumanEyes, after all. However, in this post-3D TV world, is creating 3D footage in 180° – especially since it's hard to share online and demands a VR headset – really a must-have feature? 
However, beyond the novelty of 3D is a 5.7K resolution, which should make a massive difference to the 4K resolutions which dominate in the 360° camera market. It also shoots 18MP still images. 
GoPro Fusion 360
Can GoPro's debut 360° action cam bring virtual reality creation from a hobbyist niche to the mainstream? 
A toughly made, extensively featured, and expensively priced gadget, the Fusion nevertheless could turn out to be a one-off. Unlike GoPro's flagship lineup of Hero action cameras, it doesn't look like the Fusion is going to get a refresh anytime soon stop how do we know? Just last month GoPro released its new Hero 7 action cam, and a Fusion MkII was nowhere to be seen.
 GoPro's debut 360° camera goes beyond 4K. It actually records video in 5.2K resolution, and in 30 frames per second. Or in 3K resolution at 60 frames per second (3008×1504 pixels). It snaps still images in 18 MP. That's all good, though the Yi360 vr does manage 5.7K resolution, as does the new Insta 360 one X 
So what does it have that other 360° cameras do not? Perhaps the Fusion's headline feature has nothing to do with the 360° format at all. Called over-capture, software inside the Fusion allows you first to capture the entire surrounding scene, then to post-frame the footage as a regular Full HD widescreen video. So, for example, you could film a freestyle ski park in its entirety and later produce a video of one skier performing tricks and jumps. Or produce a widescreen video that follows your bike ride first-person, or the cyclist in front of you, but also peels off to show your surroundings. It also means you can share videos – which retain a 360 feel – with anyone on any platform, really easily.