The world can be kind of a boring place. Endless cornfields, lawns full of weeds, average-sized oak trees with green leaves. And water! Boo! Nothing makes me want to yawn more than the thought of a colorless, odorless liquid that doesn't taste like anything. However, compiling a list of nature's most boring phenomena won't generate very many clicks. On the other hand, discussing some of the most beautiful natural wonders might just make me a hero around the office. So that's what I've decided to treat you to! Here are 12 colorful places around the world.
1. Rio Tinto, Spain
Rising in the Sierra Morena Mountains of southwestern Spain, this 60-mile (100 kilometers) river gets its stunning orange and red colors from copper, iron, and other heavy metals. The best way to enjoy the beauty is by visiting the small mining town of Nerva. Note that only about half the length of the river features these colors. Once you reach the town of Nieba it looks like just another boring, non-toxic river.
2. Lake Louise, Alberta, Canada
Known by First Nation folks as Ho-run-num-nay (Lake of the Little Fishes), this glacial lake located in Banff National Park gets its turquoise color from finely grained rock particles contained within the ice as it melts in the lake. If you're a big fan of the movie Thelma & Louise, you'll be happy to know that there also happens to be a Lake Thelma. It's in Minnesota, but conveniently located near the Canadian border!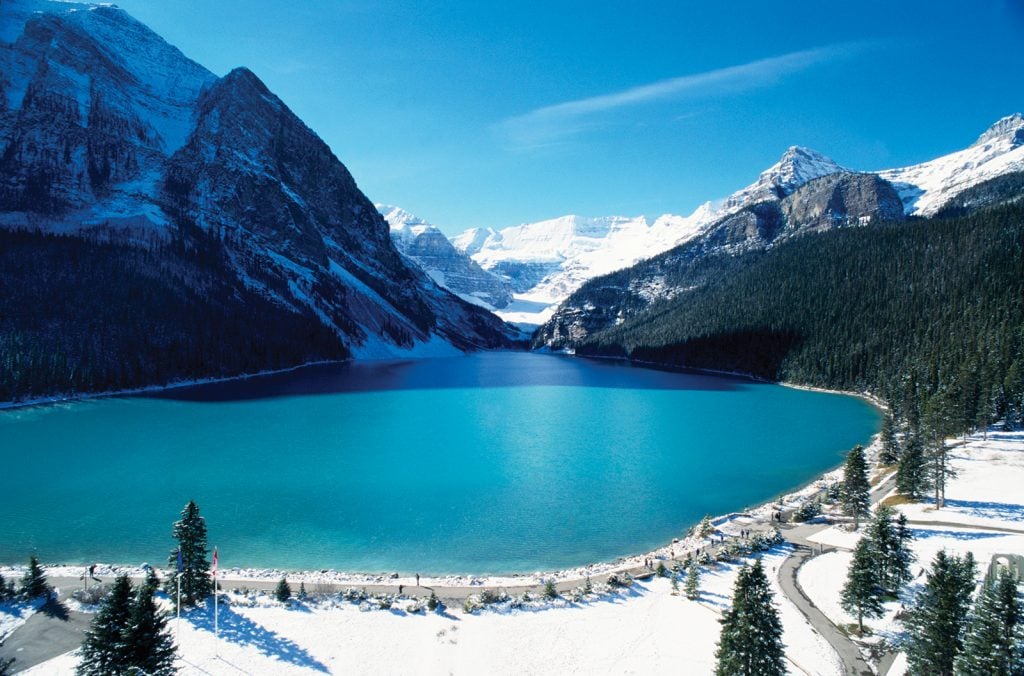 3. Fly Geyser, Washoe County, Nevada
The water spewed from this geothermal geyser contains thermophilic algae, which thrive in wet, hot environments and color the rocks hues of green and red. It can be found on private land owned by the Burning Man Project. Yes! The same folks who bring you that Burning Man Festival enjoyed by weirdos from all over!
4. The Lavender Fields of Provence, France
Provence, a geographical region of southeastern France is famous in the summers for its lush lavender fields. To see them with your own eyes, mosey on up to the Luberon and Verdon plateau regions north of Aix-en-Provence and Marseille, or head east past Avignon. But the window is rather brief; they start to blossom around the beginning of June and then by mid-July they're done-zo.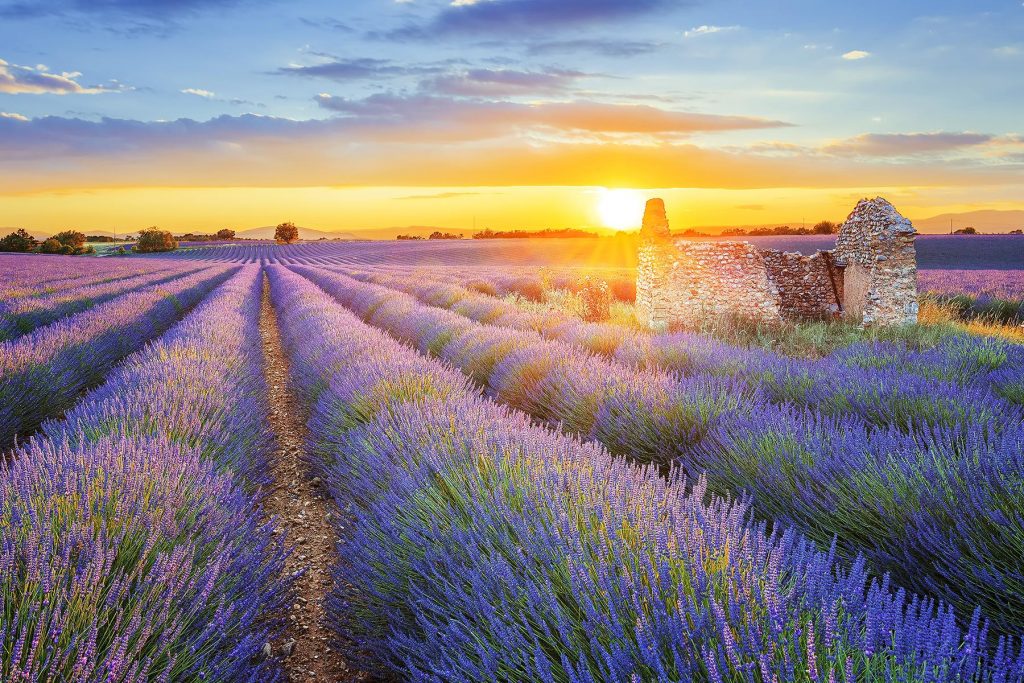 5. Laguna Colorada, Bolivia
Translated as Red Lagoon for all you non-Spanish speakers out there, this shallow salt lake is situated in Eduardo Avaroa Andean Fauna National Reserve near the border with Chile. Where does the reddish-pink color come from, you ask? Is it runoff from the flamingos or something? Of course not, silly pants! It's caused by a particular type of algae. Algae is the explanation for everything!
6. Palouse, Northwestern U.S.
This distinct agricultural region of the U.S. includes parts of north-central Idaho, southeastern Washington, and — if you want to avoid fistfights with insistent, prideful Oregonians — northeastern Oregon. The prairie consists of loess hills that cover a vast area of 19,000 sq mi (50,000 km2)!
7. Lake Hillier, Australia
This saline lake, located on the tip of Middle Island in Western Australia, is famous for its pink hue. "Say, fellas. Who dumped all that Pepto Bismol into the lake?" you ask because you're clever and figure nobody has ever made that joke before. It actually gets its color from — you guessed it — algae! It's called Dunaliella salina for all you science and/or Latin buffs out there.
8. Honghe Hani Rice Terraces, Yunnan, China
Huge rice stan? Well, it does go well with almost anything. Anyway, Yunnan, China is calling your name. With a history going back more than 1,200 years, this series of rice-growing terraces — covering territory more than one million acres! — is located in the western part of the country. It was declared a UNESCO World Heritage Site in 2013. Goodness. It sure took them long enough!
9. Landmannalaugar, Iceland
Once upon a time in 1477 (exactly 500 years before my birth!!!) a volcano erupted in the Highlands of Iceland and the world would never be the same. That's probably overstating things, but the event does give you another natural wonder to visit while in Iceland. Some of the area is difficult to access by car due to the lack of roads, but this is just one more reason to befriend a horse!
10. Caño Cristales, Colombia
Nicknamed the River of Five Colors or the Liquid Rainbow depending on whether you want to be accurate or completely exaggerate things, this Colombian river flows in the Serrania de la Macarena province of Meta. You've got your yellows and greens, blues and blacks. What about reds? In fact, it is predominantly red! Must be the work of algae, right? Nope for once. In this case the culprit is a plant known as the Macarenia clavigera. How refreshing is that!?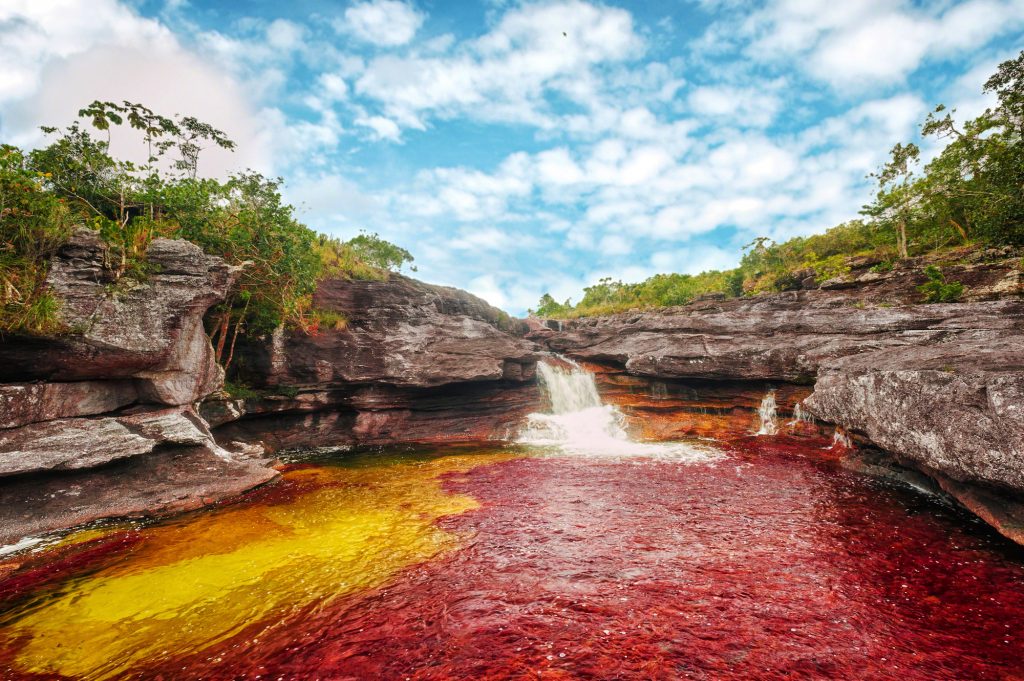 11. Five Flower Lake, Sichuan, China
Five Flower Lake is situated in the Jiuzhaigou Valley Scenic and Historic Interest Area in Sichuan Province, a stone's throw from Tibet. A shallow body of water, the bottom of the lake is criss-crossed by the trunks of trees that fell many, many moons ago. We're talking an abundance of moons, my friends.
12. Danakil Depression, Ethiopia
Looking for the hottest place on Earth? Book your ticket to this area of Ethiopia with the highest average year-round temperatures and visit the hot springs! Consisting of bubbling sulfur, this might just be the least accommodating place for life anywhere on the planet. In fact, there are certain parts of the depression where it is so hot, acidic and salty that not even the most resilient microorganisms can be found there!